He's figured out how to "Bill Russell" the game in an era where building dynastic teams is almost impossible.
Of all of the playoff records that LeBron James has broken over the past few seasons, the most impressive one has got to be his seven consecutive NBA Finals appearances. On Thursday night, he became the seventh player in NBA history to reach the plateau that many times in a row and the first in 50 years.
People often credit James with being a one-man band because hes been able to adapt his game to whatever team he places around him and lead them into deep championship runs. While he is probably the most single impactful NBA player of the past 15 years, he has played with his share of elite ballers, former and current All-stars and a couple future Hall of Famers along the way, from an aging Shaq to Dwyane Wade to Ray Allen and currently Kyrie Irving. With the exception of his first Cleveland squad, LeBron hasnt been dragging bums into the playoffs.
Neither was Bill Russell, the only player in NBA history to reach 10 consecutive NBA finals — another record that King James has a legit shot at.
Russell is considered the games ultimate winner, but he had a team full of Hall of Famers and All-Stars that allowed him to maximize his strengths. The six other players to reach the finals seven consecutive times all played with Russell in the '50s and' 60s on dynasty Celtics teams that had a stronghold on the best players and coaches in the NBA. Back when dudes were still flushing set shots and underhanded free throws, if you had Russell or Wilt Chamberlain you were probably going to play for a championship.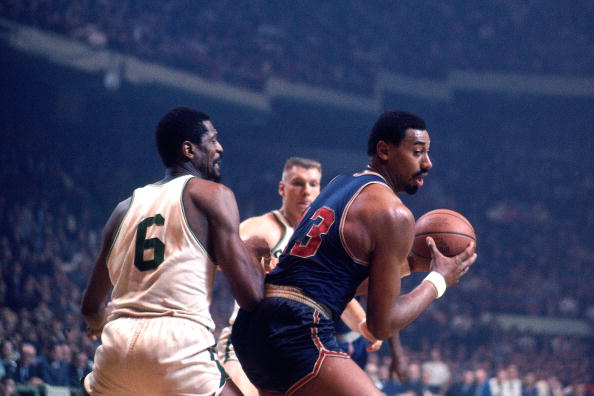 All of those Celtics players were an extension of each other in some way. And they were able to stay together and build indestructible chemistry because the age of free agency and big money contracts had not yet infiltrated the league.
King James burst into an ESPN-driven NBA that was as lucrative and popular as it had ever been, but was thirsting for another clean-cut, game-changing, captivating court assassin like Michael Jordan.
Bron was anointed that guy in high school and entered the league as The Man on his team. He was handed the reigns the day he was picked No. 1 by Cleveland in 2003. His unchained assault on the statistical record books also began immediately. There was no waiting his turn or developing his game. That would happen on the job and with external pressure and social media scrutiny that few players ever had to deal with.
He IS the modern day juggernaut team. No team or player in the post-modern era has advanced to this many NBA finals in a row. And not to sound like a LeBron Stan, but he has become a walking, living Dynasty. He's figured out how to "Bill Russell" the game in an era where building dynastic teams is almost impossible. He flipped free agency in his favor and has used it to maintain dynasty teams despite switching players and franchises.
The Spurs and Tim Duncan are the closest thing to the Celtics model and you'll probably never see a team with three players stick together for over a decade again, but they weren't making the Finals every season. They pick and chose their spots. LeBron learned how to readjust the model on the fly and gain a decade of continuity in less than 100 games with his various squads.
As the supreme talent and marketing machine who controls the dice board each year in the Eastern Conference, as far as which teams will hit a playoff lick and which will crap out, LeBron has continued to dominate by re-inventing past teams with current players who are compatible to his style of play and comparable or better in talent.
What makes James feat even more impressive is the fact that he was able to accomplish this streak with three different teams. He went to one as a rising superstar during his first go-round in Cleveland and because of the lack of talent around him, he was asked to do too much. James was asked to be a Michael Jordan, Kobe Bryant kind of scorer and crunchtime killer when he was more Magic Johnson and lacked that co-star like Kareem Abdul Jabbar to close out when his late game fell short.
He then formed a Super Team with Wade and Chris Bosh in Miami and advanced to four consecutive NBA finals. Then he bounced from that Miami team after losing in the Finals and went back to Cleveland, where he formed another Super Team with Kyrie Irving and Kevin Love and made the finals in his first two seasons, winning the citys first title in 2016.
Here are the other players who have advanced to at least seven-consecutive NBA finals. They all accomplished the feat prior to Neil Armstrong landing on the moon.
Bill Russell 10
The pillar of the Celtics Dynasty squads back in the day. Russell is known as the NBA's ultimate winner, making ten straight final appearances from 1957 through 1966 and winning them all. It was once thought to be an unbreakable record, but King James has an outside shot at it.
Sam Jones 9
Sam Jones made 9 straight final appearances in the 1950's and '60s as a silky-shooting part of a Boston Celtics squad that won 8 consecutive championships from 1959 to 1966.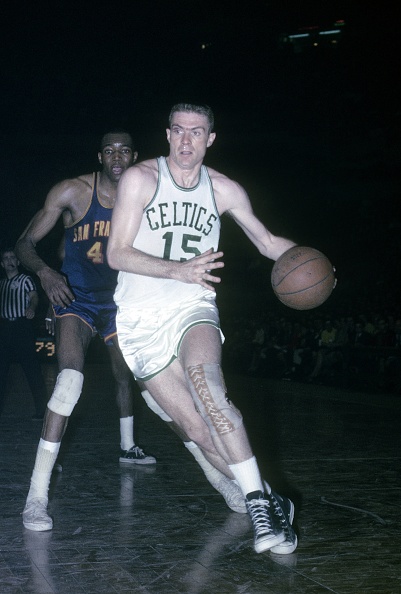 Tom Heinsohn 9
Heinsohn played his entire professional career for Boston and won eight NBA championships as a key cog in their two decades of dominance.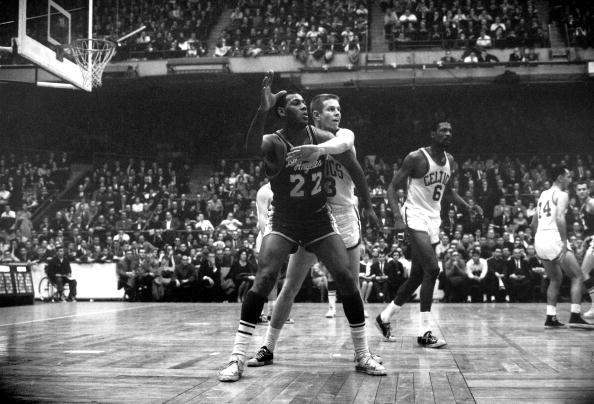 Frank Ramsey 8
Frank Ramsey, the first official "sixth man" in NBA history, was a valuable contributor to a Boston Celtics squad that won seven NBA titles, including six in a row between 1959 and 1964.
K.C. Jones 8
K.C. Jones reached eight straight finals from 1959 to 1966 and won them all. Then he went on to coach the dynastic Celtics teams of the '80s.
Bob Cousy 7
The ball-handling Green Machine from Queens was the flashy floor general of the early part of  the Celtics Dynasty. He made seven consecutive trips to NBA finals from 1958 through 1963 and led them to six championships.