Giants fans woke up this morning, flipped on ESPN and saw none other than Mel Kiper, the walking draft bible himself, updating his Mock Draft 2.0 by proclaiming that the Giants will totally ignore the quarterback position and pick running back Saquon Barkley with the No. 2 overall pick.
Barkley is one of the greatest players in Penn State history. He burst on to the scene as a true freshman in 2015 and never looked back. He is second all time in career rushing yards for the nittany lions and he did it just 3 years.
That was quite a head scratcher as Giants fans have been anticipating this 2018 draft and its rich crop of potential franchise quarterbacks. With Eli Manning entering his last years, the Giants are in a rare position to secure a super quarterback talent.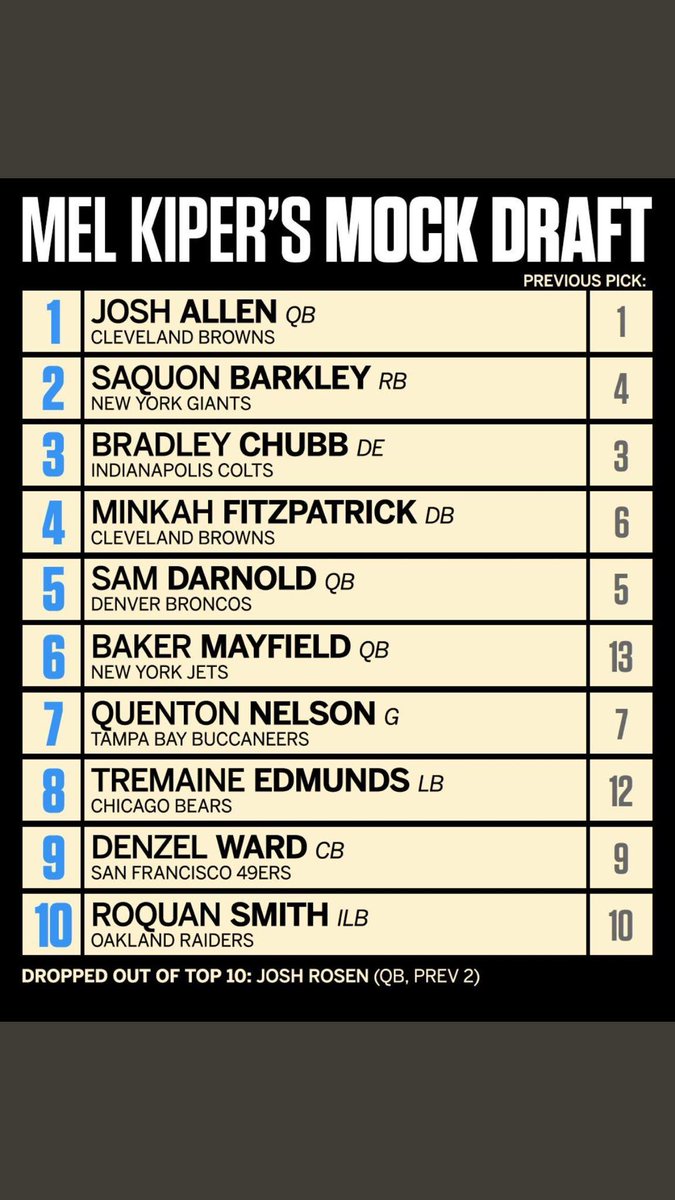 Before Kiper dropped his bombshell, the question among Giants fans and media was which quarterback will they pick? Josh Rosen? Sam Darnold?
According to Kiper, the Giants brass is going running back and will take their chances with trying to make one last run at it with Eli Manning at the helm and improved offensive pieces around him, most notably a guy who can provide them with the running game they have been missing for years. The run game is a deteriorated aspect of the offense that has coincided with Eli Mannings demise as a top flight pigskin hurler.
Draft analyst Todd McShay seemed surprised by the information and still suggests Big Blue go quarterback and secure the franchises future for the next decade.
If I love one of these quarterbacks sitting there at No. 2, considering how Eli Manning has played the last couple of years, Id pull the trigger on the future, McShay said. My mind set would be that we dont have a chance to be up this high on the draft board again anytime soon. So maybe we seize this opportunity..
Without taking an official poll, Id estimate that almost 100 percent of Giants fans agree.
Just a month ago, Kiper said it was Rosen.
Mel Kiper Jr. On QB Josh Rosen No. 2 Overall To Giants
Now Kiper says Barkley gives the Giants an opportunity to jump right back into the playoff mix.
You have Engram developing at tight end… He becomes more consistent. Odell Beckham Jr. comes back, Kiper said. All of a sudden you add Barkley who can run, catch and block…give Eli one more shot to develop this team into a playoff caliber football team.
It could be the Giants trying to confuse people so they dont lose their top choice to Cleveland at No. 1. Or maybe they are scheming on Lamar Jackson in the later rounds. Will they make a trade to grab Rosen who fell out of the Top 10?
Maybe they truly feel that Barkley is an Ezekiel Elliott kind of playmaker and his presence can prolong Elis career. Even if the Giants believe that Eli has one or two All-Pro years left in him, Giants fans would raise high hell if any of the quarterbacks in this draft that the team ignored became an elite player for another team.