Houston has a problem. That lede may be trite, but so is LaMarcus Aldridge's consistent manhandling of the Houston Rockets. If there was any hesitance about whether or not Aldridge had made the leap into superstardom, his stat line against the Rockets put those to rest.
Johnny Depp's Transcendence may have bombed at the box office, but Aldridge transcended his own physical state by scorching the Rockets and lifting the Blazers to a 1-0 lead in their first round series. Aldridge's last playoff game was a loss three years ago against the Dallas Mavericks, who would win the title. It was a Herculean series performance that culminated in a 24/10 outing that was overshadowed by the impending retirement of deteriorating franchise cornerstone Brandon Roy.
Not only did we discover Bonzi Wells had the Blazers playoff single-game scoring record before last night, but we also witnessed Aldridge shatter it in dramatic fashion by tipping in the game-tying two points with 2.6 seconds remaining in regulation while defensive rebounding maven Howard and a trio of Rockets stared at Damien Lillard's initial putback attempt rolling around the rim.
This season began with Aldridge allegedly requesting an offseason trade to the Bulls, who couldn't score a lick in the final period against the Wizards in Game 1 of their series. Meanwhile, Bulls fans left awake to watch the Trail Blazers and Rockets had to be sick considering the "what if" possibilities during Aldridge's Transcendence game.
His final tally of 46 points and 18 boards was the fourth time in five meetings this season that Aldridge has given Houston's defense the hard knock life Annie treatment. Even though, the Rockets lackluster defense outside of Howard and their frenetic offensive pace can be PEDs for opposing scorers, this performance was special because it vaulted Aldridge into select company for prolific 45 and 15 playoff producers. There have been subpar defenses in the playoffs over the last half decade, but there's a reason the other names on this list are future Basketball Hall of Fame inductees.
It's a benchmark of greatness and Aldridge's application was officially smacked with a stamp of approval.
One of those names may not fit the profile of his teammates on the list, but there's no denying that he belongs now.
In early December, Aldridge lit up the Rockets for 31 points and 25 rebounds in a statement win over the Rockets. A month later, on January 20, Aldridge dropped a throwback Barbara Walters 20/20 game by leaving 27 points and 20 boards out on the court in a loss. Aldridge won another individual matchup against Terrance Jones and the sacrificial lamb, stretch-4 thrown out there against Portland's power forward by recording 28 and 12, but the Rockets secured the win in that Mar. 9 meeting as well. You know how models prefer for photographers to catch them on their good side? Well, Aldridge is a prominent scorer from the left side of the basket and his performance against the Rockets on Sunday night was no exception as he primarily concentrated his efforts on getting buckets from his sweet spots. Aldridge usually cashes in on turnaround midrange jumpers, but in Game 1, he collected his money underneath the low post.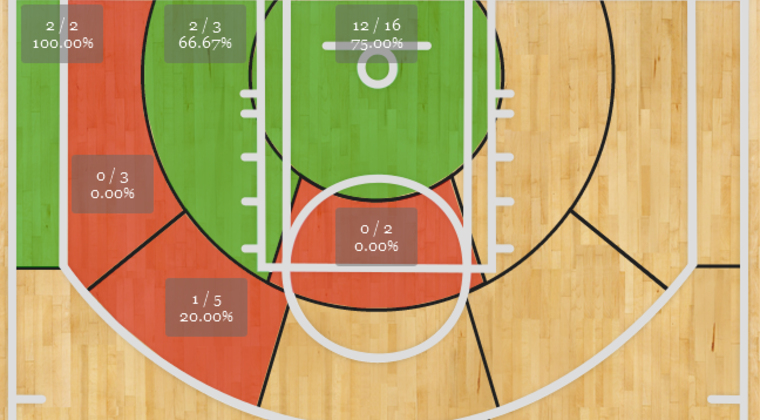 He was aided by an equally effective Lillard. Guarded by an injured Patrick Beverley, Lillard also left burn marks in the hardwood that will have to get sanded out before Game 2. Houston's perimeter agitator didn't appear up to the task physically for containing Lillard.
Between Aldridge and Lillard, the Rockets were left bouncing between a rock and a hard place. Making his playoff debut, Lillard was sensational and brought the pain en route to a virtuouso 31 point, 9 rebound, 5 assist performance. Lillard and Aldridge scored Portland's final 25 points in regulation, but overtime was Lillard's big scene.
After Aldridge fouled out with just over a minute remaining in overtime, Lillard ascended to the throne like Tommen Baratheon and proceeded to score Portland's final five points. The NBA's battle for the O'Brien trophy is just beginning, but in its opening weekend, Aldridge made the loudest statement. The aformentioned Dallas 2011 series hoisted Aldridge to stardom. He's well on his path to getting A-List red carpet credentials and the second round if Houston doesn't figure out how to dim Portland's blinding star.