After starting the season with a dreadful 28-0 loss to the San Francisco 49ers, something happened to the Rams on their way to Los Angeles -they became winners.
In Wk 2, everybodys pick to finish near the bottom of the NFC West division had a watershed conquest against the Seattle Seahawks. It was the Rams' first regular season win in 22 years in LA. Proving it was no fluke, the Rams overcame a deficit in WK 3 to beat Jameis Winston and Tampa Bay in a 37-32 thriller.
Rams guard Rodger Saffold was drafted by the franchise in the second round of the 2010 draft out of Indiana. He spoke with The Shadow League on Saturday, as the Rams prepared for a stiff challenge on Sunday against the Arizona Cardinals at University of Phoenix Stadium.
It may be too early to anoint the Rams — a franchise that hasnt had a winning record since 2006 — as serious contenders.
However, Saffold says the Rams are for real and if nothing else, moving back to LA has incited more media attention and market relevance and theres a new electricity and excitement surrounding the team.
These aint your Dads St. Louis Rams.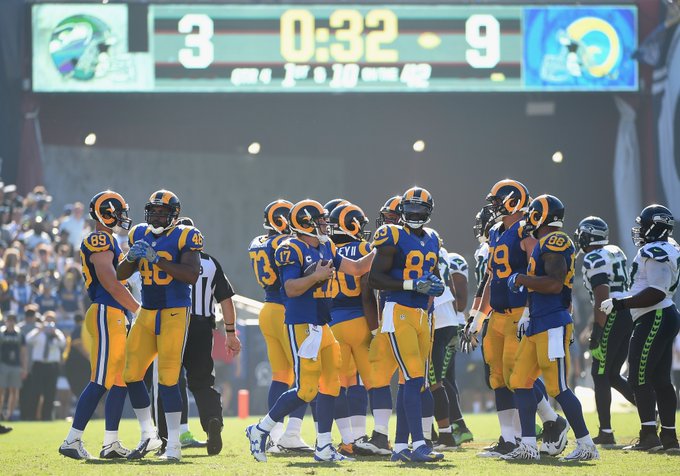 (Photo Credit: scoopnest.com)
Theres definitely a little bit more excitement with us moving to LA, Saffold told The Shadow League. We wanted to avoid distractions with the move, but just the love we got from the fans has definitely given everybody on the team a boost. Now we want to play more consistent football. Even though we've been winning games, we haven't taken one moment to relax, we are trying to push forward and string together these wins.
TSL: What is the difference between this team and past Rams squads?
Rodger Saffold: I believe we are more resilient. Coming back from that first-game loss against the 49ers was tough. Being down in the first half of our third game against Tampa was tough. And then to come out and to win and continue to win and just the way we've been preparing during the week has been special.
TSL: In 2015, the Rams had the NFLs least productive offense. They are ranked last again, but Case Keenum has been able to move the ball and Todd Gurley hasnt heated up yet.
R Saffold: Case Keenum is doing a great job and Tavon Austin being able to play through some bumps and bruises has been big for us as a threat on the field. Receiver Kenny Britt has done a fantastic job getting catches and getting down the field.
TSL: What about your domain, the offensive line?
R Saffold: Our O-line as far as protection goes, I think that we are doing a fantastic job being able to keep Keenum upright so he can make a good throw. The last part is for us to get RB Todd Gurley (averaging just 2.9 rushing yards per game so far) playing the way hes used to playing. Getting those 100 and 200 yard games.
TSL: What will it take to beat Arizona on the road on Sunday?
R Saffold: We have to be consistent, go out and start fast and continue the momentum. We can't get a score on the first string of plays and end up being flat for the rest of the game. We have to put the pedal to the floor and keep it there because Arizona does a good job by being able to score quickly and score often. So we want to keep their offense off the field by our offense staying on the field.
Jeff Fisher is 29-37 in his five years as Rams head coach and is still seeking his first winning season. Beating Arizona will be a signature win for him as the Rams begin to finally show signs of turning the corner and moving towards playoff contention.
R Saffold: The biggest thing the coaching staff has told us is to not take anything lightly. We have to continue to push. Everybody wants to win this game it can be a game changer for the entire season. The team hasn't been 3-1 in so long so it's definitely a turning point in the season. Especially against a dangerous team like the Cardinals who are coming off a loss. They are itching to play again. They want to show the world thats not the team they are. This game is going to be a dog fight. (Photo Credit: ramblinfan.com)
Saffold started every game at left tackle as a rookie for St. Louis and currently holds down the guard position. The 6-5, 332-pound lineman has never played for another franchise and as a seven-year veteran he is a respected leader on one of the NFLs youngest teams.
R Saffold: If anything was to happen on the edges as far as the tackles go I can fill in at those positions. Right now I'm here as a leader, to eliminate confusion when it comes to different blitzes and defenses packages. My job is to make sure that everybody on the line knows what their job is and to work with the center as much as possible to get everybody on the same page. If we do that, the pocket will be clean, Case Keenum will play well and we will open up the lanes for Todd Gurley. So I have to do my job well in order to make that happen.
His guidance will be important as the Rams embark on a murderous remaining schedule that features a second matchup with Arizona and Seattle and games against Buffalo, the NY Giants, Jets, Carolina Panthers, Miami Dolphins, Matt Ryans surging Dirty Birds and the Patriots with a motivated Tom Brady.