The level of LeBron James' performances can change from playoff game to playoff game, but the narrative remains the same. Prior to Game 3 of the Eastern Conference Finals, James was considered this unstoppable machine that was nipping at Michael Jordans heels as the GOAT because of the historic playoff run he and his team were enjoying.
Game 3s 11-point stinker let us know that the phenom from Ohio still has a ways to go. He still has those moments where he looks out of sync and emotionally defeated. People give him a pass because of the supposed burden he carries, but any true basketball head realizes that he has the benefit of a stone cold killer and a Top 10 NBA performer in Kyrie Irving, ready to bail him out at any minute, with a better offensive game and a proven nose for the clutch situation.
Irving has helped extend and enhance James career and championship opportunities in the same way that Dwyane Wade did. Its hard to appreciate the total greatness of Irving when everybodys eyes, ears and mouth is on LeBron, but Kyrie is the guy that hides all of LeBron's warts.
When Bron just can't muster that Alpha Male ferocity needed in the situation, Kyrie is routinely there to clean up the mess and get buckets by ANY means possible.
James scored 34, making up for his putrid Game 3 performance. It was Uncle Drew, however, who dropped a career playoff-high 42 points, 21 of which came in the third quarter. Cleveland's No. 2 option is the reason why the Cavs won the game 112-99. It was a game in which they were trailing by double-digits with LeBron on the bench playing cheerleader.
"He put the team on his back," said Tristan Thompson, regarding Irving's play. "He still has another gear."
Thanks to Irving's often undervalued heroics, Cleveland has a 3-1 lead and is one win away from advancing to a third straight NBA Finals. Irvings sick array of street moves, jump shots and ice water wonder-drives befuddled one of the best defensive teams in the game, and his point total was the most ever by a King James teammate in the playoffs. Lets not forget a modest 17 points and 17 boards from the third leg, Kevin Love. But he doesn't really fit into the narrative either.
When its all said and done, ESPN and the other media outlets who have a compromised stake in the LeBron James love fest, will credit King James for all of the Cavs success. We know how it goes. LeBron James plays with a bunch of bums when he has a bad game. When he has a great game, he carried a bunch of bums.
In reality, that couldn't be further from the truth.
Irving will never get the props he deserves as a player as long as he is second media fiddle to LeBron, but he has proven time and time again that HE is the teams most clutch performer. He proved it last season en route to an NBA title that everyone gave LeBron the credit for and he did it last night with the Celtics threatening to knot the series at 2-2 and LeBron on the bench with four fouls. In fact, 36 of Kyries 42 points came after Bron went to the bench. The entire team picked him up and held down the fort in his absence.
"They did a really good job of not letting it (the 10-point lead) get out of control while he was on the bench, Bostons Marcus Smart told CSNNE.com. Every time we scored, they came back and scored. They answered back with everything we answered.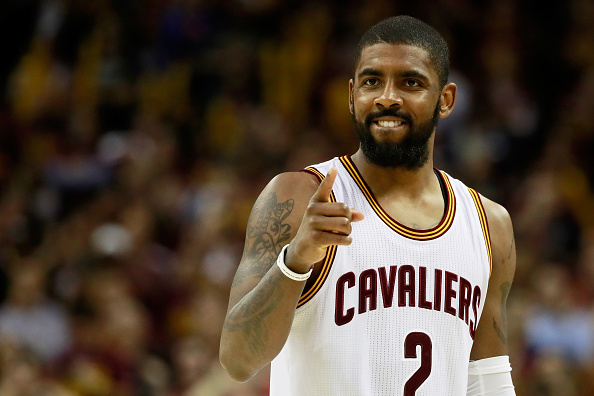 Say what you want and believe the nonsense you read, but true basketball fans know that King James has a team that is loaded beyond belief and the Cavs should not be underdogs against the Golden State Warriors. We really need to stop acting like LeBron is the only future Hall of Famer balling in Cleveland.
Even LeBron had to chill and appreciate another assassin in action. Kyrie's dopeness actually inspired LBJ to string off 15 fourth-quarter points of his own once he returned.
Happy to be able to sit back with four fouls and see him do what he always does, said James.
Of course he is, because no matter what happens the credit with always be laid at the feet of The Brand Name.