As we watched the Knicks struggle leading into the All-Star break without the services of Carmelo Anthony and his 20 points per game, former BYU star Jimmer Fredette was killing the D-League night after night for the Westchester Knicks.
Watching Jimmers highlights gave me this ingenius idea that the Knicks could use his outside shooting and ability to score in bunches. Obviously Phil Jackson felt the same way as it was reported that the Knicks plan on signing the former BYU Cougars star to a 10-day contract.
In 28 games for Westchester, the sharpshooter from Glenn Falls, NY is averaging 22.6 points, 4.8 assists and shooting 48 percent (42 percent from three-point land). Despite these boss stats, no one figured that adding him to the Knicks NBA roster would be Action-less Jacksons big trade deadline move.
However, it makes total sense, and Jimmers 35 points, eight rebounds and six assists in the D-League All-Star Game in Toronto obviously opened Phils eyes. Let's put aside his unusually-poor performance in Sunday's game against Iowa in which Jimmer shot 2-of-17 for six points in 37 minutes. His thoughts were probably consumed with the anticipation of his first game in a Knicks uniform. A chance to prove that he is more than a fly-by-night college star.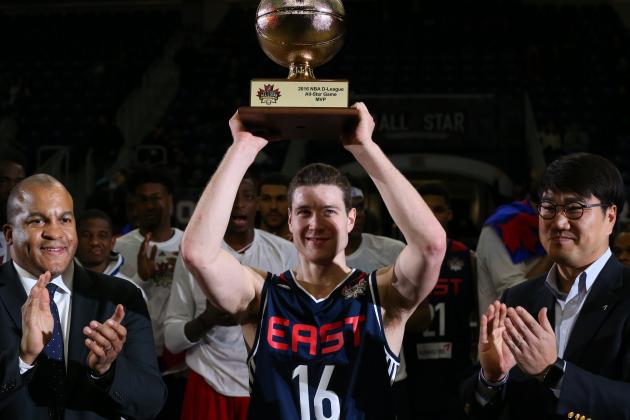 Jimmermania was rampant back in 2011 as the undersized guard with ridiculous range torched college hoops and was the leading scorer in all of NCAA Division I during his senior season (28.9 ppg).
Fredette was an instant social media sensation and was also named the National Player of the Year and won the Wooden Award, the Naismith Award, the Adolph Rupp Trophy, the Oscar Robertson Trophy and every other award that season. He rode that wave to being selected with the tenth overall pick in the 2011 NBA draft by the Milwaukee Bucks and subsequently traded to the Sacramento Kings.
NBA life didnt go as planned for Fredette, who is now labeled as a flawed player with limited upside.
Fredettes career started in Sacramento and he has played for Chicago and New Orleans, and appeared in preseason games for San Antonio. Hes never averaged more than the 7.6 ppg he put up in 61 games as a rookie, but his work ethic is elite and lauded.
Now 26 years old and with five seasons of pro hoops under his belt, Fredette is at a crossroads. Hes too good for the D-League, but hell probably never meet the lofty expectations of a Top 10 pick.
The knock on Jimmer is the same as it was in college. Hes a diminutive scorer without the raw tools to be an impact player on either end of the floor. At least, thats what the experts say. I dont know if hes any less-talented than JJ Redick or Steve Novak or even Joey Galloway or Jose Calderon of the Knicks, but labels stick hard in The League, like crazy glue on your fingers.
Without a first-round pick in next years NBA Draft, Knicks coach Kurt Rambis knows options are limited and bringing up a guy who can light it up from the outside and has been recently tabbed as the D-Leagues Steph Curry is worth a shot.
Its typical Knicks; grabbing at the wind and hoping to snatch a star. Plus, if anyone would have a special respect for an underdog player with niche talents, its Rambis, who was the consummate gritty role player, and a key cog in four Showtime Lakers Championships in the 80s.
Hes obviously a very good shooter and can open up the floor for us, Rambis told the New York Post on Friday.
Rambis also told the Post that he understands the reasons why Fredette hasnt stuck.
Its very difficult to make that transition for most players coming from elite programs from Europe or elite college programs, Rambis said of Fredette, who had a brief November stay with the Pelicans. You go through these steps to make it in the NBA. Its a huge league, guys are much bigger, stronger, longer, quicker, faster. It takes a certain kind of person to play at this level. If youre missing one of those attributes, it can keep you out of the league. Sometimes it takes players a few years to figure out how to adjust to the game. Well see if he made those adjustments.
Fredette hasnt let the shocking reality of his NBA struggles shake his confidence or lessen his ambition.
I feel Ive definitely proven I can still play and provide something for a team out there, Fredette told The Post in a phone interview Tuesday morning. Ive shown that. And Im definitely confident if I do get an opportunity, Ill be able to produce. The D-League has helped me to get better and develop as a basketball player.
Supposedly Carmelo Anthony isnt too fired up about Jimmer joining the Knicks. When asked Saturday night about the imminent signing of Fredette, Anthony said, Who are we getting? To be honest with you, I havent seen Jimmy play in a long time. Ive been hearing about whats hes doing down there in the D-League but I havent seen him play in action for a long time.
Anthony then joked with The Post: I thought you were telling me we were about to sign someone.
But this Fredette situation is no joke for Anthony. Hes already gone through a social media maverick stealing his shines when Garden fans were ready to bury Melo and ride the Linsanity wave.
Fans were tight when the Knicks didnt sign Lin and let him walk. Then Porzingis arrived and immediately garnered Jeremy Lin-type international fame in his rookie season and folks are more willing to trade Melo again.
Can't you just see Jimmer come in gunning? Knicks fans — as usual — are gutting through this season with visions of next season. A Fredette airmail-a-thon at MSG in this new "Steph Curry Era" is looking like a solid way for Knicks owner Jim Dolan to keep those ticket sales rolling in and jersey sales popping as the Knicks stumble in another unwatchable season.