This weekends NFL action was highlighted by the leagues continuing aerial evolution.
Pro football was once the province of elite running backs, with teams basing their offensive attacks around guys like Barry Sanders, Emmitt Smith, LaDanian Tomlinson, Eric Dickerson, Earl Campbell, Gale Sayers, O.J. Simpson, Walter Payton and the Gold Standard, Jim Brown.
Each year, it seems like were witnessing a wider explosion in the passing attack, with running backs being further marginalized. Go look at where the money is right now. Its flooding the coffers of quarterbacks, the tackles that protect their blind sides, the pass rushers and cornerbacks tasked with halting the rising flood of yardage gained through the air, and the receivers who now make the spectacular look routine.
The revolution had its start in 1978, when San Diego Chargers head coach Don Coryell devised a vertical passing attack that would exploit the new rule changes which specifically prohibited defenders from hitting receivers beyond five yards of the line of scrimmage. Offensive linemen were also given the expanded abilities of using their hands and extending their arms as pass blockers.
Coryell, his criminally underappreciated quarterback Dan Fouts (at least in the minds of the casual fan), tight end Kellen Winslow, running back Chuck Muncie and wide receivers Wes Chandler, John Jefferson and Charlie Joyner initiated a paradigm shift that still affects the modern day NFL. Every passing game today is a derivative of the Air Coryell attack.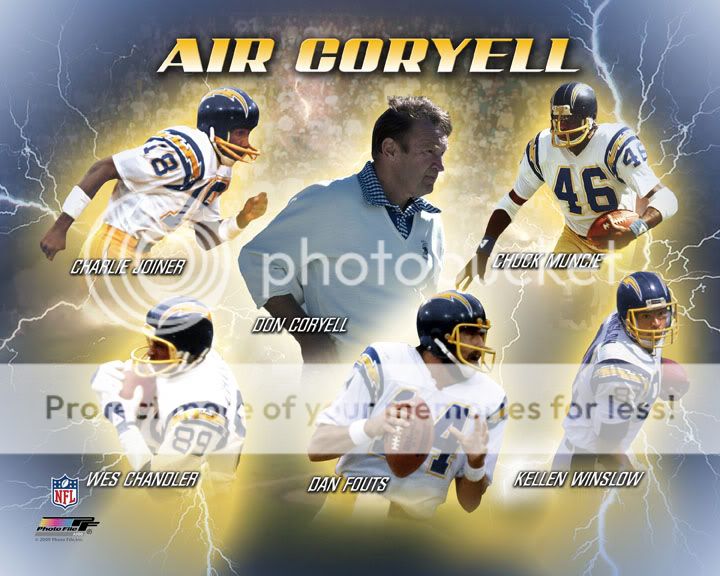 Back in 1979, some die-hards saw the Chargers attack as a gimmick. What they did not understand is that they were seeing the blueprint of the games future. San Diegos offense was so innovative and unpredictable, it forced teams to do something they never had to do which was being prepared to defend the entire field on every play.
Legendary coach Bill Walsh gets a lot of credit, and rightfully so, for the West Coast offense that he and quarterback Joe Montana rode to league domination in the early to mid 80s. But that great offense – with its combination of short, mid-range and deep passing routes complemented by a strong running game, featuring multiple formations, motion, throwing to a specific spot, screen passes and plays designed with multiple progressions -were all the brainchild of Coryell.
His use of a tight end that was a fast, bigger version of a wide receiver in Kellen Winslow was the revelation that would later give birth to the Jimmy Grahams and Rob Gronkowskis of the football world.
Dan Marino (the Jack Johnson of NFL QB's when he stepped on the scene) and the Miami Dolphins set the league ablaze like a degenerate pyromaniac in 1984, when the rookie quarterback fresh out of the University of Pittsburgh remixed the record books like Puffy to the tune of 5,084 passing yards and 48 touchdowns in one year.
Coryell, who passed away in 2010, must have been smiling as he watched this weekends action in the Upper Room, because his fingerprints were all over a fantastic weekend of football filled with some dominating performances by pass catchers.
Andy Dalton, Joe Flacco, Tom Brady, Peyton Manning, Cam Newton, Marcus Mariota and a slew of other signal callers got busy, but the receivers really stood out the most this weekend, as these guys put up some Wilt Chamberlain at the Playboy Mansion type of numbers.
Cincinnatis A.J. Green had 10 catches for 227 yards and two touchdowns in the Bengals thrilling 28-24 win in Baltimore. Speaking of Baltimore, 157-year-old Steve Smith, Sr. mesmerized with his 13 receptions, 186 yards and two scores.
Larry Fitzgerald mustve seen Smith, Sr.s work and said, Shoot! Hes older than me! And I'm old!, because he went out and snagged nine catches for 134 yards and two touchdowns.
Refusing to be outdone by the O.G.s, Raiders rookie Amari Cooper put up some video game numbers of his own with eight receptions for 134 yards.
Carolinas Greg Olson, San Diegos Keenan Allen, the Giants Reuben Randle, Miamis Rishard Matthews, Gang Greens (or is it actually Gangrene, based off of their deflating 24-17 loss to the winless Philadelphia Eagles) Brandon Marshall, the Steelers Antonio Brown, Clevelands Gary Barnidge, the Rams Kenny Britt, Tampa Bays Mike Evans, Houstons DeAndre Hopkins and the Cowboys Lance Dunbar all put up some impressive stats.
And we cannot fail to mention the incomparable Rob Gronkowski, who averaged an insane 25.3 yards per reception with 101 yards on a mere four catches as New England pummeled Jacksonville worse than how Tommy The Hit Man Hearns did Martin Lawrence.
We should be treated to some more fireworks through the air tonight by the Green Bay Packers Aaron Rodgers, who is quietly building a resume that could quite possibly be the NFLs best ever at the quarterback position when he retires one day.
Despite missing his top receiving weapon in the injured Jordy Nelson, Rodgers has continued to amaze at this early juncture of the season.
Against the Kansas City Chiefs tonight, hell put his unbelievable NFL record – 545 consecutive passes and 43 touchdowns without an interception on his home turf of Lambeau Field – on the line.
You really want to see where things stand in the NFL right now? Watch Rodgers get surgical with it. And keep your eyes glued to what Julio Jones is doing for the Falcons.
Jones is off to the most prolific start to a season than any receiver ever in NFL history. No one, including the best to ever play the position in Randy Moss or Jerry Rice, has ever amassed 34 receptions in the first three games of a season. No one has ever had three consecutive 135-plus receiving yards to open a season as well.
In addition to receptions, he also leads the league with 23 first downs and 440 receiving yards. At his current pace, he might accumulate over 2,300 yards for the season, which would obliterate Calvin Johnson's single-season record of 1,964.
Im sure Don Coryell is watching upstairs, enjoying every minute of it.