Shaquille O'Neal has been clowning JaVale McGee for quite sometime and has even profited from the calamitous errors that seemed to befall McGee on a weekly basis when he was in Washington and Denver. Despite his considerable athleticism, JaVale's basketball I.Q. and overall maturity has been an issue at each of his previous stops. Now he is a part of the championship contending Golden State Warriors. McGee had gone on record this fall speaking his disdain for Shaq's comedic overture and continued last month with it. Things heated up last night as Shaq debuted his Dr. Strange parody on Inside the NBA.
McGee responded and a firestorm of insults and posturing ensued.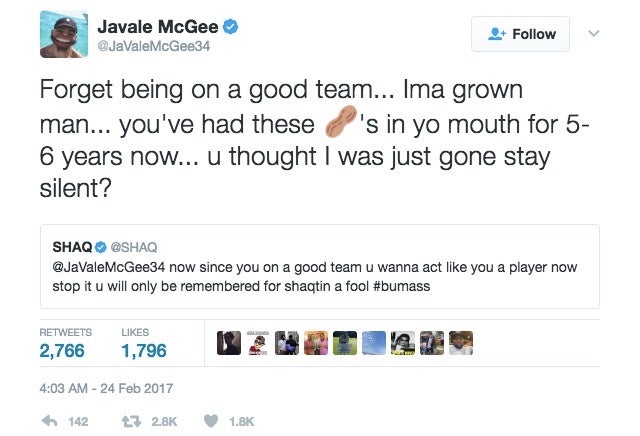 These Tweets represents but a few shots fired from the battle. Though McGee is the individual who took it to Twitter, Shaq's threatening tones, as well as years of jokes at JaVale's expense, makes him look like the one Shaqtin' A Fool, now. Not a good look. Shaq had a studio produced spoof and McGee responded on Twitter, and I don't really blame him. But O'Neal's profile is way to high for him to do this. He is the one looking like a clown right now.