Ice Cubes new Big3 league went from an ambitious thought to a 50-50 endeavor to one of the most exciting and promising ventures in basketball history. Each Monday for the past few months, the league has been announcing a celebrity list of immortal names that will serve in some capacity.
Now that Cube and Co. have secured a TV deal with Fox Sports, the highly-anticipated 3-on-3 professional basketball league has unveiled its full 10-week schedule. The season will tip off June 25 at Barclays Center in Brooklyn, NY, followed by regular season stops in the basketball hotbeds of Charlotte, Philadelphia, Tulsa, Nashville, Dallas, Lexington (Ky.) and Los Angeles.

2017 BIG3 SEASON SCHEDULE
June 25: Barclays Center | Brooklyn, New York
July 2: Spectrum Center | Charlotte, North Carolina
July 9: BOK Center | Tulsa, Oklahoma
July 16: Wells Fargo Center | Philadelphia, Pennsylvania
July 23: Bridgestone Arena | Nashville, Tennessee
July 30: American Airlines Center | Dallas, Texas
August 6: Rupp Arena | Lexington, Kentucky
August 13: Staples Center | Los Angeles, California
August 20: Key Arena | Seattle, Washington (Playoffs)
August 26: T-Mobile Arena | Las Vegas, Nevada (Championship Finals)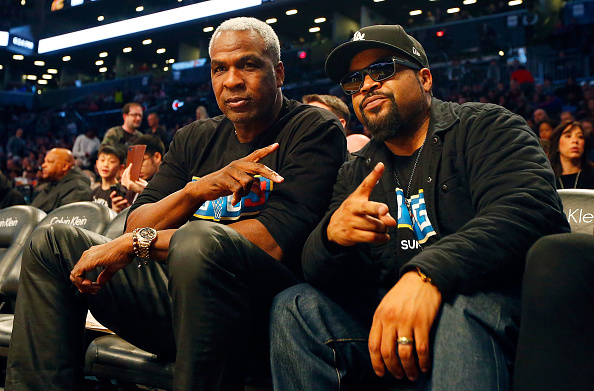 The BIG3 Playoffs will bring pro hoops back to Seattle on Aug. 20. The inaugural season Champions will be crowned in Las Vegas on Aug. 26.
This nostalgic and emotion-provoking league has created a crazy buzz, especially among 30-to 60-year-old NBA fans. The younger NBA heads who aren't as familiar with some of the players, get to see the legends that their fathers and grandfathers waxed poetic about, in person. The Big3 will take centerstage all season long and create a one-of-a-kind live, must-see TV experience every week.
Fans miss superstars when they are retired from the game. Its like a piece of our sports life ripped from us when iconic players no longer suit up. The BIG3 games in Philadelphia will mark the return to the city of NBA Hall of Famers and Philadelphia 76ers icons Allen Iverson and Julius Dr. J Erving.
In addition to bringing basketball back to Seattle, the league playoffs will provide Seattle fans the chance to see SuperSonics legends Gary Payton and Rashard Lewis. Other stops will include Rupp Arena, the most famous college basketball venue in the country, and Los Angeles Staples Center, home to the Los Angeles Lakers and Clippers.
When we created the BIG3, we set out to bring elite basketball talent and highly competitive 3-on-3 action to fans across the country, said BIG3 President and Commissioner, Roger Mason Jr. We couldnt be more excited to deliver on that promise, and unveil our 2017 season schedule including cities that are home to some of the sports most diehard fans.
BIG3 games will be played every Sunday in a different city, in a quadruple header at the same venue. Games will be presented the following night in primetime at 8 p.m. ET on Fox Sports 1 in a thrilling Monday Night Basketball experience. The league championship will be played on Saturday, Aug. 26 and broadcast live on the FOX broadcast network at 4:30 p.m. ET. Tickets for most dates will go on sale May 6 at Ticketmaster.com.
The Player Captains and Coaches of Each team has been announced: All of the teams are not complete and 70+ former NBA players are hoping to fill 24 spots in this league.
3s Company: Captains Player/Coach Allen Iverson and DerMarr Johnson
Three-Headed Monsters: Captains Rashard Lewis and Jason Williams, Coach Gary Payton
Killer 3s: Captains Chauncey Billups and Stephen Jackson, Player/Coach Charles Oakley
Ghost Ballers: Captains Mike Bibby and Ricky Davis, Coach George Gervin
Trilogy: Captains Kenyon Martin and Al Harrington, Coach Rick Mahorn
Tri-State: Captains Jermaine ONeal and Bonzi Wells, Coach Julius Dr. J Erving
Power: Corey Maggette and Cuttino Mobley, Coach Clyde Drexler
Ball Hogs: Brian Scalabrine, PLAYER X, Coach Rick Barry
Once the full teams are announced we will have our Shadow League Big3 Rankings