Hunter Greene is an African-American baseball stud who is projected to go in the Top 3 picks of the MLB Draft which jumps off Monday night. Diversity in MLB has been a huge issue and major source of concern for the Commissioners office ever since the numbers of brothers participating in the sport began to significantly dwindle.
75 players will be taken on Day 1 of the @MLBDraft tonight. Get to know this year's Top 200 #MLBDraft Prospects: https://t.co/D8QzOoUStA
Over the past few years, MLB has made wide-scale efforts to restructure and rebuild its grassroots community and re-infuse it with a love of baseball and disperse it throughout the country, especially to urban areas where accessibility to the game of baseball is limited and not encouraged or taught.
As legend has it, Greene started playing on 90-foot bases when he was just seven at MLBs Urban Youth Academy in Compton, California.
As a star baller at Notre Dame High in Sherman Oaks, Calif, Greene stands 6'4″ and 210 pounds, hits baseballs over 400 feet and has a 102- mph heater on the mound.
No. 1 MLB prospect Hunter Greene joins The Six and talks about the business of baseball, high expectations, and influences in his life.
He's listed as a legit "two-way" player and an example of baseball's changing dynamics as top draft prospects are increasingly skilled at a variety of positions. Scouts are still mixed as to whether he is a future pitcher or an everyday player. Seeing a brother go No. 1 overall is just as rare as finding a two-way player of Greene's ilk.
Boston Red Sox Black Ace David Price, in 2007, is the last African-American to be selected No. 1 overall. It's been a decade, but Greene has a chance to do what a handful of guys such as Ken Griffey Jr. (1987), Brien Taylor (1991), Delmon Young (2003) and Justin Upton (2005) have done. To do it as a pitcher is even more amazing.
In the 2016 draft, 12 of the 77 players (15.5 percent) selected on the first day were African-American. But only 14 of the 449 pitchers on big-league opening day rosters or the disabled list at the start of the 2016 season were African-American.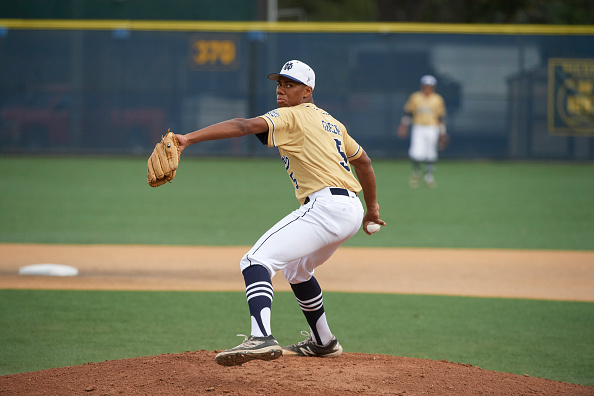 Greene is carrying the black baseball banner and who better to do it then a kid who's been compared to Mets flamethrower Noah Syndergaard and a young Alex Rodriguez. Who knows what position he will end up playing? What we do know is that all eyes are on Greene.
Hes been blessed with talent that most players don't have and hes on a career path that might see him begin his career as a pitcher and end it as a feared slugger like Babe Ruth did. Along the way, Greene is sure to inspire other Black Knights of baseball to get into the sport and soar.