The ideas represented in this piece are completely uneducated, off the cuff and as ridiculous as the ideas often expressed by amateur political commentators or sports and entertainment fans on Twitter and social media. This was written while Skip Bayless screamed in one of the writer's ears as Lance Stephenson kept blowing his noxious breath in the other.
LeBron James couldn't take the heat, so he scrambled out the kitchen. While Miami faltered after James suffered a faux heat stroke, the Spurs found their stroke from inside out and caught fire from the field.
When San Antonio fell behind 86-84, a 26-9 run was ignited in the final seven and a half minutes to earn the Spurs a Game 1 victory by the score of 110-95. Their 87.5 percent shooting percentage in the fourth quarter was the best in the history of the NBA Finals for any quarter. It's impressive considering the sweltering conditions that turned suit jacket wearing professional media members, executives and coaches on the sidelines into wet T-shirt contest contestants. 1
The Spurs are now 6-0 in opening games of the NBA Finals, while James is 0-7 in playoff Game 1's on the road. This wasn't unexpected, it was history repeating itself. We were reminded on Monday night that without the roar of his home fans to feed off of, James is just another prima donna. After the Spurs pulled within two, James asked to get pulled and sporadically spent much of the remaining minutes in regulation squatting on the bench before limping back to the locker room for treatment.
However, much of the talk between today and Sunday won't focus on the Spurs rally, but on the Heat's excuses for getting schooled like Tyson did Mitch Green in the fourth.
Just when we thought James had discovered a remedy for his psychological shrinking violet tendencies under the NBA Finals' bright lights, he invented a physical one to substitute. That wasn't hyperthermia which had James back in the locker room while his teammates played through the conditions, that was hypochondriasis—otherwise known as health phobia.
Miami's stars like to incorporate chic and fashion-forward trends into their postgame look. 2 San Antonio embraces plaid, blue-collar work, a thankless offense and just go to work. That's probably why they didn't seem to flinch when the air conditioning suffered electrical failure in the first half.
The problem is that Miami is too white collar for a hotbox gym environment. It's not just the Heat. The Miami Dolphins usually falter in the latter half of the regular season once temperatures in AFC East stadiums dip into subzero temperatures. Once they got a little sweaty turned, those white collars turned transparent and everyone could see what they were made of. That goes double for James. Texas air isn't followed by a cool bay breeze.
LeBron is the NBA's Drake. He may be talented, but all that muscle belies that fact that he's compensating for him being softer than Oliver Miller's torso. King James is used to being coddled and having all the conditions meet his specifications. Take him out of his element and he's nothing more than another four-time MVP, who can't two-peat unless he has Dwyane Wade and Chris Bosh flanking him.
James needs to find some consistency in his royal preferences. Indiana's paragon of sportsmanship Lance Stephenson attempted to blow some cold air on the sweaty MVP of the Heatles and his teammates called it "buffoonery". On Thursday night, James was so hot he was struggling to breathe and needed a chariot ride to the bench. Let's not forgot his famed boiler room workouts that set the Internet on fire last fall. 3
James hasn't been this indecisive since his last NBA contract expired. Luckily a King of Comedy was there to fearlessly call out cowardly King James on his act.
Isaiah played with a sprained ankle! Jordan played with the flu! Kobe played with 2 broken fingers and a bad knee! Lebron the air was off?

— DL Hughley (@RealDLHughley) June 6, 2014
And don't dismiss Hughley either. Hughley's tweet was a emblematic of the collective's thought on LeBron walking out on the Heat in a championship series. DL's initials match the acronym for disabled list for a reason. He's an expert on cramps. Haven't you seen the brain cramps he's made on Twitter lately?
Basically, @RealDLHughley called LeBron a thirsty B***h. Don't apologize this time! Say it w/ur chest! #TeamGatorade pic.twitter.com/P4S9JMcMAQ

— DJ Meta Dunson (@CerebralSportex) June 6, 2014
After the game, James was reportedly unavailable to speak with the media while he was hooked up to an IV supplying fluids. Yep, you heard that right. Not only did he hide from the media, but he's also too bougie to drink his own fluids these days. 4
Boris Diaw is 250+ pounds of crepes and pork ribs. You didn't see him complaining about his muscles contracting. Less time in the weight room trying to show off for South Beach and more time spent doing bikram yoga in 105 degree temperatures would have been beneficial for James.
James thought he'd escape the criticism of Miami's Game 1 meltdown by pulling a repeat of Paul Pierce's 2008 Finals community theatre performance by faking a leg cramp so severe he's have to be carried to the bench by a triage unit.
The Internet wasn't going to let him get away that easily. #LeBroning is a real thing and it's the most creative social media fad since Griffining.
James should dial up Serge Ibaka to learn how to play through real pain.
After watching the Congolese big man nearly swing the Western Conference by playing through severe swelling and excruciating pain in his calf. 5 James' bellyaching sounds as tone-deaf as the Stephen A living in Richard Sherman's stomach Oberto Beef Jerky ad spot.
Forget Michael Jordan's flu game or Willis Reed trying to dragging one leg behind him onto the floor for Game 7 of the 1970 NBA Finals then scoring the game's first two points. When former No. 1 overall pick and current ESPN studio analyst Doug Collins was James' age he took a muggy bus to the old Boston Garden for a Game 6 of the Eastern Conference Finals.
The Celtics and Sixers were not fortunate to possess the amenities today's stars are afforded. It was so hot, you could have baked a succulent chicken on their parquet floors.
Instead of whining about his lungs or debilitating cramps, Collins sucked it up and proceeded to find the mental toughness to endure through the conditions. 6
"It was one of the hottest nights in Boston Garden. I think I dropped 15 pounds of fluid that night chasing (John) Havlicek. I didn't have a lot of fluids." Collins said back in 2012.
Does James still think he can play tight end in the National Football League? The 6-5, 250 pound Hall of Fame tight end was a key ingredient in the San Diego Chargers Air Coryell passing attack in the '80s.
However, the signature moment of his career occurred on the Orange Bowl field during the Epic in Miami. Through sauna-like conditions, Winslow caught what was then a playoff-record 13 passes for 166 yards and also blocked a field goal attempt. There were two things that mad his performance so indelible.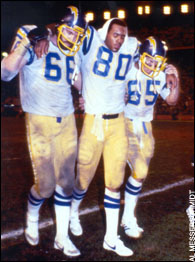 Over the course of that game, Winslow had been treated for a pinched nerve in his shoulder, dehydration, severe calf, thigh, plus lower back cramps, and three stitches in his lower lip to top it all off. At best, James suffered from ½ of those maladies and couldn't finish Game 1.
"I felt paralyzed," Winslow would later say.
The image that everyone harkens back to didn't occur on the field, but rather after the Chargers emerged with a 41-38 win while Winslow's teammates assisted him off the field.
Jordan's legacy is perched too high up on the backboard for James to reach even when his muscles aren't limiting his incredible athleticism. LeCramp James (coined by Skip Bayless) 7 isn't even Kellen Winslow.
In a month, James will finally have his opportunity to opt out of his contract early and exit early like he did on Thursday night. If the Heat lose this series in seven games, his cramping cop out won't be forgotten and hopefully, the door hits him on the way out. 8
Even if it doesn't make contact, you can bet the wind will knock him over. 9
FOOTNOTES
1. I took the over on odds that every single basketball writer in America would use the lack of AC and the Miami Heat's collapse in their ledes and/or headlines on Friday morning. To better my odds, I personally went with both. I'm at least 1 for 1 thus far.

2. Tony Parker was once married to Golden Globe nominated actress Eva Longoria, which would have been Miami's equivalent to Gabrielle Union if Parker hadn't began an affair with a teammate's wife. In the sage words of Antoine Dobson, hide yo' wives.

3. Those were filmed for the Miami Heat's introductory video, but in retrospect it's pretty ironic.

4. There's been debate over whether intravenous fluids actually curtail cramping, but for the most part every pro training staff across all major professional sports uses them to treat dehydrated athletes. Taking that bougie comment seriously makes you as dense as one of those "Are You Bougie?" online quizzes.

5. Ibaka missed the first two games of that series. All of this chatter ignores the fact that James has played valiantly through cramps before during Game 4 of the 2012 NBA Finals. It was Spoelstra's decision in Game 1 to end James' night rather than risk further injury in a game that was getting out hand. Unlike the NFL playoffs, this is a best-of-seven series. You fight to live another day.

6. Most athletes including Collins and Isiah Thomas, who scored 26 fourth quarter points on a severely sprained ankle in the '88 Finals, before agree that muscle cramps are impossible to play through and be effective on the floor.

7. Just in case, you're not sure what a hot take is, here is a history on the black hole that this biased and mindless brand of sportswriting.

8. I doubt he'll actually opt out this summer. Him testing free agency in 2015 now looks more likely.

9. He is an exquisite flopper.