With Georgetown University making a major power move and disrupting a coaching empire by firing John Thompson III after 13 season on Thursday, the conversation immediately switches to potential coaching candidates to assume command at the culturally-iconic basketball factory that has hit hard times, going 29-36 over the past two seasons.
John Thompson Jr. took over at the school in 1972 and over the next 27 seasons, he transformed basketball and pop culture as one of the most influential, polarizing, valiant and controversial figures in American sports history.
Big John retired during the '98-'99 season and after his departure, Georgetown suffered through six mediocre seasons with Craig Esherick, who made one NCAA Tournament before John Thompson III assumed his birthright and took over. Little John initially restored order, going to a Final Four in the '06-'07 season and posting the program's first 30-win campaign since Pops ruled the Hilltop.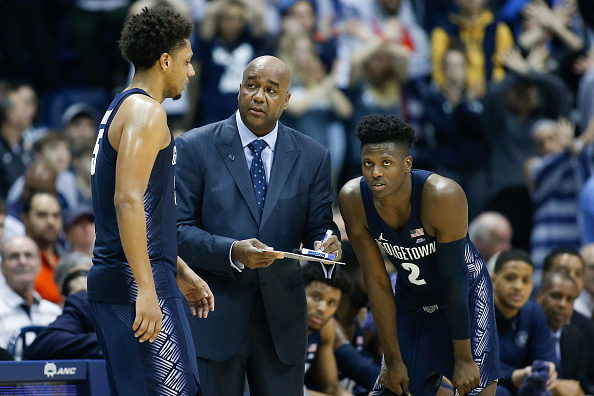 It was a natural continuation of the excellence established by his dad, but in a changing basketball landscape, Georgetown couldnt keep up with its mythical reputation and started hustling backwards at some point. Those top- notch recruits that used to do anything to be a Hoya became harder and harder to keep at home.
Thus, a change was made and the coaching bloodlines at Georgetown will never be the same. However, there is one guy that would satisfy the position who is considered an adopted son of Big John and the most important player in the Thompson legacy along with Allen Iverson.
Patrick Ewing. It's a no-brainer.
It would be a natural progression to replace the biggest coaching name in Georgetown history with the mythical player that almost single handedly helped build the Georgetown brand and made the Big East a funky, fly, fisticuffing, fully-loaded conference.
According to multiple sources, Patrick Ewing is one of three target candidates for the job opening.
Many people are pulling for Pat. Ewings probably overqualified for the Georgetown job, but he's the ideal candidate. Hes probably the only person who has the stature, pedigree, track record as a player and colossal presence to match that of the Thompson Family. Ewing led the Hoyas to three Final Four appearances and the 1984 national championship.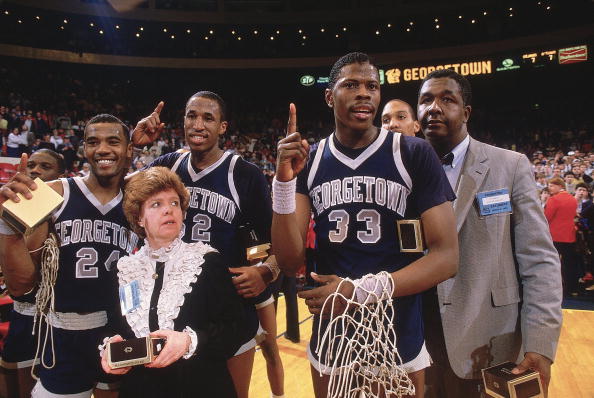 After a Hall of Fame career with the Knicks in which he pushed his body to the limit and carried the burden of being under a microscope that few players in the history of the NBA has ever endured, Ewing has been an NBA assistant since 2003. Hes certainly paid his dues, but hes yet to receive a head coaching job. The NBA execs may not appreciate Pats coaching prowess and potential, but Georgetown University is the perfect lab rat to test Ewings acumen as a recruiter, politician, motivator and technician.
I hope Patrick Ewing wants and gets the Georgetown job. His time is past due. What else does he have to prove?

Chris Webber (@realchriswebber) March 23, 2017
Hes the closest thing to Thompson Jr. in demeanor and exceeds him in size. And we know Pat doesnt take no junk, so hes going to demand the respect of the players and even the refs early on.
The only impediment to this process would be Ewings desire for a head coaching job in the NBA. Insiders say he is close to getting that shot and switching to college now to take a job that youd assume he will hold for a long time could throw him off course to achieve that goal.
Pat Ewing would've likely been hired as Kings coach if Dave Joerger didn't become available; made strong impression in Memphis process too.

Adrian Wojnarowski (@WojVerticalNBA) March 23, 2017
He has to weigh his love for Georgetown against his desire to be a sideline stalker in the NBA. Youve got to think the Georgetown job would come with much more security as well.
Hed be embraced by the entire community and given some time to rebuild the program. His presence on campus alone would be the talk of the town for the first season. The 54-year-old Ewings name and his '80s exploits still ring bells in DC.
It seems like a match made in heaven. Pats shown patience, persistence, a professional decorum and proved to be accepting of criticism and challenges while paying real dues as an NBA assistant coach. The ball should be in his court if Georgetown knows what's good for it.