Washington Redskins defensive end Ricky Jean Francois made a trip to his father's native Haiti on Monday, October 10th to deliver much needed medical supplies to the country after it suffered the devastating effects of Hurricane Matthew.
Francois, who was joined by teammate and Haitian-American Pierre Garcon, took a break from football to make the quick excursion to the storm-ridden land and represent the Redskins.
(Photo Credit: Washington Redskins)
Haiti has been suffering the devastating effects of The Category Four storm, which is the southwestern regions largest in over a decade, leaving over 1,000 dead and approximately 1.4 million people in need of emergency aid as rescue workers feverishly continue to reach previously inaccessible areas.
Jean Francois was one of the first athletes to visit the country and see the devastation first hand. The eight-year vet was clearly moved by what he saw during his visit and he spoke to the Shadow League in a sit down interview, which we turned into "The Diary of Rickey Jean Francois: Help for Haiti."
"The day before Dan Snyder gave us the phone call to go to Haiti, he was in the Bahamas giving out supplies. I feel bad for Freeport Bahamas too, because they wont have lights until Christmas as a result of Hurricane Matthew.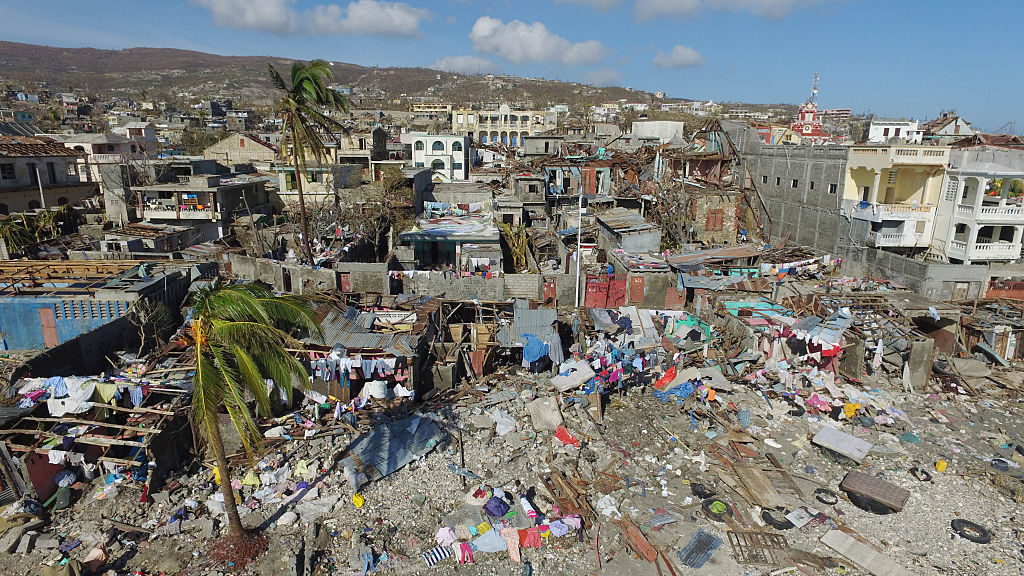 (Photo Credit: Getty Images)
The devastation is incomprehensible to Americans.
We were on a bus and leaving from a game that we won against the Baltimore Ravens and Dan Snyder gave Pierre Garcon a call about going to Haiti. And I got a call from Pierre telling me that Dan Snyder wanted us to go to Haiti and help out there.
There were a lot of medical supplies in our training room that we didnt need. So Dan Snyder just put it all on his private jet that he lent us to carry out this mission and go down to Haiti and handle it ourselves.
There were only three of us; me, Pierre and Tony Wyllie, Senior VP of Communications. As soon as we got there, we saw choppers coming in and out trying to get supplies in and get to different parts of Haiti. It was a challenge because some of the roads were destroyed. You cant use many of the roads because the water may have wiped that road out, or the road may have rebels sitting on them with weapons and they might just rob your supplies.
(Photo Credit: Swanson Communications)
Its a slippery slope.
When we got there, we were greeted by some high ranking officials and we went straight to the hospital. It was truly a sight to see. On this one road leading to the medical buildings, there were more than like 3,000 people on a block where two cars normally shouldnt be capable of going down.
We see a national security guard holding an M-16 short barrel at the front door of the gate. We got inside there and they introduced us to some of the doctors and nurses and just showed us around. We took in the environment of the hospital and as soon as the supplies touched the concrete of that hospital, they were put to work right then and there.
The hospital was holding at least 500 people, but they say when Hurricane Matthew fist hit they had to push at least 5,000 people through that hospital. They didnt even have the means or the space to accommodate everyone. It was packed to capacity with no space to move. I saw one doctor, he was trying to just turn around to help one patient and then trying to figure out a way to turn around and help another patient.
There were just multitudes of patients around and a lot of them had their families there with them too, so the doctors had to know how to navigate the different buildings and all of the people and just make something happen with very little resources.
It affected me deeply by seeing the environment and conditions of the hospital in Haiti. In America, the medical care people receive is first class and they probably arent going to turn you down if you need help, regardless of the severity of the injury or illness. And the supplies are unlimited.
In Haiti, you walk into a hospital that can only hold 500 people and they have over 4,000 people inside. And the severity of your injury determines whether you even can get treated.
I asked one of the assistants, Whats the hardest decision you have to make?
And she said, Telling someone with severe or life threatening injuries that we cant accept you because we dont have the proper equipment.
So somebodys life could be dangling in the balance and we dont have blood, we dont have oxygen, we dont have IVs, we dont have something that can help them stay alive. I couldnt imagine being a doctor or administrator in that hospital and having to tell someones family, eye to eye, that we cant help your loved ones. Or, We cant help you because we dont have the means to do it.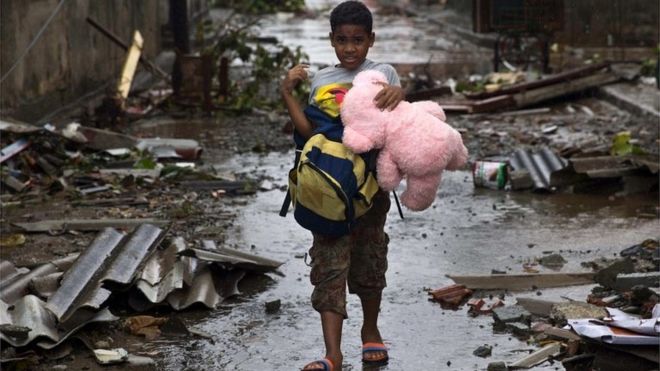 (Photo Credit: bbc.com)
Through all of the pain and anguish, the people of Haiti keep moving forward.
When we first got there, we saw different groups mobilizing to handle the crisis. We saw the military. We saw people that were inside Haiti that were getting things done. They told me they had groups organized as soon as the as the storm hit.
People were out there cutting down trees, they were trying to clog roads and get sandbags to put some of the road back because in Haiti theres no such thing as concrete. We just have straight dirt roads and a storm of that caliber; it wiped out the majority of the roads and stuff.
In the Southern part of Haiti is where it really hit. People were flooding the streets, homeless and walking 10 to 15 miles in terrible conditions just to get to the hospital and once they get there, as I mentioned, it was still no guarantee they would even be seen.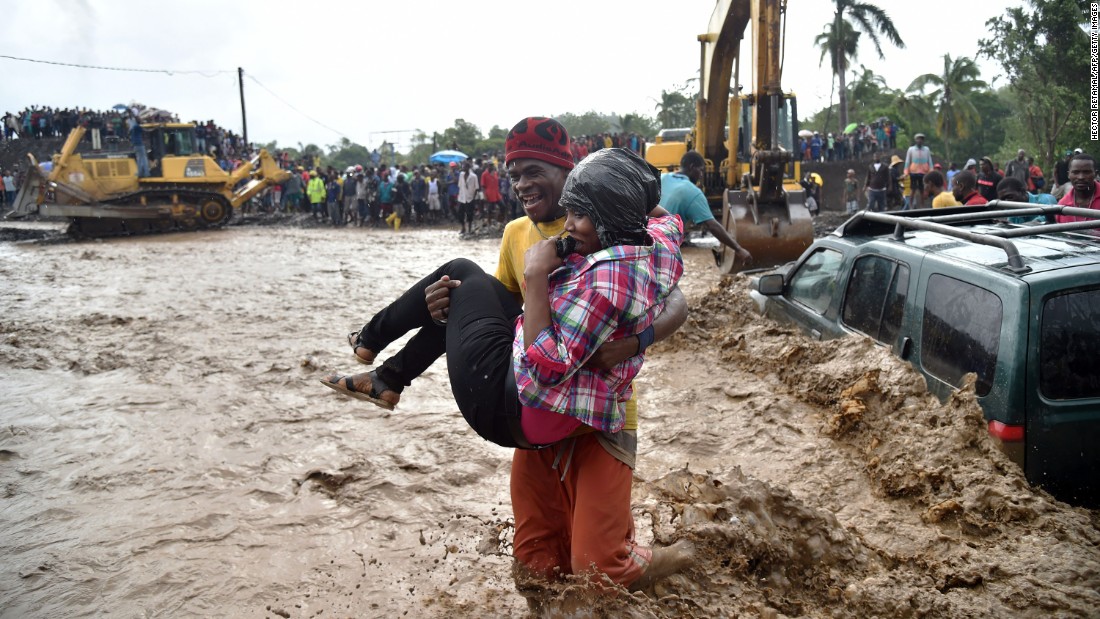 (Photo Credit: cnn.com)
But you see the people in Haiti still grinding. You still see people out there selling chips, shirts, juices — anything they could so they can get that dollar in their pocket so they can help their family and probably start rebuilding a better life because those homes didnt stand very well. The fragile homes in Haiti are not built like homes are built here or anywhere else.
I believe athletes are doing a good job making sure the Haitian people arent forgotten about. Marshawn Lynch isnt of Haitian descent and he came down there and built a school I believe.
You see a lot of Haitian athletes now going back to their roots to try and help because we cant get a break. We had an earthquake in 2010 out of nowhere, which separated the palace down the center and its broken in half now. Thats like our White House. Now this storm.
For us Haitian athletes, we just need to continue raising the awareness to it. To people in America this story is not as popular as the Presidential Debate or election thats currently going on. Something like this usually lasts a week in the headlines and then everybodys going to forget about it.
So thats why weve been wearing cleats in the games that are red and blue and have the Haitian flag and say Pray for Haiti on the side. I just want to keep bringing awareness to everybody.
(Photo Credit: cbssports.com)
And the biggest thing we would love everybody to do is take time out of your busy day. Go get a jug of water, or buy a case of diapers and do research on how you can get these goods to our country.
We need goods more than anything. Shout out to Jay-Z and Beyonce for donating $15 million and the NFL for donating $300,000. Now I just hope the government of Haiti makes sure all of the money gets to the intended parties.
Im not trying to knock anybody but $480 million from the Red Cross was donated after the last tragedy and I didnt see one thing that was built in that place that would help the country withstand a storm like this.
As far as the NFL season goes, we are 4-2 and coming off a big win over Philadelphia last Sunday. The turn of events off the field has given me even more motivation going into this Sunday's game against the Detroit Lions.
We didnt realize we had four-game winning streak going until the media or somebody brought it to our attention. We are just trying to go out there and execute each and every week. Coach gives us a game plan and says lets see how our game plan matches up against these great teams because when you look at our schedule its tough. We still got Minnesota, Green Bay and Carolina and all of these teams are playoff caliber.
(Photo Credit: timesleader.com)
I can understand everybody wrote us off early in the season after a slow start. But one thing Jay Gruden teaches us is about mastering the situation. If you dont, theres no way you will be a playoff team.
The best thing about our quarterback Kirk Cousins is that he understands his weapons and knows he has the best offensive line in the league anchored by Trent Williams. People need to realize that we arent the Redskins of the '80s, but we are the Redskins of a new generation.
We play to win, but we also have a duty to use our fortunate circumstances to help people in need. It seems like a bunch of people agree with us.
At first I didnt think it was going to get this big. I just posted a pic of us inside the plane flying to Haiti and as soon as we touched down I'm sitting there going viral like crazy. But we didnt care for the fame and all of that, we just cared about getting supplies to help the people of our country and it has helped.
(Photo Credit: nbcsports.com)
You see a lot of other people making donations and there will be more as time goes on, but we cant just let the issue stop, because the problems of the Haitian people remain. I wont stop until everybody understands. I suggest you go to Haiti and see the people there and how they live and I guarantee once you come back to the states you will have an entirely different outlook on life."
To contribute to the Haitian relief efforts, please visit www.projectmedishare.org and find out how you can assist.