Theo Epstein is the cursebreaker. In 2004, as the youngest general manager in MLB history, he was the genius architect of Bostons first world championship in 86 years. After winning two World Series with Boston, he joined the Cubs following the 2011 season. They went from 73-game winners to World Series champs in 2016, breaking an 108-year World Series drought.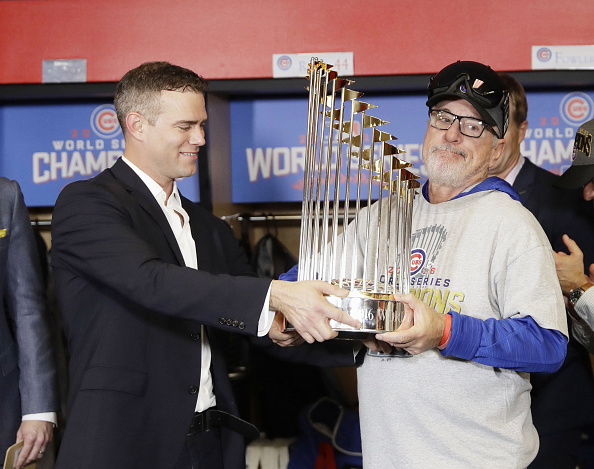 Epstein has already rewritten history and cemented his place in MLB lore. Hes just 43 years old. If you arent a baseball fan you might not know of the young phenom's unprecedented track record. The Yale mind that has helped shape baseball over the past decade is now being recognized with the highest of praise and an honor that even he thinks is ridiculous, as Fortune magazine named the Chicago Cubs' President of Baseball Operations "the world's greatest leader" on Thursday.
Epstein topped a list of 50 luminaries that also included Pope Francis, Cleveland Cavaliers superstar LeBron James and former United States Vice President Joe Biden. Dudes like the Pope and former VP Biden handle situations that affect the world. Epstein basically manages the operations of a sports franchise and leadership is important, but it doesn't trump the many complexities and issues that politicians or The Pope have to deal with.
This is where we are at with it now. The priorities in this country are truly changing.
After catching wind of Thursday's honor, Epstein wrote the following to ESPN's Buster Olney in a text message (h/t ESPN.com's Darren Rovell):
"Um, I can't even get my dog to stop peeing in the house. That is ridiculous. The whole thing is patently ridiculous. It's baseballa pastime involving a lot of chance. If [Ben] Zobrist's ball is three inches farther off the line, I'm on the hot seat for a failed five-year plan. And I'm not even the best leader in our organization; our players are."
Epstein acknowledged that to give him such an award is ridiculous. I would agree, but as a diehard baseball guy I do understand the magnitude of his accomplishments. To call him the worlds greatest leader is a definite stretch that I dont think too many people are taking seriously.
The entire baseball world got caught up in the Cubs World Series run. They were the face of MLB championship ineptitude and the next thing you know an influx of young talent and shrewd front office moves lifted them to the top of the baseball world. A most uncommon place for the majority of living Cubs fans.
I doubt a baseball guy has ever won this award before and we are in a time of firsts for many things in this country. I guess Fortune Magazine basically endorsed its candidate for President in 2024.