If you're looking for a late summer movie that doesn't have anything to do with superheros, aliens or underdogs, you might want to give the film War Dogs a look.
Starring Jonah Hill and Miles Teller, directed by Todd Phillips of the Hangover trilogy, War Dogs is the story of two young men who win a $300 million defense contract from the United States government.
Jonah Hill does a marvelous job playing a sleazy version of Efraim Diveroli while Miles Teller's character David Packouz is, more or less, the straight man of the operation.
The film, based upon the book Arms and Dudes by Guy Lawson, also prominently features Bradley Cooper as arms mogul Henry Girard. Cooper also serves as an executive producer on the film as well.
The Shadow League was in attendance at the Mandarin Oriental Hotel at Columbus Circle in NYC for the press conference. On hand for the discussion were Jonah Hill, Miles Teller, directer Todd Phillips and author Guy Lawson. The conference room was packed with media chomping at the bit to get the lowdown on the making of this entertaining yet sobering production.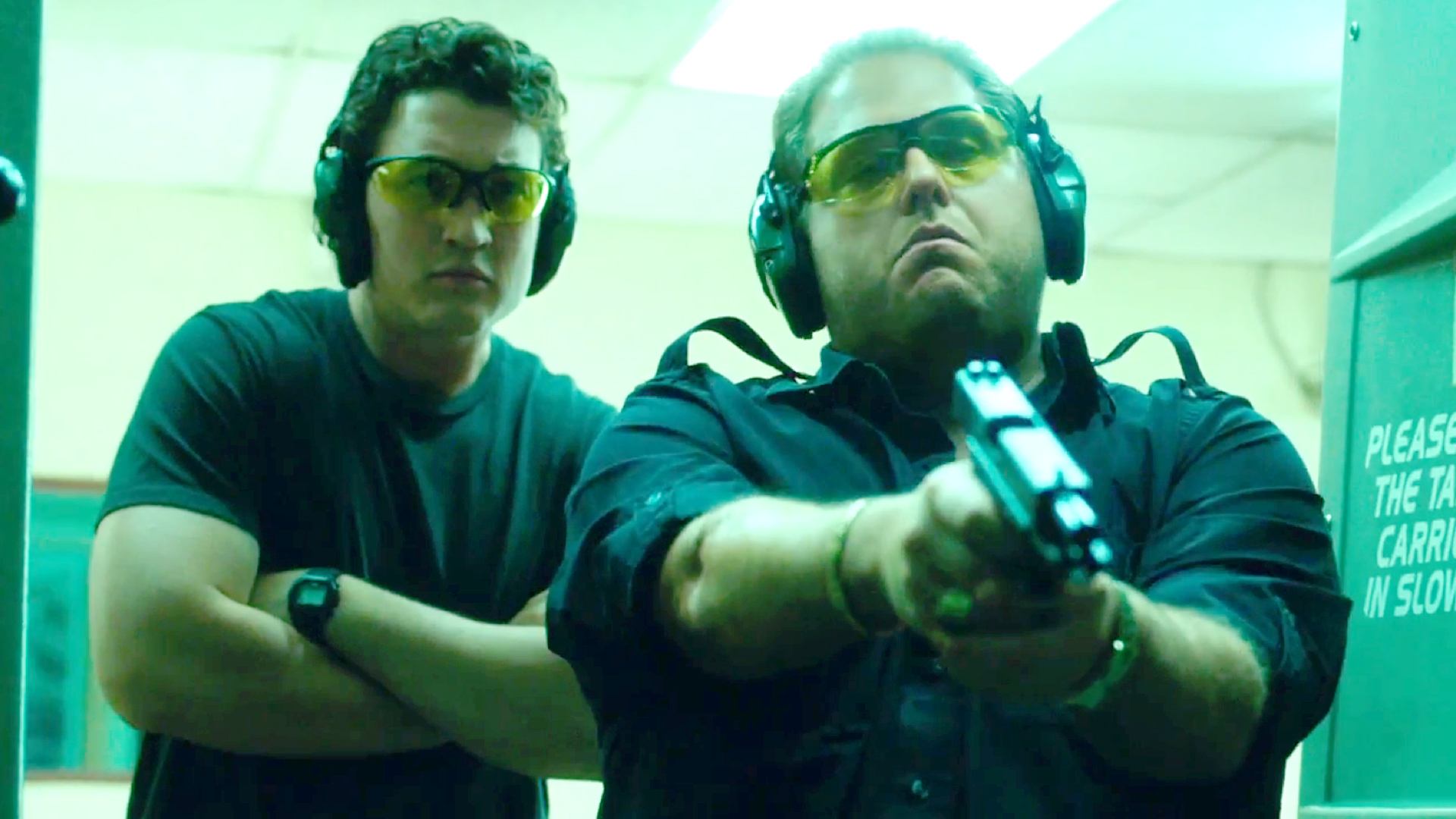 The ever talkative Hill told the gathered press that he wanted to do the film years ago, but was beaten to the punch.
"I read the article when it first came out, but Todd's company already bought the rights," said Hill. "At the time the article came out I was in my mid-twenties. At that time, if you were looking for a great movie, usually the story is about some guy in his thirties and forties because they've lived more life and are accomplishing these incredible things. But when you read stories about someone your age, especially when you're young, it's always like 'Wow!' It's really insane how attractive the story was and that the characters were people my age doing these insane things."
Co-star Miles Teller said he didn't have to think long before he agreed to do the film.
"For me, I always wanted to work with Todd," said Teller. "He produced a film that I wanted to work on. I really enjoy him as a filmmaker. Then you throw in Jonah, and say Bradley Cooper is going to act in it, you really didn't have to juggle that too long. So, I said 'Yeah, this absolutely something I'd like to be apart of.'"
Hill plays Efraim Diveroli, the partner and high school buddy to fellow stoner David Packouz. Conniving, selfish and without scruples, Hill says he was loads of fun to portray.
"The great fun about being in this movie, aside from working with all the people that I'm working with, is that the character was so, kind of outlandish, hurtful, deceitful, hateful and manipulative, but everyone describes him as very charming," Hill said. "When he wanted something, he could charm anyone. That was the great challenge. Then, I worked with Todd, and Michael Kaplan our costume designer, to kind of build this character. From the hair, the tan, being bigger, all the gold jewelry, but there was kinda that one thing missing as we got really close. I thought about people who you've met maybe once or twice but you'll remember for the rest of your life. I thought about why and it was because they had a really distinct laugh. I took it to Todd and he blessed it."
Phillips, best known for his comedy work, talked about the intricacies of crafting a tale based on actual character, and the flexibility that the subject's anonymity provides to the actors who brought them to life on the big screen.
"We're making a movie about two real people, but it's not like we're making Lincoln, where everyone knows he looks like this, dresses like that," Phillips said. "So, we took a lot of liberties with those characters. Jonah and I talked about giving Efraim swagger. I actually never met Efraim in real life, and I don't know if he had quite the swagger Jonah had, certainly not that laugh, but that's kind of what's fun about it. Its based on a true story, but actors get to give their characters color in really interesting ways."
War Dogs is funny, exhilarating and sobering as well. A rare combination for a film. Author Guy Lawson (Arms and Dudes) was quick to remind folks of the serious nature of the film's subject matter.
"There's never any consequences, there's never any lessons learned," said Lawson. "I think, for journalism, this is a bright moment. It's not a documentary, but I think it puts lots of journalism in the movie. There's a lot of important issues being brought to the world about America's role in proliferating weapons, about the lack of responsibility of anyone in authority in this country. The torture at Abu Girab was, of course, the fault of the guards, NSA surveillance is Edward Snowden's fault, just like the proliferation of weapons is these kids' fault. I mean, it's ridiculous."
"The book and the article outtake on the Pentagon, the Department of Justice, the State Department, the New York Times, a federal judge, and on and on," he continued. "There's no movie like this out there. I think this is, for journalism, a bright moment. It's not a documentary but it takes on real issues."
War Dogs is slated to hit theaters nationwide on Friday, August 19. I laughed, I thought deeply, I got pissed off.
The Shadow League gives the film a solid A for direction, dialogue, story, the acting and cinematography.