Toward the end of Darren Woodsons decorated NFL career, fairy tale images of how it would end perpetually danced through his mind.
The three-time Super Bowl Champion and All-Pro safety, whod played in five Pro Bowls en route to becoming the Dallas Cowboys all-time leading tackler, hoped that it would conclude with one more championship victory.
Prior to the triumphant music that would precede the closing credits, his inner script called for an interception in the Super Bowls waning moments, and a subsequent return for a come-from-behind, game-winning touchdown. Jogging back to the pandemonium on sideline, hed proceed to seek out team owner Jerry Jones, toss him the pigskin and breathlessly, victoriously announce, Thats it Jerry. Im done.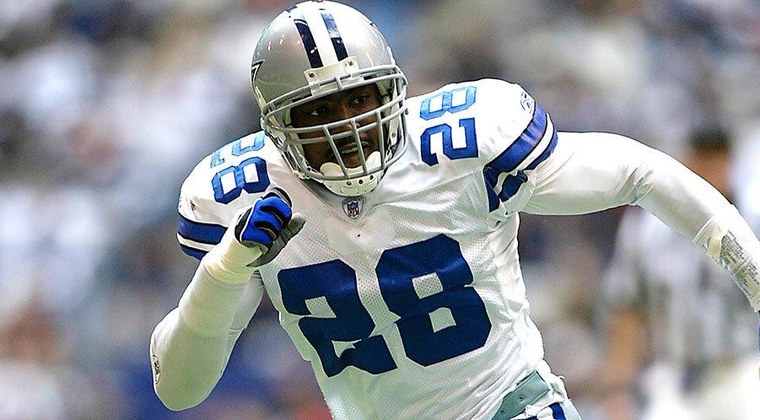 But NFL endings are rarely of the Hollywood variety, especially for a physically dominant and intimidating force of nature like Woodson. Hed played a ferocious brand of football for twelve years, a commitment that left slivers of his health on the field after every game. As the actual curtain fell on his career, it was a far cry from what hed once envisioned.
There was no victorious gallop off into the sunset. In fact, as he limped and struggled and tried to fend off irreversible nerve damage, he wished that he could one day, maybe, just maybe, run again without debilitating pain. His body was ravaged to the point where it gave out long before his mind did.
But to start Darren Woodsons story at the end of his run with the Cowboys would do the man a disservice. Its easy to construct the narrative that way because, after all, he is one of the greatest players to ever wear a Dallas uniform. As the best safety in franchise history, he deserves to be enshrined one day in the Pro Football Hall of Fame in Canton, Ohio.
Long overshadowed by his more celebrated and recognizable teammates like Emmitt Smith, Troy Aikman, Michael Irvin and Deion Sanders, Woodson has a legitimate claim to being the actual MVP of the franchise that bullied the NFL in the 90s like Biff did McFly in Back to the Future.
The long-held adage is that defense wins championships. And with that as the premise, then Darren Woodson, as the teams best and most intimidating defensive player, was largely responsible for an inordinate amount of Dallas fans screaming, How bout them Cowboys! during their modern championship years.
Woodson was raised in Maryvale, a West Phoenix neighborhood plagued by gang activity and violent crime. His mother, Freddie Luke, raised him and his three older siblings as a single parent working two jobs to keep the household afloat.
My mothers middle name is Beatrice and I call her Queen B, said Woodson. She was full of character, always talked to us about being on time, putting our best efforts into anything we did, being a stand-up person and getting good grades.
Luke worked for 38 years at the Maricopa County court system, along with a second job at the local Elks Lodge. Woodson, the youngest of her four children, often found himself being reared by his older siblings while his mother scrimped and clawed to make ends meet.
My sister Monica is seven years older than me and my brother Randy is six years older, said Woodson. They always did a great job of filling in the gaps while my mom did what she had to do to keep a roof over our heads. Theyd fix my breakfast, get me ready in the morning, walk me to the bus stop and make sure I got on my way before getting themselves ready to go to school. And after school, theyd take care of me until my mother came home. Were a very tight-knit family.
But even the tightest families can become tested and fractured in communities like Maryvale, which was referred to locally as Scaryvale," where bad choices and misfortune ominously lurked in the open-air drug markets of the Henson Projects, where Luke raised Darren and his older siblings.
Growing up where we grew up, there are times when you have no choice but to protect yourself, said Woodson. So, if you were gonna fight one Woodson, you were gonna fight them all. Weve always had each others backs and seen each other through things. And my mom was such a strong woman, in terms of her integrity, that we always held each other accountable. We never backed down from what the truth should be. And if one of us was wrong, the entire family addressed it.
The local YMCA and Salvation Army became an oasis for the Woodson kids while their mom was putting in 16-hour workdays.
We were in those places all the time simply because thats how we stayed off the streets, said Woodson. Thats how we got involved in sports. My older sister got everything started when she started playing basketball. And my older brothers and I, we played everything. If it rolled baseball, football, soccer, basketball, whatever we played it.
When he suited up as a running back and linebacker for Maryvale High School, Woodson was widely recognized as one of the best prep football players to ever come out of the state of Arizona. With his speed, strength, aggression, motivation to succeed and smarts that enabled him to understand the game at far deeper levels than most high schoolers, the game came easily to him.
I just felt very comfortable on the football field, from a very early age, said Woodson. Playing in Phoenix in the summer, when it was 115 degrees, didnt bother me. I had a rare passion and discipline for the game. I had coaches that were disciplinarians that kept me focused and football just seemed to be a natural fit for me.
But despite his natural inquisitiveness and intelligence, the disciplinarian coaches, the positive examples of his older siblings and his mother stressing the correlation between his academic efforts and future achievement, he was admittedly nonchalant about the classroom.
After one outstanding high school game, where hed rushed for five touchdowns, his mother approached him as he smiled from ear-to-ear and said, Howd you do on that math test?
She could care less about the sports side of it, said Woodson. She really wanted me to focus on the academic side of things.
But at that stage in his development, he was content with simply being a football star. He thought that was all hed need to achieve his dreams. Football was going to be his ticket out of the projects. It alone would propel him to something bigger. Or so he thought.
My junior and senior years in high school, I absolutely dropped the ball as far as my grades were concerned, said Woodson. Even though my mother was on me all the time, I really didnt understand the importance of academics. I felt like, Hey, Im a great football player. Ill get to college based on my athletic ability.
He scored well on his SAT and ACT standardized tests, but his transcript was ugly. Despite being one of the top recruiting targets in the country, he failed to meet the NCAAs academic qualifications for an athletic scholarship. He decided to become a walk-on at Arizona State University, where he was unable to play football during his first year on campus.
I had no focus and discipline in the classroom and it came back to bite me, said Woodson. I had to sit out my first year as what they called a Prop 48 player, and that label bothered me because I knew that had I listened and done what I was capable of doing, I wouldnt have been in that predicament. I was also hurt because for the first time in my life, I couldnt play football. I had to focus on what was important and get my grades right, so that I could get back to doing what I loved.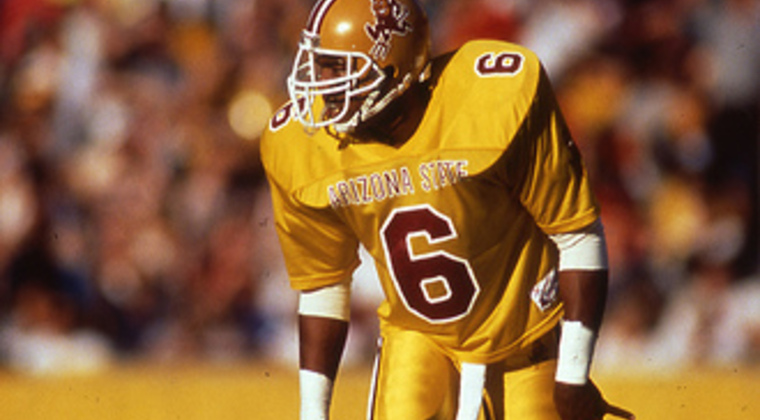 At Arizona State, Woodson willingly came under the wing of his position coach and the man who would become a cherished, tangible father-figure in his life, Lovie Smith, who is now the Head Coach of the NFLs Tampa Bay Buccaneers.
The totality of his earlier academic insouciance hit him with the force of a bone-rattling, blind-side tackle when Smith told him, Youre not going to play football this year. Youre going to go to school. I dont want you at the games. I want you focused on academics.
I couldnt go to practices, watch films or do anything, said Woodson. Every day, theyd check to make sure that I was in my classes. The guy would walk in and Id raise my hand to let him know, Hey, Im here. They made sure that I took care of my business. During that first year, I acquired the discipline that Id previously been missing in the classroom. Once I did that, the academics came easily to me.
Once he returned to the football field after sitting out the 1987 season for the Sun Devils, his resolve was tested again when a sciatic nerve injury ended his first season of college football after only three games. But he attacked his rehab assignments with vigor, determined to make the impact on the field that he knew he was capable of.
As a redshirt sophomore in 1989, he led Arizona State with 122 tackles from his outside linebacker position, including a monstrous 16-tackle performance against Stanford.
One Monday evening, he gathered at Lovie Smiths off-campus home with the teams defensive backs and linebackers to watch a Monday Night Football game between the Arizona Cardinals and the Chicago Bears.
Mark Carrier, the big safety from USC was playing for the Bears, said Woodson. I was sitting next to Coach Smith and said, Man, that guy can really play. And Coach Smith looked at me and said, You know what? Theres no way that guy could be on the same field as you. Youre absolutely that much better than he is and its not even close! I thought, Wait a minute. Thats Mark Carrier, an All-American who came into the league and played extremely well against the best players in the world from day one.
That was my Ah-hah moment, Woodson continued. Thats when it hit me, in terms of having the vision for what I could accomplish in this game. Lovie would always tell me, Youre gonna play at the next level. Its just a matter of you being disciplined enough to have a Hall of Fame career, because that is whats possible for you. Youre that good.
Outside of pushing him as an athlete, Smith was also nudging him toward responsible adulthood. Hed pepper Woodson with constant affirmations of, Youre going to graduate in four years!
Smith, like Woodsons close-knit family, held him accountable, stressing that his attention to detail could not be simply limited to blitzing and coverage schemes if he was intent on fulfulling his true potential as a man.
He was so inspirational in terms of my grades and being able to formulate my lifes vision, said Woodson. He made sure that I was in class every day. He challenged me to see beyond football. If there was ever a father-figure in my life, Lovie Smith was that guy.
Smith also contributed to Woodsons ability to speak confidently and astutely in front of others, an ability that serves him well in his current role as one of the best NFL analysts on ESPN.
I was always a shy kid growing up, and Coach Smith and the Arizona State coaching staff forced me to go to local schools in the community and speak to kids, said Woodson. It was absolutely uncomfortable for me. I cant explain how nervous I was. I didnt sleep. My palms would be sweating. My voice would break. But that was my start in terms of overcoming my fears and being able to stand up in front of people while effectively communicating with them.
The newfound confidence he acquired benefitted him as a team captain as well. He found that he could communicate better as a team leader and captain on the field, constructively criticizing others in ways that motivated them and explaining nuances of defensive assignments that his teammates could easily digest.
It also helped him as he navigated the NFLs pre-draft process, when sitting across from General Managers and representatives of a teams personnel department.
I always had confidence in my game, but I didnt have much confidence off the field as a person, Woodson said. Being forced to talk to those kids helped me get to the next level in terms of my confidence and ability. I became a much better football player because of that, and I was able to let people know who I was off the field as well. It was invaluable.
NFL coaches flocked to Tempe, Arizona prior to the 1992 draft, enamored with Woodsons skills as a linebacker, despite him being undersized for the position at the pro level.
Lovie Smith told every pro coach and talent evaluator the same thing regarding Woodson, how he was such a fearsome competitor that he would often have to back him down in practice situations.
Hes an Alpha Dog, Smith would say. He is going to play with intensity and at a very high level. You dont have to worry about motivating him. Hes gonna show up and give you everything he has every day.
But there wasnt much that Smith had to sell to NFL coaches regarding Woodsons ability. He might have been a small linebacker in college, but when watching him on film, the most astute pro coaches saw a rare specimen that could wreak havoc from the safety position.
Darren is the total package, former Cowboys defensive backfield coach Dave Campo once said. He has a combination of size [61, 215 pounds], speed [4.4 in the 40] and lateral movement that is rare in a strong safety. In fact, he covers one-on-one so well he could be a corner. He is the kind of guy that coaches like to build a team around.
Woodson grew up as a Pittsburgh Steelers fan. Although he didnt care what team drafted him, there was one certain team that he couldnt envision himself playing for.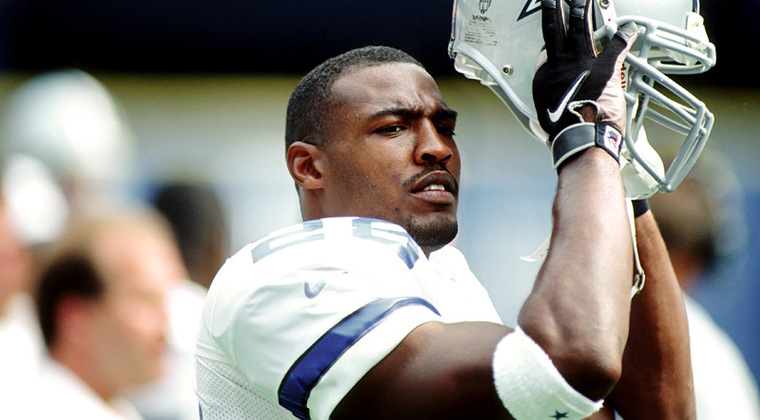 I hated the Cowboys, said Woodson. The Cowboys were the most popular team in Arizona by far when I was growing up. But whoever they played, thats who I wanted to win. I despised them as a kid. I loved the Steelers throughout high school and college.
On draft day, April 26th, 1992, Woodson couldnt sit still. He decided to play golf while his family and friends gathered around the television to see what team would select him.
My buddy Floyd was watching the draft with my family, said Woodson. I needed to get away. I didnt want to see it. So Im out on the golf course, which I was actually playing for the first time ever that day. And Floyd paged me. We didnt have cell phones back then. So I call him up and he says, Guess who just drafted you?
When Woodson found out that the Cowboys had selected him with their first pick in the second round, he was stunned.
One of the first players he talked to was linebacker Ken Norton, Jr., who told him, Were right on the cusp. Were gonna get there and were going to win this thing.
I didnt become a Dallas Cowboys fan until Jerry Jones put his signature on my signing bonus check, Woodson said while giggling. I didnt know how good the team really was when I first got there. I was just a young kid, a rookie. But when we started scrimmaging other teams, I could see that we had a lot of young, hungry talent.
The Cowboys opened the 1992 season against the defending Super Bowl Champions, the Washington Redskins, under the national media glare of Monday Night Football.
And we absolutely throttled them, said Woodson. It wasnt even close. Thats when I said, Man, this is a very, very good football team.