Kyrie Irving is the quintessential embodiment of the term "Young, gifted and black", but there are things he's dealing with that aren't really cool right now. Things like keeping his business out of the limelight. According to multiple sources, Irving's girlfriend is rapper/singer Kehlani, and she was purposely outed as a cheater by the guy she was allegedly giving up the goods to, rapper PARTYNEXTDOOR.
He also happens to be her ex-boyfriend. The rapper posted a photo with two people holding hands in a disheveled bed watching television. He is said to have posted the photo to his Instagram account along with the words "After all her shenanigans, still got the R&B singer back in my bed."
The photo shows him grabbing the hand of an unidentified person with the words "Woke" tattooed on the hand. Unless this particular tattoo is all the rage now, chances are it was her.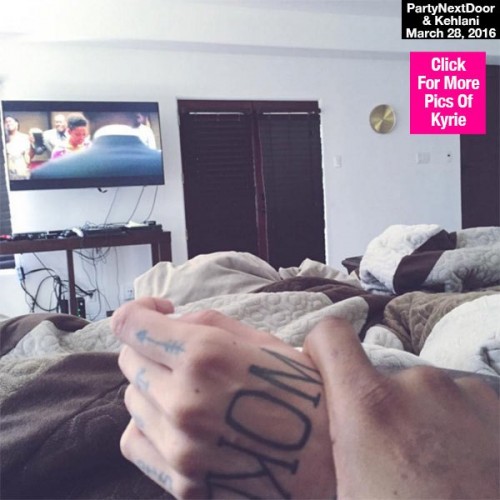 (Photo Credit: Hip Hop 1987)
The words were quickly deleted but the firestorm had already begun. Initially, Kehlani tried to chalk the photo up as a misunderstanding but word is Kyrie is insisting that she fess up. Ironically, Kehlani's hit song is titled "Down For You."
Kyrie isn't the first brother to get played, and certainly isn't the first NBA player to get his girl nabbed by a rapper. Notorious B.I.G. even had a song about it.
Who hasn't been cheated on before? Before you fix your face to lie, a 2008 article in US News & Word Report states that 50 percent of men and a third of women have cheated or will cheat. While the actual number fluctuates greatly from expert to expert, there's a strong possibility that you have been crept on, will get crept on, or will be the person doing the creeping. It's just a matter of life in this fast-forward society of malcontents.
(Photo Credit: Black Sports Online)
Tim Duncan's wife cheated, Dwyane Wade's first wife was allegedly a creeper, former NBA MVP Steve Nash was cheated on by his ex-wife and these are just the famous players that we're aware of. There are likely legions of NBA bench riders dealing with this issue. While the psychology of a cheater is something that has been debated for centuries, it seems even more egregious when you consider that NBA athletes are considered the coolest, richest and most "appealing" professional athletes in American sports.
Could it be she just needed more attention?
All athletes, well at least the good ones, are known to sacrifice all their time to the craft. Whether they're perfecting their games in the offseason or putting in extra work in the gym after practice, it is often understood that a player's line of work would keep him away for extended periods of time. It's a sacrifice of time and attention, for some more than others apparently.
(Photo Credit: Galore Magazine)
Kehlani recently posted a photo of herself in the hospital with an I.V. in her arm and it is being widely reported that she attempted suicide. Seriously, who posts their "almost committed suicide" pictures to social media? People who are seeking attention, that's who.
If I were Kyrie Irving, I would thank my lucky stars that the truth was revealed, focus on my craft and sure up the vetting process for future girlfriends. Sometimes money, fame and fortune aren't enough to keep someone from straying. This appears to be one of those instances.