The drafting of Notre Dame QB DeShone Kizer is very telling. As a huge Fighting Irish fan, I watched every one of Kizers games and the only thing I saw in his brief time at the university is the same thing the Browns drafted him on — potential.
He showed flashes of brilliance, but his overall performance was up-and-down and it was pretty obvious that he needed more development before mastering the college game.
The problem with potential is that it never did anybody any good at the pro level. Can anyone say Cardale Jones?
If you look at which players were more successful at the pro level between cats with potential or guys who had ridiculous stats in college, Im sure the super stat guys ended up better in most instances, even if they didnt fit the prototypical standards for that particular position.
DeShaun Watson dominated college football, proved to be a leader and a winner, but Watsons physical deficiencies (meaning hes not built like Andrew Luck with RG3s legs) are a bigger deterrent to league executives than Kizers inability to actually complete passes and make plays.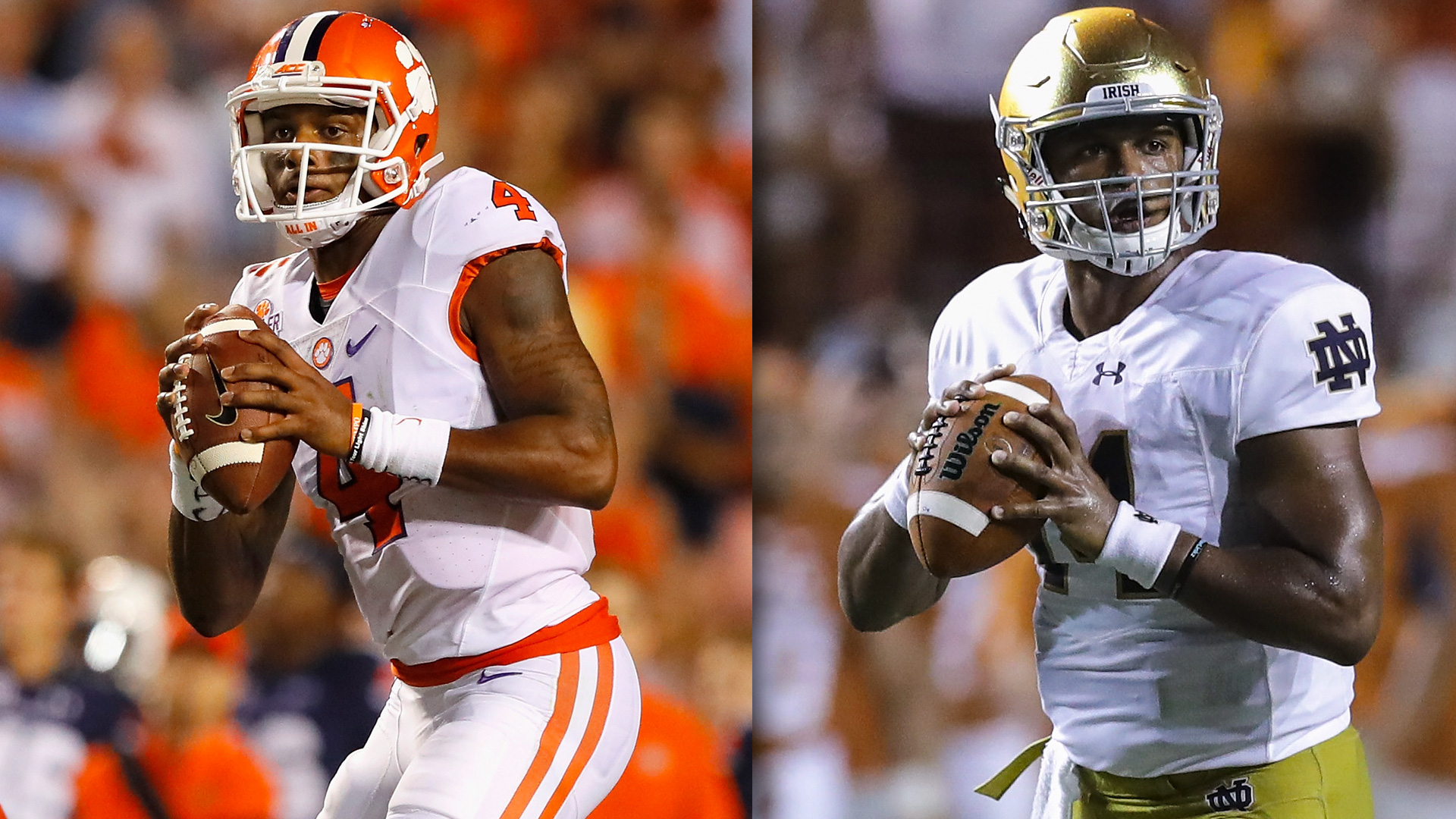 Herein lies the idiocy of the NFL Draft and the lunacy that takes place while assessing potential NFL stars and discarding players who may not fit the physical bill.
Kizer hasn't been consistent enough to suggest that he will be better than Watson at the next level or even good enough to start any time soon. But he was basically handed a second-round draft position based on potential, while Watson had to take a back seat to unproven Mitchell Trubisky.
Kizer sure looks the part. And although looking the part never meant a damn thing once you get on the field, Clevelands new braintrust seems to be susceptible to the same old football prejudice that caused folks to pass on a future Hall of Famer like Drew Brees.
In Kizer I see more Brady Quinn than Joe Montana. Quinn was drafted by the Browns in 2007 out of Notre Dame and now he's an NFL analyst with little NFL career to speak of. He seems to think Kizer can be the 2017 Dak Prescott.
I dont know who I would compare Watson to. I just see a leader who can play football like a savage and in the right system, he could excel. Hes certainly more talented than Colin Kaepernick and more polished as a passer.
It seems as if the Browns arent even sure about Kizer. Thats why they are still stockpiling QBs and have another supposed potential starter in Cody Kessler waiting in the wings.
Cleveland executive vice president of football operations Sashi Brown told 92.3 The Fan that he would take his time with the former Notre Dame passer in order to allow his latest high-ceiling prospect to prosper.
"Ideally we'd be able to come in and give DeShone some time … make sure he understands that he doesn't feel like he has to have the pressure on him to be the week one starter or even the 2017 starter at some point. We like Cody, we like Brock [Osweiler], we like Kevin [Hogan] and he doesn't need to feel that pressure, Brown said, name dropping the franchises underwhelming cache of passers in the process.
Thats all code talk for, We took a huge chance drafting a kid who couldnt even keep his starting job in college and showed an inability to read defenses, play with poise or intelligence but hes big and strong, has a rifle and looks the part
Watson may feel hurt that he wasnt the first QB off the board, but he should be happy that neither the Bears nor Browns felt him worthy enough to draft. They were actually sparing him heartache because those franchises have been erratic for some time now. The Browns were the NFL's worst squad and the Bears weren't that far behind at 3-13.
Replacing Osweiler for the Texans job is a much easier task than playing saviour for a struggling franchise with chip-thirsty fans and a front office who is using the philosophy of speed-dating in choosing QBs. In this case, they chose the cutie with the big booty over the slim goody with class.
With Houston, Watson goes to a franchise that is consistent, has a defense and talent on the offensive side of the ball. In my opinion, he's more likely to have a Prescott kind of season than Kizer is.
When the draft hype and all of those insignificant off-the-field things that experts, analysts and scouts factor into drafting a player is in the rearview, Watson will rise to the front of rookie quarterbacks, even if he ain't the flyest one.