The meeting of the NFLs two stud rookie QBs ended in dramatic fashion, with Dak Prescott throwing a 5-yard touchdown pass to Jason Witten in overtime, giving the Dallas Cowboys their sixth straight win with a 29-23 victory over the Philadelphia Eagles on Sunday night.
Prescott rallied the Cowboys with a late tying touchdown pass to Dez Bryant and won the rookie quarterback face off with Carson Wentz, who proved to be more of a game manager than a game-changer.
Prescott won his sixth straight game filling in for Tony Romo, the 10-year starter who is getting close to returning from a preseason back injury (but Im not sure why that matters).
(Photo Credit: chron.com)
The 23-year-old rookie rebounded from a slow start and some accuracy problems to hit Bryant on a game-tying 22-yard touchdown pass with 3:04 left in regulation as Dallas (6-1) overcame a 10-point fourth quarter deficit to take a two-game lead over the Eagles (4-3) in the NFC East.
Prescott finished with an inefficient yet effective 19 of 39 for 287 yards and two scores.
"He plays with the same mentality, the same demeanor, the same temperament regardless of what's happened before, Dallas HC Jason Garrett said after the game. The best players I've been around were able to do that. He was outstanding at the end of this ballgame."
That's a killer compliment from a coach that has been around as long as Garrett.
Wentz has gotten mad groupie love for coming in as a rookie No.1 pick, performing admirably and leading Philly to some big wins early on in this season. While his ability to avoid mistakes is commendable, when the Eagles needed him to become a playmaker, Wentz's line of 32 of 43 for 202 yards fell short.
Wentz was unable to channel his inner Donovan McNabb and couldnt move the chains when the game was on the line. Prescott, on the other hand, led Dallas on a 75-yard scoring drive to seal the huge division win.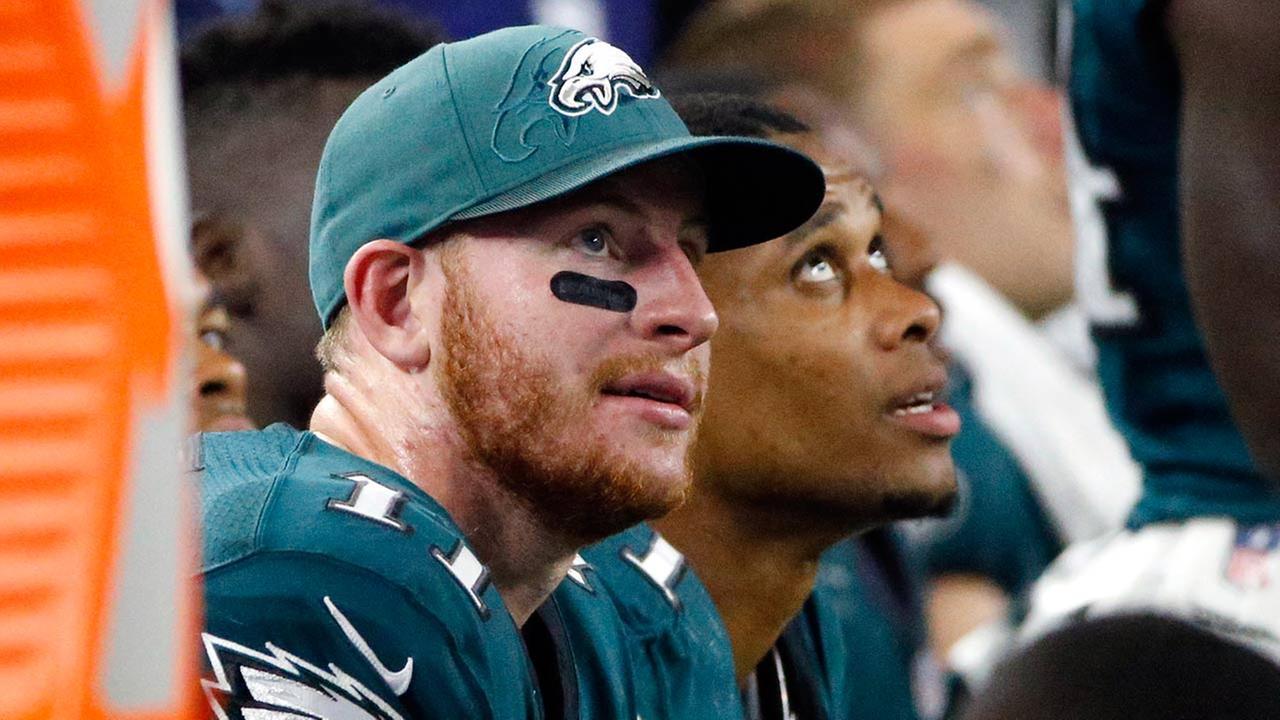 (Photo Credit: 6abc.com)
Maybe Dallas just has more weapons than Philly and that was the difference. Bryant returned to the lineup after missing three games with a hairline fracture in his right knee and delivered 113 yards of air control.
Despite all of the props that the two rookie QBs are getting this season, the best rookie in the entire league at any position has been former Ohio State multi-purpose pigskin-toter Ezekiel Elliott, who's NFL rookie record of four straight games with at least 130 yards rushing ended. But he played a vital role in the Dallas comeback as the NFL's rushing king added 18 yards of ground-n-pound and a 10-yard grab that set up the winning score.
(Photo Credit: csnphilly.com)
Prescott's TD toss pass to Witten tied Troy Aikman's rookie franchise record of nine scoring passes. Wentz broke Donovan McNabb's rookie mark of eight from 1999 with his ninth of the season, a 5-yarder to Jordan Matthews that put Philadelphia up 20-10 in the third quarter.
Matthews said a few days before the game that he thinks the Wentz-Prescott rivalry has a chance to be one for the ages.
"So you're talking about two guys that could potentially be like a Brady and Peyton rivalry," he said. "The only difference is, you're going to get this two times a year, and possibly playoffs."
Twitter heads and FB prognosticators seemed to be split before the game as to which rookie QB was better. I think Prescott put all of that talk to rest as he clearly outplayed Wentz on Sunday.
Prescott and Elliot have Dallas rolling like Master Ace in the '90s at a car show. Jason Garrett, the ultimate underachiever during his seven years at the Cowboys helm, better not play himself again by destroying a grooving team chemistry.
Any talk of Tony Romo should be reserved to backing up Prescott if he gets hurt because regardless of how the season pans out, Dallas has the two best candidates for NFL Rookie of the Year leading them out of mediocrity and into one of the best starts in franchise history.
As for Wentz, he'll get a chance to redeem himself against Prescott, Elliot and the Cowboys on January 1st in the last regular season game, which is sure to have even bigger implications than Sundays contest, in a division that is jammed up like the Belt Parkway on a Saturday afternoon.
So Prescott may have won this first battle, but Wentz is surely looking to win the eventual division war, which would make this tough loss a distant memory in the inevitable trials and tribulations of an NFL rookie QB.