In the first installment of The Shadow Leagues College Football Narratives Series, we sit down with the University of Virginias head football coach Mike London, whose team faces a critical showdown against Boise State this weekend.
Her hair was falling out in clumps. And there was nothing that he could do.
As a former college football star, Mike London was accustomed to making a key tackle, snagging a momentum-changing interception, willing himself and his teammates toward victory. Now, his only course of action was to fight back the salty puddles that spilled out of his eyes.
But at that moment back in 2003, as he sat helplessly while his wife was combing his daughter Ticynns hair at Johns Hopkins Hospital in Baltimore, as his beautiful baby girl was in the midst of radiation treatments for Fanconi amemia, a blood disorder that leads to bone marrow failure and subsequently, leukemia, he knew that she was becoming weak. If she didnt receive a bone marrow transplant, she was going to die.
With tears trickling down his wifes cheeks, as the comb pulled mounds of his daughters hair out while she sat coloring, Ticynn looked up and said matter of factly, Just tell the nurse to cut it all off, before focusing back on her crayons and the picture that she was creating.
(Photo Credit: USA Today)
It was probably the most significant life-altering thing that happened to me, said London, the head football coach at the University of Virginia, becoming visibly choked up at the recollection.
He was the defensive line coach and recruiting coordinator on Al Grohs UVA staff at the time, driving from Charlottesville to Baltimore to be with his family in the hospital whenever he could.
But finding a matching donor was proving impossible. Ticynn was running out of time. They exhausted nearly every search option possible. In a Hail Mary effort, the doctors tested London, despite the fact that parents seldom make suitable bone marrow donors for their children.
They told me the chances were very slim, very rare said London. I cant describe the feeling when they told me that I was a match. She just finished her first year in college. Shes on the Deans List. So when people talk about playing the toughest schedule in college football, or when they said I couldnt become the head coach at this place, when they say, You cant do this, are you kidding me? All things are possible!
THE MAKINGS OF A MAN
When London speaks, even when hes calm, the power that emanates through his words is palpable. He smiles easily, with a personal warmth thats inviting. He looks inside of one's humanity and connects with others in ways that are enviable. You walk away from the encounter, no matter how brief, energized, encouraged, wanting and believing that you can, and will, do better.
Those qualities were not acquired accidentally. They were inherited and ingrained from an early age.
The oldest of four siblings, Londons father was a career military man, a Sergeant in the Air Force. He traveled the world growing up, living in Germany, Hawaii, California and other stops along the way.
Being in a military family, travelling all over, you get to see a lot of things and you have to learn how to adjust to new situations, get acclimated to different environments and grow up quickly, said London. There was a high level of discipline that I observed.
His father, Wilson, coached him and his siblings in every sport – football, basketball, baseball while his sister was on the cheerleading squads and his mother doubled as a team mom. The family was very close knit.
In addition to the obvious discipline, he also noticed some powerful subtleties in his fathers character in practice and on the sidelines.
There was this sense of passion and compassion, this amazing energy in the way that he coached us growing up, said London. I saw how you can affect people if you simply encourage them. I felt like I could so many things simply because he believed in me. I learned that people are moved by the way you make them feel."
"Its important to treat people with dignity and respect," he continued. "And he valued the other kids he coached as much as he valued his kids. He encouraged and praised the next child as much as he did his own child. Seeing that type of human interaction, how it positively effects the development of others, that became part of my DNA as well.
His mother, Willie Mae, was similarly influential in terms of his inner compass. She stressed that no matter where he went, London would be held to an exacting and high standard.
She instilled that, You might wear the schools name on the front of your jersey, but youre wearing our name on the back of it, he said.
As a senior at Bethel High School in Hampton Virginia, the school that would later become famous for its most notable alumni, NBA superstar Allen Iverson, London was a physical, emotional and energetic quarterback, tight end and linebacker on the gridiron.
He sifted through the recruiting letters that arrived in his mailbox and enjoyed the phone calls from college coaches, along with the visits to their respective campuses.
He accepted a scholarship to the University of Richmond, where he contributed immediately as a freshman, starting a few games in the defensive secondary. He met his first wife there and became a father while still enrolled in school.
As a senior captain in 1982, he snagged six interceptions en route to being named the team MVP and winning the Peninsula Sports Clubs male, in-state Athlete of the Year award. The Dallas Cowboys invited him to their training camp as an undrafted free agent.
(Photo Credit: USA Today)
His family organized a big send-off party, and he was elated at the opportunity to make an NFL roster. Hed grown up as a fan of the Minnesota Vikings, watching Fran Tarkenton, Ahmad Rashad and cutting his afro into the same shape as Chuck Foremans. He was one step closer to his dream of one day being an NFL star as he walked through the Cowboys Valley Ranch training facility in California.
He couldnt believe that he was actually in the presence of legendary head coach Tom Landry. He tried to hide his awe when hed pass star running back Tony Dorsett in the locker room. But as soon as he began to embrace the thought of possibly making the roster, knee troubles flared.
After some medical tests, Gil Brandt, the organizations renowned scout and personnel guru, delivered the crushing news.
Youre knee is not where it needs to be, Brandt told him. Were not gonna be able to sign you. We have to let you go.
The toughest phone call of his life, up until that moment, occurred shortly after turning in his playbook, when he stood, frozen in disappointment and confusion, at the airport, awaiting his flight back home to Virginia.
I went through this phase of, What am I going to do now with my life? I cant go back home, Im embarrassed. What worth do I have now as an individual? I had to pick myself up and dust myself off. Having grown up in the military and having to get quickly acclimated to new environments helped me. It took a chunk out of me but I had to move on. I couldnt cry over spilled milk, said London.
With a wife and a growing family to support, he didnt have much time to wallow. He had a Bachelors Degree in Sociology in hand and hed long been fascinated with law enforcement. When he wasnt thinking of playing in the NFL as a kid, he imagined being in the Secret Service.
So he enrolled in the Richmond Police Academy.
Six years later, he was a detective in the citys street crimes unit, at a time when the citys homicide rate was among the highest in the nation. Crack-cocaine was ravaging Richmonds most vulnerable communities as Detective London was trying to keep people safe.
Being a police detective, Ive seen the worst of what people do to each other, of what mothers do to make ends meet, said London. Its sickening and depressing.
But he found that he was excellent at the work, because of the lessons hed learned from his parents. The community responded to him positively because of the way he treated people.
I dont care who you are, if I can treat you with a measure amount of dignity and respect, if I can treat you in a way that you feel like I value you as an individual, then positive things can happen, London said.
When chasing subjects through public housing projects, residents often pointed out where suspects were hiding, because of constructive interactions theyd previously had with him, whether he was respectfully arresting a relative, inviting the suspect's family to accompany him to the squad car, or helping to track down an elderly womans stolen television.
But the streets dont always love you back. It was a hard-earned lesson that London would soon internalize throughout his time on the force, one that would push him back towards his first passion football.
CLICK
Around 1988, Mike London found himself, along with his partner, in an unfamiliar alley one evening on Richmonds south side. Theyd cornered a van of suspects whod just robbed a fast food restaurant at gunpoint. London, in plainclothes, his tall, strong, muscular frame still sculpted from his football playing days stands while holding his badge up, barking that he is a police officer.
The van lingers momentarily as he approaches, its engine humming. The driver suddenly stomps on the gas pedal, sending the vehicle lunging at London in an attempt to run him over.
The football instincts intuitively kick in. London speedily side-steps the front of the van as if its an oncoming offensive lineman sweeping toward his side of contain. He sprints and lunges toward the drivers side window in an attempt to snatch the keys out of the ignition.
(Photo Credit: USA Today)
The rest of the scene plays out in slow motion.
London notices that the teenage driver is gripping a gun. The firearm is aimed at his head. He sees the suspects finger squeeze the trigger.
I heard it click, said London. I dont know if it jammed or if it was out of bullets.
The incident shook him up. Hed stared death in the face and was given a reprieve. He was ready for a career change.
He reached out to one of his former college assistant coaches, who by then had become the head coach at his alma mater, the University of Richmond. London began coaching outside linebackers there in 1989, before moving on to work as the defensive line coach at William and Mary for three years.
In his personal life, the theme of change was prevalent as well. His first marriage, which produced three children, did not work out. He later re-married, and London and his current wife currently have four children.
He went back to Richmond for another stint as the recruiting coordinator and linebackers coach in 1995. From there, it was on to Boston College for three years.
He put in another three years on the staff at the University of Virginia, coached with the Houston Texans in the NFL and returned to Virginia in 2006 as the defensive coordinator.
In 2008, Richmond called to see if he was interested in becoming their head coach. He readily accepted.
HEAD MAN IN CHARGE
In his first year at Richmond, the Spiders got off to 4-3 start. They would not lose again that season.
When he heard of the hire, Virginias former stud defensive end Chris Long, whod won the Ted Hendricks Award as the nations top defensive lineman and taken with second overall pick in the 2008 NFL Draft by the St. Louis Rams, spoke glowingly of Londons influence on him, telling the Washington Post, When you get a coach that matches your intensity and emotion, you can just look at that person and know that at some level that coach is going to be with you through thick and thin. When he got that job at Richmond, all I could think about was, What a steal for them.
As a rookie head coach, London led the school to its first ever National Championship in any sport when they hammered the University of Montana, 24-7, in the title game of the Football Championship Subdivision, which was formerly known as Division I-AA. He was named the FCS National Coach of the Year and beat out the Pittsburgh Steelers Mike Tomlin, whod just won the Super Bowl, for the Black Coaches Associations Male Coach of the Year award.
Richmond opened the next season by upsetting Duke and reeling off an 8-0 record, which extended the schools winning streak to an impressive 17 straight games. They became only the third FCS school to receive votes in the AP Top 25 poll.
Shortly after losing in the quarterfinals in the FCS playoffs, Virginia came knocking, offering their head coaching job.
Inheriting a squad that finished 3-9 the year before, Virginia finished 4-8 during his first season in Charlottesville in 2010, the highlight being a win over the #22 Miami.
The next season, the Cavaliers finished 8-4, with wins coming against #12 Georgia Tech, #23 Florida State and Miami. London earned the ACCs Coach of the Year award as Virginia advanced to play Auburn in the Chick-fil-A Bowl.
But the last few years have not been so kind. They followed up their splendid 2011 season with victories over Miami, again, and Penn State, but dropped back to 4-8.
2013 was a nightmare, a 2-10 campaign that unfolded after a promising victory over BYU in the opener. The silver lining was in the terrific 2014 recruiting class, which included consensus five-star in-state prospects in safety Quin Blanding and defensive tackle Andrew Brown.
"Other colleges were just telling me, we won this amount of gold," Brown told USA Today when he announced that he'd be attending Virginia. "I understand that, but how are you going to change me into a man, or how are you going to develop me as an individual? That's what Mike London told me. I know Coach London is jumping up and out of his shoes. We're bringing in one of the best classes ever. It's a great feeling to be able to change a program."
Blanding, a 6-foot-4, 215-pound safety, was named the ACC's Defensive Rookie of the Year last season. He was the first true freshman to start a season-opener for the Cavaliers since 1976.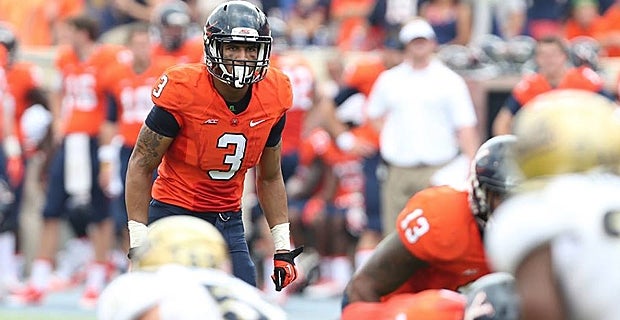 (UVA Safety Quin Blanding had 123 tackles, leading all freshman in the nation last season. Photo Credit: 247sports.com)
Things got off to a solid 4-2 start in 2014, which included a win over a Louisville team that was ranked in the top 25, but bottomed out with a 1-5 finish down the stretch.
London will be the first to tell you that he will ultimately be judged by wins and losses. But to the players, former players and their families, hes much more than simply a football coach.
We live forward, but we learn backwards, so with my players, I have a chance to take all of the different aspects of my life being married with a child while still in college, having success in college football and being cut in the NFL, going through a divorce, sharing the things Ive seen as a police detective, my daughters story and our triumph with the bone marrow transplant and share it with them in a way thats inspiring and helpful, said London.
I get it, he continued. Football is so important in these guys existence in terms of how they got here. But the life lessons I hope they're learning is to never put a period where God has put a comma. In lifes greater purpose, they should not define themselves simply by wins and losses.
But dont be confused, London is a driven, ferocious competitor. But at a prestigious school like Virginia, theres more that comes with the job than being at another place which could be considered a proverbial football factory.
I want to be known as a good football coach, as a guy that can galvanize people and bring honor and integrity to all of the stakeholders of this incredible university, said London. I understand the mission, and thats to win. But its also about sitting in those living rooms and promising the families that love them that I am going to take care of my players, to carry the baton of developing them as young men, telling them, If your son comes here, hell become an educated man.
He looks at the success of the schools basketball program and believes that he can replicate that.
The mindset at this university is that you can excel at the highest level academically and the highest level athletically, said London. Its the best of both worlds. Its important to me to have mechanisms in place that are going to allow my players to be as good as they want to be, in class and on the field. Guys who play for me are going to be more than football players. That will not define them."
ON THE HOT SEAT?
This season, UVA opened with a 34-16 loss on the road against 13th ranked UCLA. A week later, they proceeded to lose a nail-biter to #9 Notre Dame in the games waning moments, 34-27.
After defeating William and Mary last week, the Cavaliers take on the next tough opponent in their treacherous early-season schedule, Boise State, last years Fiesta Bowl champs.
Some wonder if the early season schedule, which is among the toughest in the country, is an impediment to success. Those folks would like to see Virginia fill their schedule with cupcakes, like many other big name schools do prior to getting into the meat of their conference schedule, assuring them a chance at a winning record and a bowl bid.
But London dismisses that line of thought by saying, In order to be the best, you have to test yourself against and beat the best. I tell the guys that Im recruiting that they are going to be the foundation of taking this program back to the consistent winning tradition of its past.
A section of the fan base is growing impatient and apathetic, wondering when the university will move in another direction. But many of Virginias football alumni are not among that camp.
The St. Louis Rams Chris Long, upon learning that the school had retained London after last season, told the Richmond Times-Dispatch, Yeah, I am glad Coach London is coming back. You know, a lot of time people have all these ideas about This person needs to go, or This needs to get fixed, but they dont have a solution. I think the continuity there and giving him another year to kind of develop talent, bring in talent and form an identity will be good.
At the end of the day, theyve got to win ballgames, but if you said in August this was the product that they were going to put on the field through the year, I think most people would have said, Im pleasantly surprised with the way they were playing, because a lot of people had them pegged for a two-, three-win season, Long continued. So (this) year is going to be big for Coach L, and I am excited for the future.
(Photo Credit: USA Today)
Tony Covington, a former NFL player and UVA alum who works as a radio broadcaster for Virginia football games, agrees.
Mike is a guy who is concerned with the kids beyond sports, said Covington. Football has a finite date, but hes vested in their overall development and helping them become better men. The recruits are beginning to file in to play for him. The 2016 class has 24 commitments. Hes starting to bring in five-star recruits. These guys want to play for him.
London insists that he blocks out the chatter of his being on the hot seat. He certainly doesnt act like hes feeling any added pressure as the players gather for their team photo. The team files onto the field from the bowels of Scott Stadium after disembarking from the buses that have transported them from the practice facility.
The head coach smiles easily as he interacts with his players, who are equally relaxed.
Man, you look like Little Bill, one player jokingly tells another in reference to his freshly shaven bald head.
A few moments later, in the John Paul Jones Arena, where the public files in to meet the team, London interacts with the fans as if he knows each and every one of them. He signs an autograph for one couple on a photo they provide of their infant son. The little boy is naked, sleeping with his butt raised in the air while hes touching a football with the UVA logo on it.
Later, as a middle aged woman with a wide smile and a pronounced southern drawl approaches, he is quick to blurt out, with a look of childlike optimism, Did you bring me something homemade? You promised to bring me something homemade.
Hes personable with everyone, giving out firm handshakes and hugs to every ethnic demographic, young and old. He takes special joy out of speaking to young children, making sure that they walk away with a wristband or a visor.
He refuses to place any credence in the notion that this is his make or break year.
Its about winning and attracting the best talent out there, London says firmly. But its also about my guys understanding that when they leave here, they are going to be fathers, husbands, employers and employees. Im optimistic about this year and hope to be here for a long time. This team believes in itself, believes in the coaches and believes in the strides weve made since spring practice. We know that we are the elements that will affect change around here.
Hes long proven that no matter how long the odds, hes going to embrace every challenge. Football victories and defeats dont equate with a life-or-death battle with a blood disorder, or having a gun pointed to your head and watching the trigger being pulled.
In the end, Im going to lay it all on the line, he said. Whatever the outcome, Im at peace with myself. Im going to pour everything I have into these young men that I serve. Well continue to do things the right way here. In life, youre either in a storm, getting ready to go into a storm or coming out of a storm. Life is not perfect. But its your ability to handle whatever stage youre in that will ultimately determine your success.