It was all good just two years ago.
Gone was the big talk and average performance of Rex Ryan and in stepped a new regime in GM Mike Maccagnan and first-time head coach, Todd Bowles, who became the second African-American coach in Jets' history after Herm Edwards.
Even more prophetic, they were both Jersey guys who were returning to their home state.
To come full circle and come back home its a dream come true, Bowles said at his introduction as head coach on January 21st, 2015. Its an honor and a privilege to be here and I just look forward to leading this team.
We were at the press conference and you could feel the vibe of enthusiasm radiating throughout the Atlantic Health Jets Training Facility. Bowles was the quiet, serious, defensive minded coach the Jets needed, completely opposite from the open, dominating personality of former coach Rex Ryan.
Jets fans were hesitant, yet tepidly excited about the prospects of the upcoming season, hopeful that the bad influences from the previous years would be rooted out and a new culture would be instilled.
As our own J.R. Gamble wrote of that day- "The familiarity with the area will undoubtedly foster an accurate understanding of the temperament and emotional state of the Tri-State area football fan. It will also aid Bowles and Maccagnan in convincing fans to be patient as they attempt to transform a franchise formerly entrenched in embarrassment, empty bravado and unfortunate near-misses, into a silent-but-deadly prideful, perennial winner."
Coach Bowles stated:
We have to teach them our culture. Not that the other culture was bad, but it didn't win. Our culture will be to try to instill different things in them from a winning organization's point of view to make us go forward and make the playoffs.
In his first year as head coach in 2015, the Jets went 10-6, missing out on the playoffs by losing the last game of the season. But it looked like the team was adapting to the new system and there were glimpses of hope for fans and players alike.
But like the Knicks, the Jets have the ability to lull their fans into believing, only to rip their hearts out like Mola Ram in a Thuggee, Kali worshiping ceremony. A year after a promising 2015, the team went 5-11 while watching players succumb to injury (Eric Decker), others take huge strides backwards (Ryan Fitzpatrick and Darrelle Revis) and witnessing the demise of the team through an unstable locker room, one which needed, but lacked, strong veteran leadership to guide them through a highly disappointing season.
So what could Gang Green expect in 2017? Well if recent actions are any indication of the future, it might be another painful season, especially for Bowles. Over the course of two weeks, the team has waived six players including Revis, Nick Mangold, Ryan Clady, Breno Giacomini, Nick Folk and Erin Henderson.
Then last night another bombshell dropped as the team announced that they were parting ways with their top wide receiver, Brandon Marshall.
The Jets are obviously clearing cap space to sign some big name players, and by cutting Marshall, they save the entire $7.5 million on his contract for 2017. With this move, they now have cleared approximately $45 million in cap space, which means they could go after big names in key roster positions including QB Tyrod Taylor and/or WR Alshon Jeffery. Or maybe they really shake things up by pursuing Adrian Peterson.
In his two seasons with the Jets, Marshall hauled in 17 touchdown receptions, including a franchise-record-tying 14 touchdowns in 2015, and more than 2,200 total receiving yards. But football is a business, and after a 2016 season which saw him suffer through foot and knee injuries en route to 59 catches for 788 yards and three touchdowns, the team decided to make the move.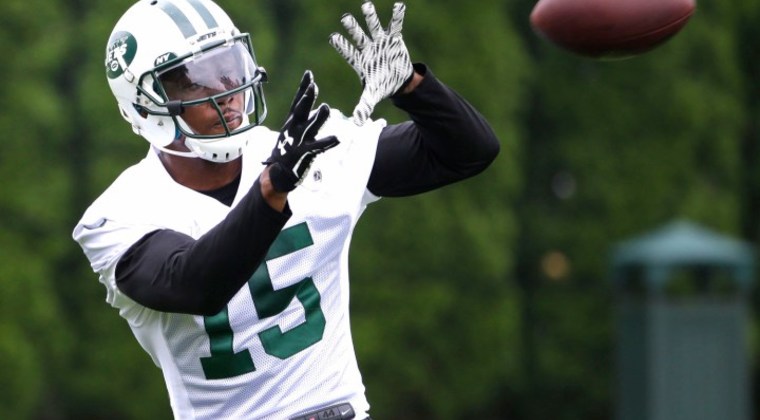 So what does this all mean for Bowles? Some were calling for his head last year after going 5-11, so with seven veterans being waived so far, and rumors circulating that Eric Decker could be the eighth to go, what do you think these same people will be yelling this season?
Maybe the Jets have a master plan that has yet to be revealed. The draft is coming up and they do have seven picks, including the sixth overall pick, which many say could be used on LSU's Leonard Fournette or Clemson's Deshaun Watson. Maybe this is what Bowles alluded to when he talked about a new culture, and the path to this culture would be through free agency and/or the draft. This could very well happen.
But while more names on lockers are being removed, there has to be some feeling of nervousness for Coach Bowles. Owners these days are quick to pull the trigger on head coaches, and we know how Black coaches seems to have that trigger pulled quicker when they're on the hot seat. So this can't be a very settling time for the Elizabeth, NJ native.
Todd Bowles and Hue Jackson/Getty Images
Coach Bowles deserves the time and patience any coach in his position should be allotted. He didn't want to re-sign Ryan Fitzpatrick after his 2015 season, and his feelings on him were proven correct. Hopefully the team signs some big names this year, drafts an all-world player or two and plugs some holes at positions like cornerback. He's earned his coaching stripes and deserves to have a real strategy for winning built around his capabilities.
"We're going to be a tough team. We're going to be an intelligent team," said Coach Bowles in 2015. "We're going to do things the right way. We're going to try to build a championship team here, and that's my only job."
Year one was a manifestation of his words. But after a rough 2016 and these last few weeks of waivers, it appears that Coach Bowles is reluctantly being hampered and might need a hug or two.