When we first spoke to Darrell Bubba Wallace Jr. back in January 2014, he had just become the first African-American driver since Wendell Scott in 1963 to prevail in one of NASCAR's national series, winning the Camping World Truck Series Kroger 200 at Martinsville Speedway.
Darrell Wallace Jr. becomes the first African-American driver to win a NASCAR race since 1963.
He was barely 20 at the time and carrying a huge burden as the potential phenom that would fully integrate NASCAR.
In a sport that is historically and unapologetically niche and white, Wallace has been the major face of diversity and hope for progress in exposing NASCAR racing to different ethnicities.
Wallace was yet to drive in a premier Cup Series, but as he told me during that interview in 2014, they were already calling him The Tiger Woods of NASCAR.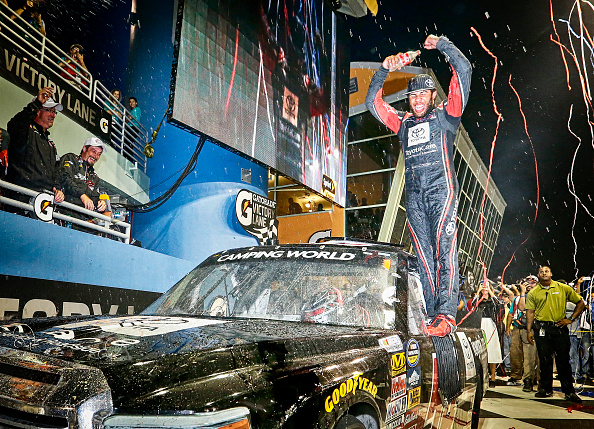 At the time, that was as big a compliment as you can get, because Tiger was still a larger than life superstar despite not winning a major in a while and one of the most influential, captivating, crossover, legendary sports figures in American history.
Wallace hasnt stopped making major moves, breaking barriers and expanding his brand since we last spoke. The 23-year-old rising star will make his Monster Energy Cup Series debut this Sunday in the Pocono 400 at Pocono Raceway (1:30 p.m. ET on FS1), becoming the first black driver since Bill Lester in June of 2006 to run in NASCARs top series. Wallace is stepping in to sub for the injured Aric Almirola in the iconic No. 43 Richard Petty Motorsports Ford.
Richard Petty Motorsports announced that Darrell Wallace Jr. will drive the No. 43 at Pocono Raceway.
The Shadow League caught back up with Wallace on the eve of his historic and potentially game-changing race and asked him about his journey since our last conversation.
Its been good, Wallace told TSL. Its been a hard fought battle since then. A couple of races have been won since that moment and now we are here talking with you today about our first Monster Energy NASCAR Cup start. Richard Petty is a legend and to be driving his team's car is an honor. So we're going to go out there and make the most of it."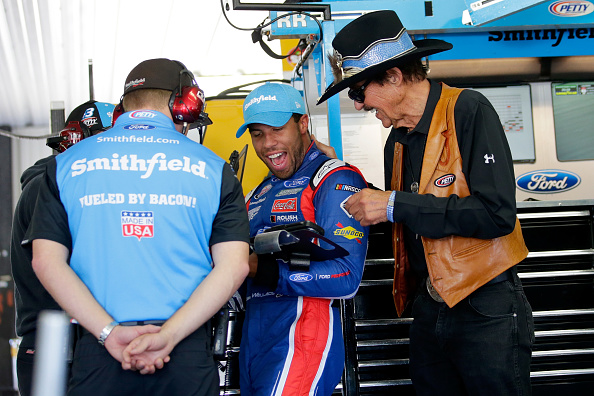 As far as winning the race goes, Wallace Jr says optimism is high.
"I'm looking forward to this weekend… To go out there and learn as much as I can, not step on anybodys toes, not overstep my boundaries and just make the most of it. I will be representing myself, my fans, my family as well as everybody at Richard Petty Motorsports, everybody on Smithfield and bring that brand the finish that they deserve and represent our Ford Fusion and give it the best finish that we can."
It took almost three years from our last interview for Wallace Jr. to get a shot at soul-controlling a top Cup Series car. For those who say he should have gotten here sooner, Wallace says, Some people progress faster than others and thats just the nature of it. I never like to rush my schedule or career path. When the opportunity presents itself we have to be there to capitalize on it and that's my goal for the weekend.
In addition to his colossal feat of hopping in a car tailored for another driver and trying to lead it to victory, Wallace will be pulling double duty for the first time in his career.
On Saturday, Wallace will seek his first NASCAR Xfinity Series win since joining the circuit in 2012. He will be driving his No. 6 Roush Fenway Racing Ford and sits fourth in the current points standings. The following day he will begin his handle of the No. 43 car until Almirola, who is recovering from a compression back fracture suffered May 13 in a race at Kansas, is healthy enough to return. Wallace says he embraces the challenge of racing twice and his concerns are minimal.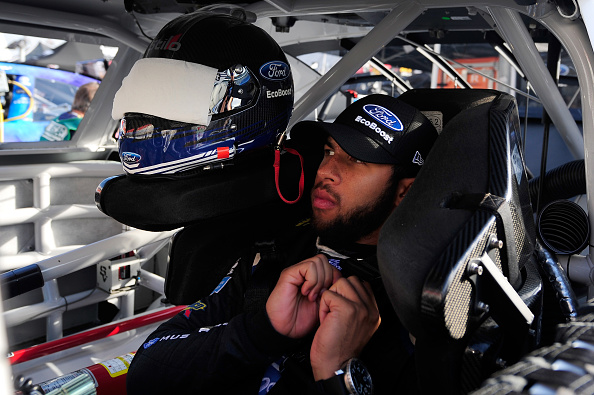 Double duty will be fun. I'm going to get a good night's sleep for both races coming up. Gonna have to keep a good notebook of where my breaking points are because they are definitely going to change from race to race this weekend, so the biggest thing will be remembering what car I'm in.
Achieving greatness and being considered a pioneer in your sport has a price. Wallace seems more than ready to do whatever is necessary to not only rise in his career, but continue to visibly embrace his blackness and promoting the sport to who look like him.
Like former President Barack Obama, Wallace is as white as he is black, but you cant convince the general public of that, so its an inevitable burden he says he doesnt mind carrying. Besides, Wallace doesnt dwell on his racial composition. He doesnt have time to because Wallace says, its hard enough maintaining a good race, staying in front and trying to impress sponsors. I dont mind carrying the torch for black NASCAR racers, he insisted, but I try to put that stuff aside really and focus on winning races.
The face of NASCAR and motor sports overall is slowly changing with guys like Wallace, Antron Brown from NHRA and drag racing legend Rickey Gadson bringing a different look to the game.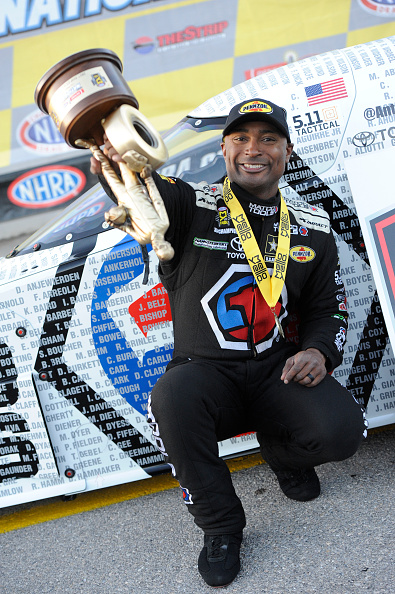 Wallace sees a shift happening and it excites him and inspires him .
"There's definitely more people in the stands," Wallace tells TSL, "and it will be interesting to see how it changes after this weekend and next couple of weeks, as I'm a part of the top Series and at the pentacle of our sport. Its continuing to change. Now we'll have a face that younger kids can look up to and say, OK, theres a guy that looks like me, I can go and try this sport Whereas before It wasn't really there (in top series) and that was one tough aspect. I think we're knocking that out the park right now and we'll see what comes from it, but I'm excited about it. This sport continues to throw in its efforts to bring in a different demographic and diversify the population of the fan base and make it a sport for all."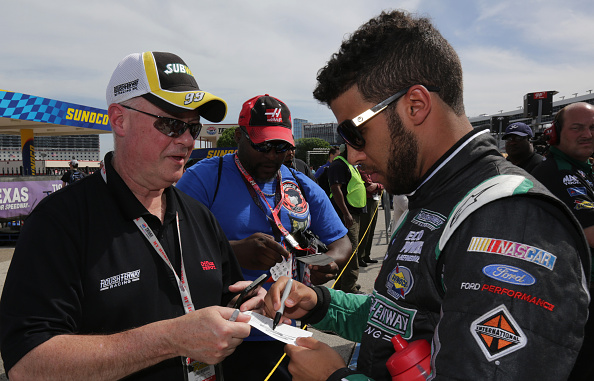 As for the race on Sunday, Bubba has no predictions other than promising to respect the game and prove his worth behind the wheel for however long he has this opportunity. Hes not forcing any issues or trying to play hero.
For me it's just to take each and every race — however many that will be on my plate — and maximizing on the opportunity and getting the best finish that we can, Wallace says. Im not overdoing it, not trying to be Superman out there and piss anybody off and make enemies out there. That's the last thing I want to do in my first few starts. I want to just get out there and gain the respect and trust and prove to everyone that I belong in the sport