The impact of the groundbreaking movie Black Panthercontinues to be felt after a record-breaking sales weekend that has totally changed the narrative about the marketability, profitability and crossover appeal of all-black casts in major motion films.
There was never a doubt that African-Americans and people of color would show up to support the film. It was the first one in the history of major Hollywood films to feature a superhero star with a predominantly black cast. Black Panther's $242 million in domestic box-office sales has been driven by African American audiences, especially in major black cities.
New #BlackPanther box office numbers just in. Today the film will cross $500M globally after just 9 days of release. Global Box Office as of right now is $491.1M. https://t.co/bmvXVeVfoM
According to bloomberg.com, Theater revenue was up 56 percent over the weekend average in Atlanta, 31 percent in Washington and 81 percent in Memphis, according to Walt Disney Co., which distributed the film from its Marvel Studios division. The numbers are especially remarkable considering that people of color also probably traveled farther to see the film — many more than once — because historically, there are fewer theaters in predominantly African American neighborhoods."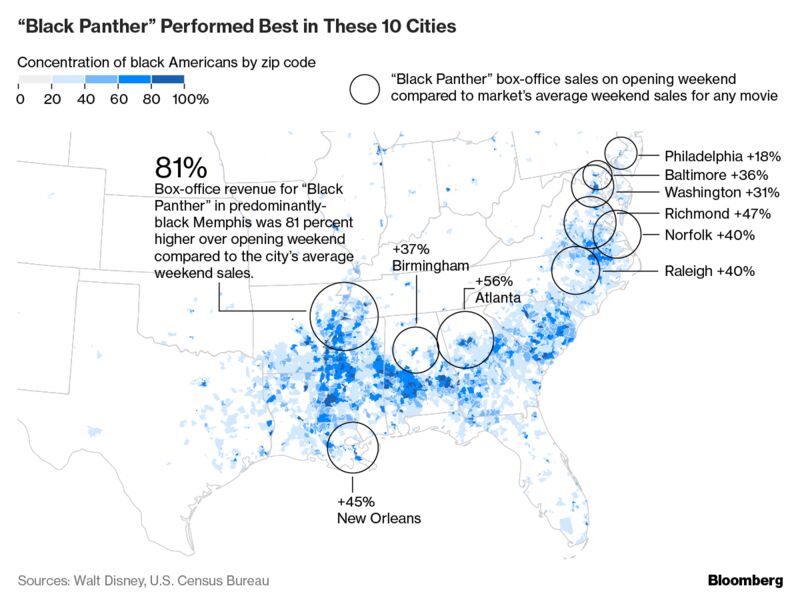 Black Panther has been that energy drink revitalizing the local movie going experience that had approached 25-year lows.
People of color make up a disproportionate number of what the Motion Picture Association of America calls frequent moviegoers — people who go to the movies once a month or more. Hollywood has to evaluate how it makes movies and the audiences it caters too.
Now that films such as Hidden Figures and Black Panther have gotten the big budget, commercial boost and been box office smashes, and among African-Americans in particular, the number of frequent moviegoers is up 27 percent since 2012.
That number is down 21 percent among white audiences, and it is clear that people of color are driving the movie industry.
As of 2015, people of color bought a majority of the tickets for about half of the top 10 films, according to Darnell Hunt, a professor and dean of social sciences in the sociology department at the University of California, Los Angeles. Hunt told Bloomberg that he produces an annual report on African Americans in Hollywood and "the demand for representation has material consequences: movies that feature people of color in 20 percent to 40 percent of roles do better at the box office."
When you're excited to watch #BlackPanther tonight. Eyyyyyyy! https://t.co/I5eOKpmmR9
Now that Black Panther has smashed the box office and created a global earthquake that has fueled a cultural revolution, Hollywood will be looking at the sustainability of the film. Will it fizz out fast? Or did it spark a culture of movie disciples and fans dedicated to a Black Panther franchise that could rival Star Wars and Harry Potter?
Bloomberg says Disneys next big-budget bet on diversity comes next month with the release of A Wrinkle in Time, directed by Ava DuVernay. Based on the 1962 book by Madeleine LEngle, it follows the quest of a young girl through space and time, and features Oprah Winfrey, Mindy Kaling and Reese Witherspoon. It opens on March 9.
Black Panther will be a tough act to follow.