Beat The Streets is helping to diversify the predominantly white sport of wrestling.
Wrestling is not a sport typically associated with African-Americans, but Team USA has two dynamic sisters in Victoria Anthony and Tamyra Mensah, who are creating Black Magic on the mats as strong Olympic hopefuls for 2020. They represent the changing face of amateur wrestling.
They will both be competing in Wednesdays Beat The Streets benefit wrestling extravaganza in the middle of Duffy Square and 47th street in Times Square.
The day pops off at 3:00 pm with Beat the Streets Youth Exhibition Matches. That's followed by the  NYC Girl's Freestyle Dual Championships at 4:45 pm. The main event features  Team USA (Olympic gold medalists Helen Maroulis, Kyle Snyder, and Jordan Burroughs) vs. Team Japan, beginning at 6:00 pm as nightfall ascends upon New York City and the bright lights of Times Square illuminate the skies.
FloWrestling will provide live coverage of all matches at http://www.flowrestling.org.
The mission of Beat the Streets is to develop the full potential of the urban youth and to strengthen the culture of New York City wrestling.
I want to thank everyone involved…for giving wrestling a shot in the arm and putting us on the national and international stage again, said Brendan Buckley, Executive Director of Beat The Streets, addressing the media and athletes in attendance at Tuesday's presser at New York Athletic Club in Manhattan.
This serves as our primary source of support. We have over 3,000 kids and 150 different wrestling programs and as far as our mission goes of paving a better life for the youths we serve, we are hitting the ball out of the park.
Beat The Streets is becoming a major tool in expanding diversity in wrestling at the grassroots level on up.
Mensah, the 2016 US Olympic Trials winner and 2017 World Team Trials winner, was born in Chicago and raised in Texas. Her rise to a Team USA Ranking of No. 1 in her 69kg/152 Ibs. weight class was swift as she is just in her second year of being on the national team. As an African-American woman in a predominantly and historically white sport, she understands the significance of Beat The Streets.
It's definitely important. Every time I see an African-Americans on the mat, they start off using nothing but brute strength and athleticism like I did during matches… they tend to wane in their stamina as the match progresses, said Mensah, breaking down the obstacles African-Americans face in accessing the correct wrestling training.
So I'm hoping that programs like Beat The Streets can enhance their technical understanding of wrestling and let them know the importance of other aspects like stamina … Also so they know that there are more opportunity and sports out there for African-Americans besides the most obvious ones.
Mensah started her athletic career in Track & Field, but after trying wrestling on the urging of her twin sister, who first discovered the sport, Mensah realized that she was supernatural at it. She defeated a state champion in her first major match.
It's unnatural to see an African-American on the mat, Mensah told the Shadow League. But it's so perfect and fun for us. We have agility. We have speed. Compared to basketball, it's very natural. I suck at all other sports except this. Wrestling was my most natural fit."
Mensah jokingly adds, My dad was from Africa. He came here at age 30 so maybe I have some tribal warrior in me. But I had no idea how far I could take it. I thought my athleticism went as far as Track — the normal things that African-Americans do."
At first, she hated the five mile-a-day practices, the touching, the pushing, the bullying.
I came from a non-contact sport, Mensah reflected. The most touching we did was passing the baton.
Victoria Anthony ranked No. 1 in her weight class (48 kg, 105.5 lbs), found wrestling after suffering a Judo injury.
I started with Judo when I was a little girl and I still utilize it in my wrestling. Judo and wrestling are similar and I started to make the transition when I got injured, said Anthony, who became the first athlete to win four WCWA Women's College national titles at Simon Fraser University in 2014.
From there I started making national teams and I actually lost in the 2016 US Olympic Trials finals but that really pushed me to become the best wrestler I can be.
Anthony's first experience with Beat The Streets was in her hometown of California.
I did a clinic with BTS there and then in Washington and that's how I got introduced to the program, she told The Shadow League. Raising $1.5 million just from this event alone is just great and will go a long way.
Anthony was always pushed by her parents growing up, so she realizes the importance of that support system.
Beat The Streets provides all kids with that community support that I had growing up, Anthony told TSL. The sport of wrestling has given me everything in life. You can go wherever you want with it. I've been to 45 countries that I wouldn't have gone to if I never was introduced to the sport of wrestling. The fact that these kids are getting those opportunities is life changing."
Mensah and Victoria are building a special relationship and changing the wrestling game as they conquer racial and gender barriers together.
Our relationship is growing, Mensah said. I just started traveling recently and this will be our second time being roommates. The first time was in Russia when I won the Ivan Yarygin Grand Prix in January. We are learning so much about each other. She calls me the Bird Lady because I was trying to feed the pigeons at our window sill. Traveling is an experience I've never got to do."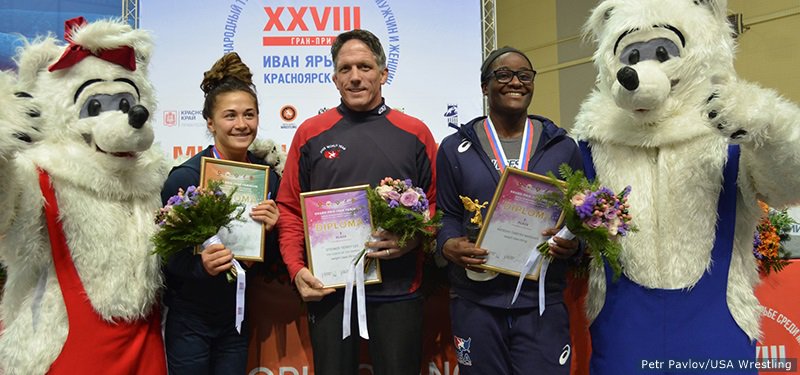 I'm just having fun watching her, Anthony added.
New York City should enjoy watching the entire Team USA tonight. However, on the mat, in the news and underneath the surface, Mensah and Anthony will be inspiring others and representing the new faces of wrestling.