With the energy that has been unleashed in the wake of seeing continuous protests against police brutality throughout the country, it was only inevitable that there would be energy of an equal but opposite nature released.
Indeed, we have witnessed America's reaction to its own image in the mirror. Those we once thought were wise are proving themselves to be foolish, but I guess that's just a sign of societal growth, right?
Not so fast..
Last week, students at East Tennessee State University were enticed by some silly ass guy dressed in a gorilla costume, complete with bananas and other supposedly offending imagery such as a sac emblazoned with the Confederate flag on it.
(Photo Credit: Washington Post)
This dullard is said to have been trying to provoke black students during a Black Lives Matter rally. The student, identified by campus police as Tristan Rettke, was arrested for civil rights intimidation, which is a felony in the state of Tennessee. He reportedly posted bail, but has been placed on interim suspension and cannot return to campus. Pending an investigation, he faces permanent suspension or another "sanction". But it's hard to see how he could possibly duck expulsion after committing a felony in broad daylight.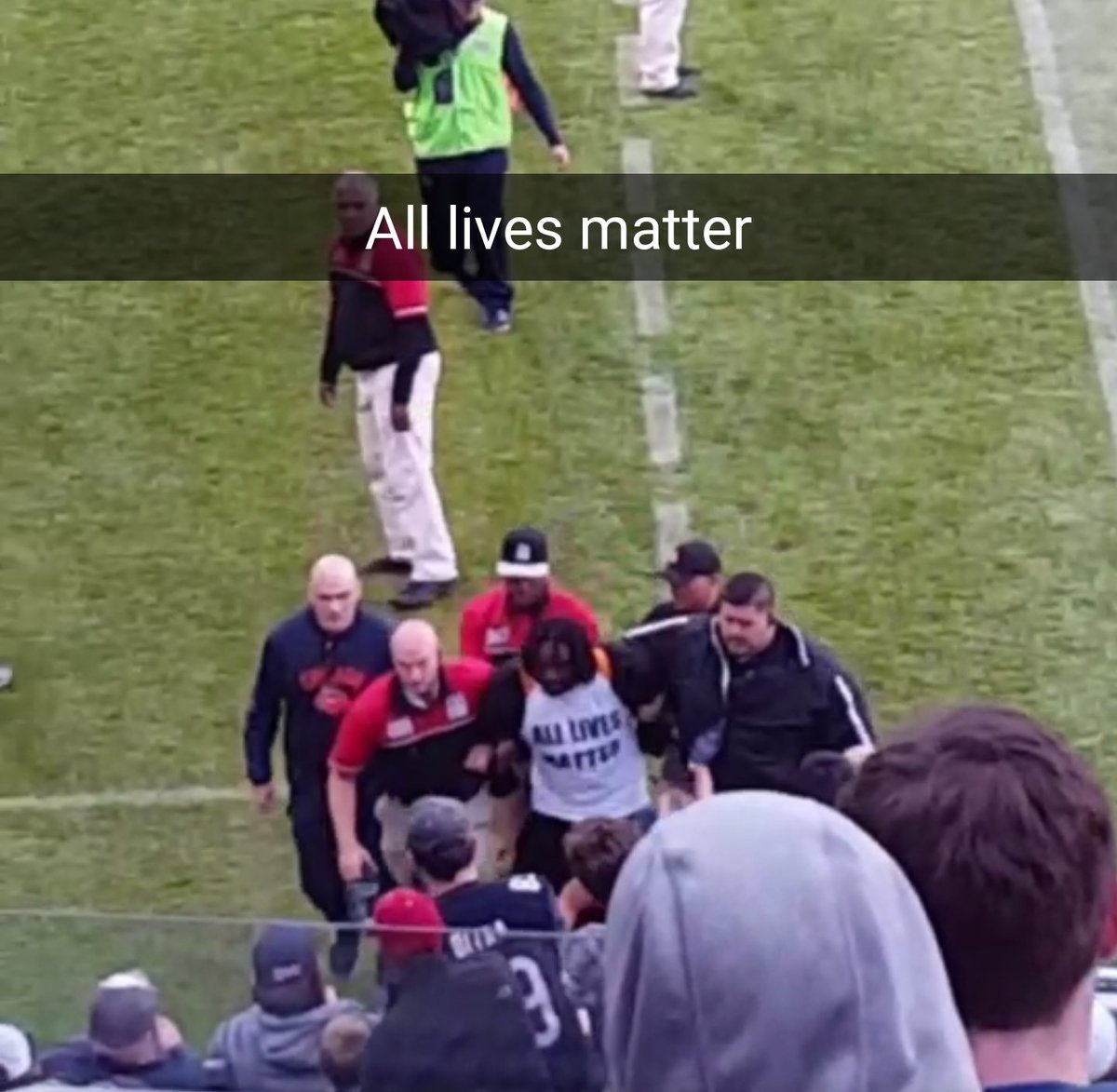 On Sunday, during the most popular day on the fall sports calendar, another incident involving a person with a dissenting view, also wearing a gorilla costume, this time wearing an All Lives Matter t-shirt with Put the Guns Down on the back, unfolded during the Lions-Bears game at Soldier Field.
But, as is often the case in a world filled with bigoted, myopic viewpoints, many overlooked a key element regarding the second individual; he's black. While the far right smiles at what seems to be a propaganda victory in the ongoing dialectic, it begs mentioning that there were also black folks who loved the Confederates, and hated the Emancipation Proclamation.
The incident hit Twitter like wildfire, agitating sensitive black folks and emboldening racist white folks. Ironically, there were no players protesting the national anthem on either team in Chicago on Sunday night.
An increased dialogue on race, one that is unencumbered by disingenuous and politically motivated tendencies, is what many people have waited their entire lives to witness. We have never lived in such a world, a world where Gregg Popovich and Mike Ditka are commenting on race in America in the same seven-day span,
But with every proud black fist raised in the air, and every American awakened to the uselessness of racism, there will ultimately be the dissenters. Their low vibration people, and their low minded actions, make those torches of protest shine even brighter with righteousness by comparison.