The Big3 is officially underway.
Ice Cube's highly-hyped and promoted BIG3 pro 3-on-3 basketball league made history with its successful debut in Brooklyn's Barclays Center on Sunday in front of a packed house of 15,177 fans.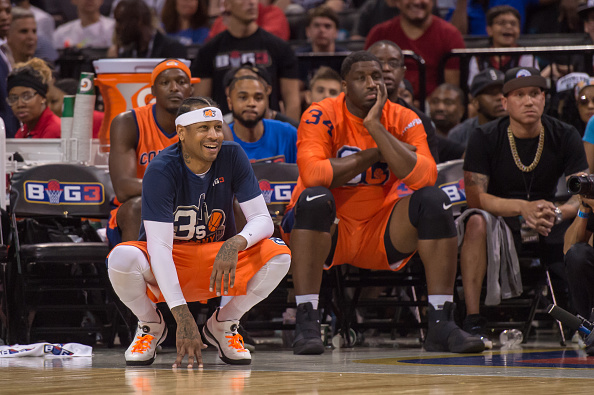 The headliners of the venture — some former NBA All-Stars and household names — set the league off right with a quadruple header of high intensity games which will air on Fox Sports1 Monday night at 8pm ET. The inaugural BIG3 event produced some thrilling moments which took us back in time, but were also laced with the harsh realities of the injuries that occur in pro sports, particularly to an aging body attempting to do things it did 10 to 15 years ago.
In Game 1, 3 Headed Monsters defeated Ghost Ballers 62-60. The coaching prowess of George Iceman Gervin and Gary the Glove Payton were pushed to the limits in this one. Late in the second half, Jason White Chocolate Williams, who had provided the crowd with some of his signature funky maneuvers, hit the ground hard after a shot attempt and started screaming in pain as he was helped off the court. He was the first casualty of Ice Cubes ambitious endeavor.
Rashard Lewis completed a game-winning three-point play for the win. Lewis also made BIG3 history when he hit the first ever four-point shot in the second half to give 3 Headed Monsters a 40-31 lead. The 3 Headed Monsters led 49-36 before Ghost Ballers made a run to take the lead at 54-53. Lewis finished with a BIG3 league-leading 27 points while Kwame Brown recorded a double-double with 17 points and 13 rebounds. Ricky Davis paced the Ghost Ballers with 23 points on 7-19 shooting. Mike Bibby contributed 12 points, including two four-point shots made.
In Game 2, Power, coached by Dr. J,  defeated Tri-State, coached by Clyde Drexler, in a close contest, 62-59. Dr. J . Deshawn Stephenson had a strong game for Power.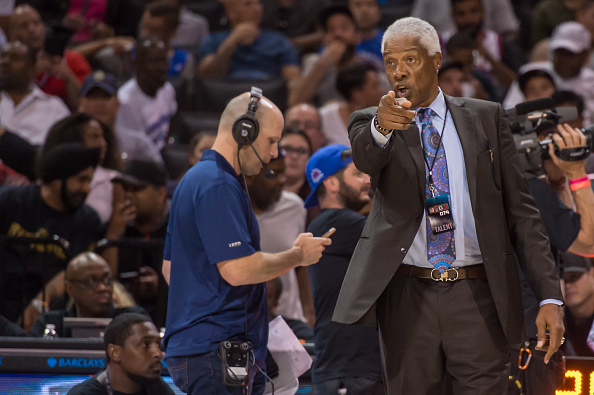 With Power leading by one, Stevenson nailed a game-winning three-pointer for the win. He scored a game-high 20 points in 18 minutes on 7-16  shooting with 5-10 from three, while Jerome Junkyard Dog Williams notched a double-double with 10 points and 10 rebounds. Jermaine ONeal led  Tri-State with 18 points and Strong Islands Mike James added a double-double with 13 points and 12 rebounds.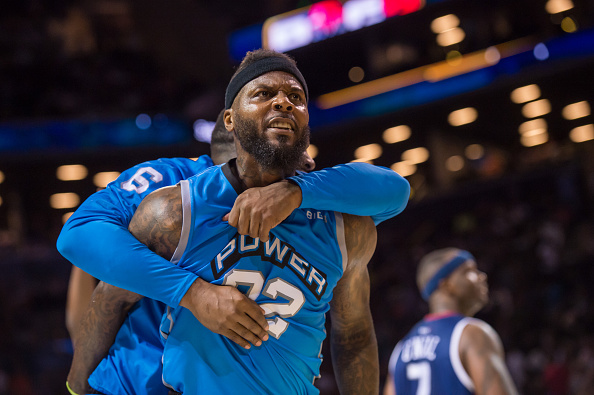 Game 3 was what most people came to the Barclays to see because Allen Iversons squad, 3s Company, was debuting. Before they hit the court, rapper Fabolous brought down the house and set the mood for the return of the Funky Child. Ice Cube has pushed A.I. as the face of the league and despite playing just nine minutes as a player-coach in 3s Companys 61-51 win over The Ball Hogs, The Answer said his BIG3 debut was exciting.
With a sea of fans wearing Iverson jerseys, The Answer was the clear star of the day, but Andre Owens was the best player on the court for 3s Company. Owens dropped 20 points to match his jersey number and 15 rebounds.  After the game, Iverson praised Owens and said he told him before the game to use his chance on the BIG3 stage to show the fans his game. In the loss, the Ball Hogs Rasual Butler poured in a game-high 22 points.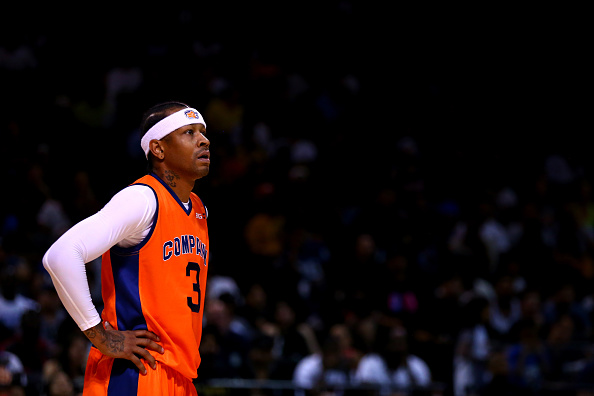 We thought we'd never see Mighty Mouse drop buckets in an NBA arena in front of 16,000 fans ever again. When the BIG3 was first formed and excitement started to spread throughout the basketball world, Iverson said that "You're not going to see the Allen Iverson of old out there."
Fans now understand what he meant. Despite looking young and fit, Iverson was in no real shape to play any more than the minutes he played. And that was a stretch, but every time he left the game fans kept shouting "We want AI."
At age 42, Iverson, tried his best to give the fans what they wanted as much as he was able. Despite being obviously tired, A.I. would check himself back in but his shot was off for the most part.
The one and only Answer
There was a moment, however, when A.I. hit a smooth jumper and the arena erupted. His presence alone, along with his signature braids, game-time scowl and unforgettable smile, were worth the price of admission.
In the nights final game, which featured Charles Oakley's return to New York, Killer 3s fell to Trilogy, led by Kenyon Martin, Al Harrington and Rashad McCants by a score of 60-45. Stephen Jackson and Rashad McCants over-delivered on two fan-favorite aspects of the BIG3: highly physical basketball and free-flowing trash talk.
Harrington led all scorers with 25 points and put an exclamation point on the day with a turnaround, fadeaway jump shot for the win. Reggie Evans led the Killer 3s with 18 points and 12 rebounds.