It was shocking to some, yet highly impactful to everyone watching when Ken Griffey Jr. wore his hat backward during the Home Run Derby more than 25 years ago. It evoked pride in people of color with a pulse on the culture, fashion and typical expressions of Latino and African-American athletes.
http://www.courtsidetweets.com Ken Griffey Jr. of the Seattle Mariners hits the Camden Yards Warehouse at the 1993 All Star Game Home Run Derby, but Juan Gonzalez of the Texas Rangers hits the farthest shot and wins the competition against an impressive field! A short clip of a young Prince Fielder, too, watching his dad compete!
As the sports world diversifies and the culture of competition evolves and outdated methods of controlling and treating players dissolves, Major League Baseball has, on the surface, tried to be as progressive and inclusive as any league. The Braves organization, however, is dropping the ball in insisting that Venezuelan outfielder Ronald Acuna — the best prospect in the minors — wear his hat straight once he inevitably settles into a full time role with the team.
MLB.com reports that the Braves want Acuna to wear his hat straight and maintain a professional appearance while in uniform and respect the game.
Braves want top prospect Ronald Acuna to wear his hat straight and "respect" the game The Right Way https://t.co/1POXM0VCaD
Respect the flag. Respect the game. Blah, Blah. There's a lot of people of color getting accused of not showing respect by people who are historically known to be oppressive to people of color.
Acuna hasnt made the major league roster yet, but hes shown all of the excitement, swagger and confidence that youd want from a 20-year-old who is ranked No. 1 by Baseball America, Baseball Prospectus, and ESPN.
The Braves, who havent won a World Series in decades, seem more concerned with controlling their top prospect than him developing into a comfortable, MLB force and a franchise piece for a city that needs to infuse some talent and get back on the winning track.
Suppressing players and trying to make them uniformed robots is played out. The uniqueness of each player and culture is what enthralls the young fan. As long as players are following the codes of conduct, producing and not being a cancer in the locker room, then it shouldn't matter if they choose to express their individuality by wearing a cap backwards or cocked to the side.
Ozzie Smith did backflips before every game and that memory is permanently implanted in the minds of baseball fans. In the oldschool Negro and Latino leagues, players were free to tilt their brims in a variety of ways. Some guys express themselves through their socks, some with unique hairstyles and others choose to set the tone by rocking their baseball fitted differently. It's just how brothers get down.
Who says that "wearing your hat cocked is unprofessional"?
Baseball cant have it both ways. The commissioner's office cant express a desire to attract a younger audience and entice people of color to play and then support organizations who act as if expressing yourself as an individual and having explosive swag and a captivating, even controversial style of play, is something that has to be restricted. Or in Acuna's case, mentioned and enforced before he hits the field.
It sets a bad precedent and shows an insensitivity to the various cultures and people of color that comprise the sport.  As cbssports.com writer Mike Axisa recalled, No one seems to mind Tim Tebow wearing his hat to the side.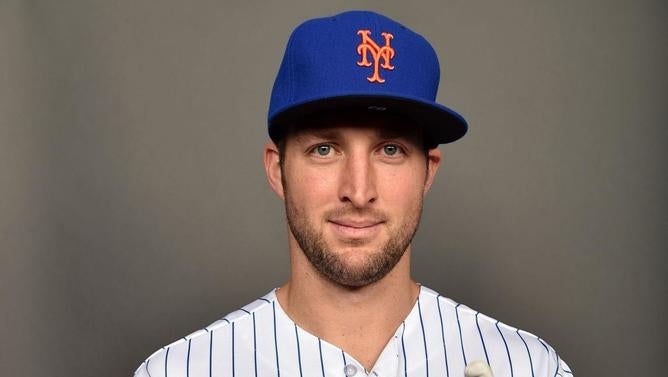 This situation gives us some insight into why the Braves, an organization that finished in first place every season from 1995-2005 has only done it once since. The last four years have been losing ones, something they've only done three times since 1991. The game passed the organization by a bit and publicly demanding that Acuna "conform" to a certain look is an example of the organization's misplaced focus.
Former Braves slugger Andruw Jones has been mentoring Acuna. Jones bum-rushed the Majors at 19 years old in 1996. He had a contingent of veterans in Marquis Grissom, Mark Lemke, and Fred McGriff, to help keep him focused and school him on the dos and don'ts of baseball etiquette.
I've seen him for the past 3 years and I know how special he is." Andruw Jones, who knows something about being a @Braves phenom, discusses his work with #Braves outfielder Ronald Acuna. Watch: https://t.co/Sh233Ok0oZ
Jones is assisting Acuna, who within the span of the past 12 months has gone from signing with the Atlanta Braves for $100,000 as an international free agent in July 2014 to a 19-year-old Class A player to an anointed future baby bomber who also ranks second on MLB Pipeline's Top 100 Prospects list.
"The main thing he needs to remember is to keep your head straight and respect [your surroundings]," Jones said. "Be humble, but a humble-cocky."
White men in power have been telling black players to be humble since the days of picking cotton. Its time to encourage excitement and new approaches to the game of baseball as long as it doesn't infringe on certain undeniable principles of the game.  A bat flip here and there should be fair game.
Remember the name Ronald Acua. This kid is gonna be good. #SpringTraining https://t.co/MOdhsEWT5E
Fernando Rodney wears his hat to the side in honor of his late father, who was a fisherman and wore his hat to the side to keep the sun out of his face. Abe Alvarez used to wear his hat to the side because he's legally blind in his left eye, and it helped balance the lighting in the eye. Regardless of the reason if it's not hurting the game, leave the players alone.
The Braves need to chill with that and let the children be our future and lead the way when it comes to questions of style, culture and acceptable expression by the younger generation of players.