On Tuesday, GQ published a piece that gave rare insight behind the snarl and into the world of Nick Saban. It attempted to counter the prevailing perception of the hot-blooded coach known by his professional peers as "the devil." Nick Satan, if you want to be more informal, became the face of the dubious oversigning trend and was accused of pressuring injured players to leave the program to open up scholarships for better athletes.
Saban oversees a singular force of nature that cannot be reckoned with in the college football universe and he's had more visits with the president at the White House than Jay-Z. National championships have become so old hat in Tuscaloosa that the fan base has lost its zeal for competition.
However, the sacrilegious comparison to the devil only holds weight if an equitable force picks up the slack on the other end from Saban. Silver-tongued Steve Spurrier, vegetarian Les Miles, the cannibalistic Will Muschamp and choir leader Mark Richt are coming for the crown within the Alabama conference.
The greatest threat to a changing of the guard may be an SEC Judas. That silhouette galloping towards the final BCS National Championship Game is a familiar one. After an unblemished season that ended in November because of a postseason ban, Urban Meyer and Ohio State may be gearing up to deliver salvation for the college football world.
Ironically, Meyer kicked off the spate of SEC national titles with his first of two championships in three years as Florida obliterated the Ohio State Buckeyes in 2006.
Both Saban and Meyer have mastered the process of constructing championship rosters. Something about this season just feels like it's setting up for a knock 'em dead, drag out national championship clash in The Rose Bowl.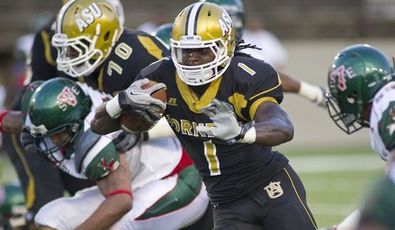 HBCU Football Previews
Isaiah Crowell Is Trying To Become An HBCU Kingpin: Everybody's got a hustle
HBCU Preview: Arkansas Pine-Bluff Is Not Here For Your Amusement: Bethune Cookman has things on lock recently, but UABP is ready for showtime.
Southern Is Planning The SWAC Takeover With Homegrown Products: The Jags aren't bowing down to anyone after winning the Bayou Classic
For HBCU's Bethune Cookman Is The Only Contender For FCS Glory: They're likely the only black college that could rep in the championship subdivision.
Meyer is one of the few coaches that can match Saban's full-throttle, competitive drive, coaching acumen and obsession with perfection. However, don't confuse Meyer with an angel. Florida's program was a cesspool of deplorable acts ranging from DUIs to a player using the stolen credit card of a former teammates' dead girlfriend. According to a story in Rolling Stone, Meyer may have also actively helped cover up some of Aaron Hernandez's legal troubles in Gainesville. He's not alone.
Chip Kelly skipped town with Edward Snowden right before the NCAA cracked down on Oregon. Pete Carroll did the same at USC. Joe Paterno sterling reputation was tarnished by a controversy that transcended college football.
Call Nick Saban, the devil if you want, but if you're looking for a white knight, the scarlet and gray are a red herring. That's why it's a great thing to see what David Shaw is accomplishing at The Farm in Palo Alto. Stanford's always been ahead of the curve hiring black coaches, but Shaw has the Cardinals on track to reach the pinnacle with a physical scheme in a conference rife with first class quarterbacks airing it out more than Jet Blue.
Despite tough academic standards, Shaw, a Stanford grad himself, is proving that's possible to be successful in college football by doing things the right.
TSL TOP 10: CRYSTAL POPPIN'
Coupled with college football's annual kick-off comes the insatiable appetite for top 10 rankings. The TSL Top 10 is the most exclusive club in college football. Everybody's drinking bubbly, having a good time right now; but from week to week folks are steppin' on each other's fresh kicks, starting a ruckus and somebody's getting bounced out the door into the back alley.
Everybody knows Alabama's name. The Top 10 used to be Papa Bear Bryant's old stomping grounds. Now Saban and his boys walk around like they own the place, poppin' Cristal, showing off their crystal championship football and kicking their feet up in the VIP.
Texas A&M is new on the scene, but they're actin' a fool and drawing a crowd. Florida State is always babbling about the good old days of the late-80s to early-2000s. They talk a big game about getting turnt up, then get tired, don their trademark straw fedora and turn down around midnight. UGA can't seal the deal with the honeys. They get tense in pressure moments. Nobody can c*ckblock Jadeveon Clowney, though. Not only did the garrulous Coach Spurrier talk his way past the bouncers, but he may have persuaded them to walk-on at offensive tackle in 2014.
Oregon's scuffing up the floor in their Nike Air Mags as they bust a move. They start perspiring heavily around 1 a.m., dip into the coat room and re-emerge with a tailored velvet suit straight out the Burberry collection. They've never worn the same outfit twice.
The club lights look like they're turning up a little early. False alarm, that's just Clemson decked out in tiger-fur, bright orange and dark purple threads. Stanford's leaning against the wall, scoping the scene. Ohio State just got their names removed from the do-not-serve list at the bar and Louisville is cleaning up with the grenades.
Meanwhile, Florida, LSU, UCLA, Texas and Oklahoma State are loitering outside the entrance waiting for imposters to filter out so the line can start moving again. It's going to be a while though and pretty soon the temperature will plummet. Hopefully, everyone brought a coat.
Check out the complete version of the preseason TSL Top 10 for 2013 here.
THE HEISMAN JURY:
Each of these candidates have to make their case for why they should be awarded the sport's most prestigious trophy. Each week TSL will deliberate over each player's exploits. In this weekend's games, they make opening arguments, but first we'll break down what they each must do to garner serious consideration.
Heisman Hopefuls:
Tahj Boyd: Is Ready To Take Centerstage.
Brett Hundley: Is College Football's Young Roy Hobbs
Marcus Mariota: Is Doing His Best Dennis Dixon Impression
Jadaveon Clowney: Is Set To Annihilate Your Heisman Bias
Aaron Murray: Deserves Your Respect
T.J. Yeldon: Third Time's The Charm For Alabama RBs
The Next Manziel: Is Doing His Best Dennis Dixon Impression
Jadeveon Clowney, DE, South Carolina: If Hugh Green couldn't win after earning every other major individual award including the Walter Camp Award in 1980, Clowney may have to also eclipse Derrick Thomas' single-season record of 27 sacks to lock it up.
Johnny Manziel, QB, Texas A&M: Can you withdraw your name from Heisman candidacy? I'm not sure Manziel would welcome any more scrutiny. On the plus side, Manziel emerged not guilty from autograph-gate.
Braxton Miller, QB, Ohio State: Ohio State advances to the national championship and Miller opens up the Buckeyes vertical passing game.
Marcus Mariota, QB, Oregon: Passing aside, doubling up on his rushing yardage and advancing to the national title game would put him atop the Heisman shortlist.
Teddy Bridgewater, QB, Louisville: Louisville's offense is a fairly conservative one that won't allow him to put up huge numbers. Bridgewater may have to dial up pass plays on every down against a fairly lightweight schedule.
Brett Hundley, QB, UCLA: Hopefully, Hundley is a Clippers fan. First thing's first, UCLA has to topple the Trojans and become the city's favorite team. Secondly, Hundley will have to finish the deal and win a Pac-12 Championship.
Lache Seastrunk, RB, Baylor: Coach Art Briles' quarterbacks usually benefit from his explosive offensive schemes. New starter Bryce Petty is no slouch, which means that Seastrunk will have to blow the roof off in an offense geared around the vertical passing game.
Ka'Deem Carey, RB, Arizona: Rushing for nearly 2,000 yards and 23 touchdowns was outrageous. The best back Rich Rod has ever coached may have to hope Arizona advances to the Pac-12 championship and gains more national exposure early.
The Alternate(s): Todd Gurley (Georgia), Aaron Murray (UGA), Will Sutton (Arizona State), James White (Wisconsin), Dri Archer (Kent State), Sammy Watkins (Clemson), Marqise Lee (USC), Tahj Boyd (Clemson), T.J. Yeldon (Alabama), De'Anthony Thomas (Oregon)
THE RING OF FIRE:
Whatever you do, don't miss these five games this season.
Oregon vs. Stanford, Nov. 7
Stanford has had Oregon's number for two consecutive years by keeping their zone-read offense in the dark. Instead of learning sign language, the Ducks should have boned up on their braille. This is shaping up to be the matchup of the season, even without Chip Kelly. Oregon just hopes it doesn't have to kick any pivotal fourth quarter or overtime field goals.
Texas A&M vs. Alabama, Sept. 14
A&M pounced on top of the Tide last season, but for some odd reason it feels like A&M is looking for revenge in this rubber match. A.J. McCarron may or may not have purposely allowed for Johnny Manziel to oversleep at the Manning Passing Academy in July. Either way, Sumlin doesn't have to worry about Manziel hitting the snooze button on this one. He'll be ready days in advance.
LSU vs. Alabama, Nov. 9
Les Miles always saves his best for Alabama. The national championship may be out of LSU's reach at this point in the season, but that makes LSU that much more dangerous. You never get into a fist fight with an ugly dude or someone who has nothing to lose. If Les Miles loses this one, those LSU fans will start looking at Saban like the one that got away and Miles as the trophy wife who frivolously spends all their money.
Florida State vs. Clemson, Oct. 19
Either Florida State or Clemson will run away with the ACC. In one corner, Tahj Boyd is the senior grasping for one last gasp of glory. Jameis Winston is crazy talented, but inexperienced and doesn't have a go-to receiver. Hopefully, Clemson's defense decides not to play hide and seek from the offense in bright orange uniforms this time around.
Florida vs. LSU, Oct. 12
If you like watching inept quarterback play and highway pileups, this may be the matchup for you. Jeff Driskel and Zach Mettenberger had their respective fans losing hair in clumps last season. Expectations are that they'll improve exponentially in their second seasons as starters; but in the meantime, a kid can hope for a hockey score on the gridiron. Somehow, Florida and LSU always make it compelling. This shouldn't be any different.
JUMPING TO CONCLUSIONS:
For 27 years, Walt Byers, the first executive director of the NCAA, was Oz behind the college athletics amateurism curtain. When Byers took over the governing body of college athletics, football and basketball hadn't yet become the big businesses they are today. During his tenure, Byers expanded the NCAA Tournament field into the 64-team March Madness field it is today (technically, 68) while TV deals began altering the landscape of collegiate sports.
After retiring in 1988, Byers saw the light and pulled the curtain back on the NCAA's inner-workings.
"The management of intercollegiate athletics stays in place committed to an outmoded code of amateurism drawn, quite frankly, with many of the same words that they had drawn in 1956," Byers said in his 1995 opus Unsportsmanlike Conduct: Exploiting College Athletes.
The Sam Keller decision and Ed O'Bannon class-action suit have the NCAA feeling claustrophobic as the walls close in on their position of absolute power.
Detractors worry that allowing players like Johnny Manziel to profit off their hard work at a time when they should be working 30 hours a week at unpaid internships and eating Ramen Noodles every night would ruin the purity of college athletics.
The NCAA and member schools began failing the purity test when its programs began accepting collective billions from things like contracts with ESPN and Fox Sports and spending tens of millions building larger stadiums as players continued working harder and harder to for compensation that was negotiated in the '50s. While pro athletes negotiate new CBAs every decade or less, student-athletes have been working with the same contract for over a half-century.
Paying college athletes may not be feasible, but barring them from profiting off of their own images is the sign of an iron fist crushing its work force. The tide is beginning to shift, but not quickly enough.
We've seen this type of gradual shift in amateurism occur before. A little over three decades ago, the Olympics was feeling the same squeeze.
In 1912, Jim Thorpe, the most accomplished all-around athlete of the 20th century, had his gold medals stripped after it was disclosed that he had previously earned major coin playing semi-pro baseball. Following the retirement of IOC President Avery Brundage in 1972, the stringent rules preventing athletes from capitalizing on their success monetarily were relaxed and Thorpe's medals were returned 30 years ago.
In 2008, former Colorado punt returner Jeremy Bloom was forced to abruptly end his collegiate career after the NCAA declared him ineligible for accepting endorsement money to fund his skiing career. Terrelle Pryor's career was halted because he bartered jerseys for tattoos and Johnny Manziel's sophomore season was nearly set ablaze by an NCAA investigation into cash he may have accepted during an autograph signing session.
Anybody that signs 4,000 autographs needs some sort of compensation. That's a full-time job. Sounds to me like the NCAA's leaders are the real amateurs.