While Vance Joseph struggles to mold the Denver Broncos into his team, the recent brawl in Sundays loss to the Raiders which was sparked when Broncos cornerback Aqib Talib snatched off Michael Crabtrees chain and put it in his pocket on some 1990s Gangstarr, backstreets, boulevard come up, is not a good look for the rookie head coach who has already clinched the franchise's first 8-loss season since 2011.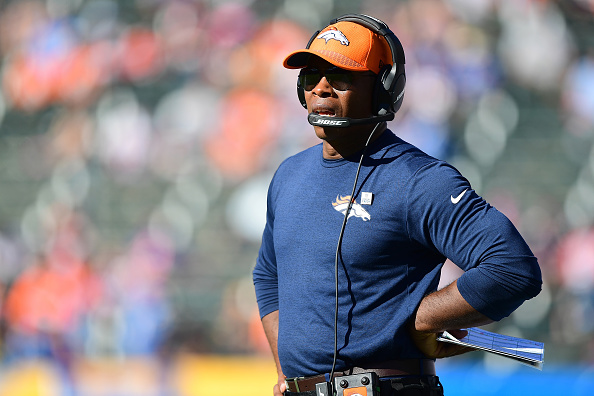 (Vance Joseph Is Struggling In Denver/Getty images)
He seems to have lost control of the squad.
Aqib Talib's new nickname is 2 Chainz after getting Michael Crabtree's gold chain again! https://t.co/WHfujgs7T6
On Sunday, all hell broke loose and in the end the Broncos lost again.
My Breakdown of the Raiders and Broncos fight : – Aqib Talib is bout that Life – Michael Crabtree stop wearing that chain – And everybody is Marshawn Lynch Cousin https://t.co/pLHHekl4M8
On the other hand, Los Angeles Chargers rookie coach Anthony Lynn has the 5-6 Chargers in the middle of a hotly-contested AFC Wild card race. Most preseason polls pegged San Diego and Lynn – the first African-American HC in Chargers history – as bottom feeders in an AFC West division that was supposed to be a three-way face off between the Raiders, Chiefs and Broncos.
The way San Diego began the season, going 0-4, didnt help fan morale and optimism.
"Never in a million years did I think we'd be here at 0-4, but we are," he said, via the team's official website at the time. "I look at football in four quarters, just like a game. And we just stunk the first quarter of our season. We've got three quarters left to figure some things out and get this thing turned around. There's going to be a lot of evaluating going on tonight and into tomorrow. There are some things that are going to change. But we're going to get this figured out and moving in the right direction."
His word was bond, because the Chargers have gone 5-2 since that time.
With Old Man Rivers still rolling along and performing at an All-Pro level, the chargers have come up with some huge wins like the 28-6 drubbing of Dallas on Thanksgiving. Rivers threw for 434 yards and three TDs and that defensive pass rush is as stout as ever.
The Chargers have already equaled their win total of 2016 and surpassed the four wins they mustered in 2015. With Rivers entering the twilight of his career, the time is now for the Chargers. With Lynn at the helm, the question of leadership and upgrading at the head coach position has been answered. He has shown the growth you look for in a first-year head coach and his team is responding to his methods, getting stronger and fulfilling potential.