To borrow from the wise words of the urban poet Christopher Wallace; Bo Wallace, Bo Problems.
Like Renee Zellwegger, there are two sides to the Ole Miss quarterback. For much of the year, the SEC's most turnover-prone signal caller was disguised as someone else. A more pragmatic passer. One who processed the entire field before rifling passes rather than the gunslinger who would blindly fire shots into the ether and often impale his own team. Bo has always straddled an alternating current between Heisman darkhorse and black sheep. Just before Halloween, Wallace removed the mask.
One year after passing for 349 and completing 77 percent of his attempts in an upset win of LSU at home, Wallace switched polarities.
It's not as if he's never had success in Death Valley before. As a sophomore, Wallace threw for 349 and two touchdowns, but also watched 57 percent of his passes fall incomplete and achieved an interception triumvirate.
On a night when the Ole Miss quarterback was losing his cool in Death Valley, completing fewer than 43 percent of his passes, one pick o his credit and had another on the final drive that was wiped off by a pass interference penalty, Hugh Freeze borrowed a page out of Les Miles' gambling ledger by tempting fate on a third and long with nine seconds remaining.
Instead of lining up for the 42-yard field goal, which had now become a 47-yarder following a penalty, Freeze gave Wallace the green light to drop back and put the Rebels in better position for the game-winning field goal.
Instead, Wallace uncorked a rifle towards the left corner that fell into the arms of LSU safety Ronald Martin.
It was a risky call that morphed into a haughty improvisation throw for Wallace against a nasty LSU defense.
"I think Bo would tell you, I thought we were pretty clear we were either going to take the flat throw or throw it out of bounds and try the field goal," Freeze said after the loss had settled in his stomach. "He must have felt like he had a shot at the touchdown play there. … I wish I could do that over for sure."
On the other hand, it's also the type of play that works out in favor of past champions.
Perhaps Freeze believed Wallace would channel his inner-Craig Krenzel circa 2002 or Matt Leinart's 2005 heroics against Notre Dame.
Les Miles debuted his own alchemy for LSU fans in Death Valley against Auburn in 2007. Down three with the clock running, Miles opted against burning a timeout to set Colt Davis up for the game-tying field goal.
Matt Flynn seared his name into Tiger lore by dropping back and quickly chucking a high-arcing 22-yard touchdown pass to Demetrius Byrd in the back of the end zone with one tick remaining. However, Flynn put so much air underneath the ball that if Auburn's Jerraud Powers had even batted the ball up into the air just for an extra second, time would have run out on LSU and Miles' only national championship would have been likely been Jim Tressel's second or Mark Richt's first.
The football gods scoped Ole Miss out and the Rebels were found wanting.
Ole Miss has seen its undefeated season dreams come to an end in Death Valley before.
On Halloween night in 1959, Billy Cannon's return touchdown was the only score LSU needed to defeat No. 1 ranked Ole Miss in a Tiger Stadium that was 35,000 fans lighter.
Forgotten is that Cannon also led a touchdown saving tackle during a late goal-line stand.
Fifty-five years later, LSU's offense was barely able to muster an end zone deposit until the fourth quarter and a late defensive play secured a victory over the offensively-challenged Rebels.
And with his final throw, Wallace was involuntarily inducted into the Jordan Jefferson Club.
The Jordan Jefferson Club is an ignominious group of SEC quarterbacks who are synonymous with their pattern of harebrained decision-making.
Jefferson's reputation was burnished over the course of four years, ending with this pass in the BCS National Title Game, but it began when he sealed LSU's doom midway through his sophomore season when shoddy clock management after a deep completion on a play that began with nine seconds left, gained a first down with one second remaining.
Unsure of whether there was enough time left to spike it (there wasn't) or run a play (the field goal unit was supposed to have sprinted out there) or kick the field goal himself, he chose to do neither. The officials set the clock and Jordan was introduced to the nation as a quarterback who suffered critical lapses in judgement upstairs.
Wallace is a modern-day Jay Cutler/Jeff George.
He's always been busting at the seams with talent. However, beside those gifts lies a volatile, temperamental individual who struggles to compartmentalize mistakes.
Wallace was a two-star prep recruit, ignored by his in-state Tennessee Volunteers, so he traveled the scenic route to the SEC by redshirting his freshman season at Arkansas State, then followed torchbearers such as Cam Newton and Aaron Rodgers to the JUCO level. During his senior season at East Mississippi Community College, Wallace set new NJCAA single-season records for passing touchdowns and total offense.
In his SEC career, he's thrown interceptions at a prolific rate.
Excuses have been made for him since he arrived. His sophomore season, the 17 interceptions were experience. The 17 picks he threw a as a junior were pinned on his offseason shoulder surgery. Wallace appeared to turn the corner against Alabama when he was turnover-free and threw the game-winning touchdown pass late, but confidence in Wallace's right arm comes with a buyer's beware. Just when you begin to believe he makes poor decisions either because he panics or because he misreads his own talent and deflates his fans like a Blimp in Seattle scraping the Space Needle.
After the final play was confirmed by officials, Wallace didn't bother to stick around and quickly high-tailed it to the locker room.
THIS is Ole Miss QB Bo Wallace…he left his team before the game was over. #LSUWIN pic.twitter.com/kESeFoXhp7

— jerie shirley black (@jerieblack) October 26, 2014
There were signs he'd lose his composure. Earlier in the game, a frustrated Wallace headbutted LSU's Jamal Adams, earning himself an unsportsmanlike conduct penalty and was screaming back at irritating LSU fans in the stands.
Ole Miss is fortunate in one regard. One loss doesn't eliminate them from the national title race.
They still control their own destinies. The margin for error, especially against Auburn, Mississippi State and the SEC East champion is much slimmer. But if Wallace's psyche has been shattered, November could be a crushing month for the Landsharks.
They've alredy suffered a loss in the standings and linebacker Denzel Nkemdiche for the season. They can't afford for Bo Wallace to lose his head too.
Hail YEAH, F**KIN' RIGHT
Hail State lives on as the SEC"s last unbeaten, but the road to the playoff is riddled with debris along the way. Dak Prescott was banged up in Hail State's win over Kentucky, but he has help matriculating the ball into the end zone while he heals before a pivotal showdown on Nov. 22. Josh Robinson's short stature, stout figure, brolic limbs and powerful running style has earned him the nickname Bowling Ball. Ten minutes into the third quarter, Robinson ran down the lane, dipped into the gutter, rolled out and hit a 7-10 split.
Kentucky's run defense is still susceptible to getting discombobulated by shifty or strong runners, but nobody anticipated them getting knocked over like bowling pins by Robinson and Prescott.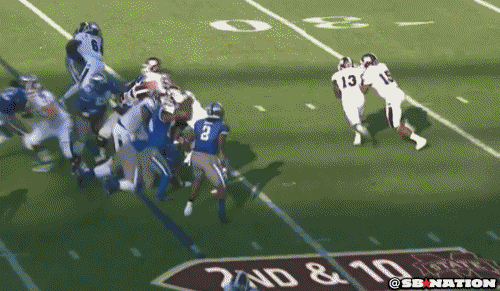 Mississippi State ultimately outran Kentucky 326 yards to 103, led by Robinson's 198 on the ground and The Dak Knigh's subtle 216 by air, 88 terrestrially but the SEC's worst pass defense, at least statistically, reared its ugly head. Either that or their own reflections forces them to close each other's eyes and play blind as Kentucky's Patrick Towles gave them a little Halloween House scare by throwing for 401.
That should give them pause, because on Nov.15, they'll roll down to Alabama for a chance to clear out the SEC West's surface coagulation and Blake Sims will be licking his chops. Speaking of Bama…
SPEAK OF THE DEVIL AND HE SHALL APPEAR
Lane Kiffin's personal security detail was never tested, but Kiffin gave Tennessee fans other reasons to despise him. On the first play from scrimmage, Blake Sims faked the handoff to T.J. Yeldon running left, Amari Cooper slipped behind the pair while Sims rolled to his right and tossed a short pitch to Cooper who somehow created daylight tight-roping it down the right sideline for an 80-yard touchdown.
When you think of Bama, ground and pound comes to mind, but this one was personal.
You can't see him in the GIF below, but Lane Kiffin raced Cooper down the sideline and probably considered celebrating in the end zone with his explosive receiver.
Cooper would reel in a second touchdown pass and by the end of the first quarter, he'd accumulated four catches for 155 yards.
The first quarter was all Kiffin needed to remind the nation why Tennessee fans are still stuck on him five years after he left for USC.
"He's really a good coach and I think why all the people in Tennessee are pissed off at him because they know he's a good coach, and they were upset when he left," Saban opined in his postgame conference.
All in all, Cooper piled up a yard for each of the Tennessee fans out of the 102,455 in attendance. By the end of his night, Cooper had set another offensive record. This time, it was setting the bar for Alabama's single-game receiving yardage record at 224 yards.
YOU DON'T SEE THEM COMING, BUT THEY TCU
Deep in the heart of Texas, TCU is staking a claim to joining the playoff party. TCU's staple has been a defense that holds opponents to fewer points than Madison Bumgarner's playoff ERA from the mound. This season, TCU's been bashing homeruns to every corner of the field this season. Saturday's 82-27 win over Texas Tech was a home run derby.
The TCU attach has some oomph behind it when Andy Dalton led the attack, but never this type of horsepower.
Kliff Kingsbury and Kevin Sumlin haven't had the best month. Sumlin's struggles have been documented. Two months ago, Kingsbury was awarded an extension running through 2020 that will total $22.9 million after his only season felt like a premature move. Bold, but premature.
It's started to look like they may have dug themselves into a hole by putting too much faith into the golden boy.
It may be the defensive focus that separates Patterson from Kevin Sumlin and Kliff Kingsbury.The TCU beatdown was orchestrated by a young coach who was Kingsbury's successor as Texas Tech quarterback in the early 2000s.
Sonny Cumbie was the only assistant retained by Kingsbury after he was hired two seasons ago, but left Lubbock to share offensive coordinating duties at TCU this season. It's hard not to draw a correlation between the inconspicuous Cumbie and the Texas Tech influence on the Horned Frogs after Trevone Boykin throws for 433 yards and seven touchdowns without a pick in one afternoon. The difference lies in the backfield where running backs Aaron Green and Trevorris Johnson racked up 105 yards each.
Texas Tech is now 3-5, losers of five of their last six, and doesn't appear to have bowl-eligibility in their immediate future.
While the rest of the nation was nodding off, Utah continued piling up wins underneath the radar. The Pac-12 North race doesn't get nearly as much attention as Oregon's romp through the Pac-12 North.
Utah, Arizona and Arizona State's race for the Pac-12 South crown is the nation's second-most compelling division race in the nation.
HIGH-FLYING PAC-12 NORTH VEERS INTO THE DANGER ZONE
Utah quarterback Travis Wilson is quietly the nation's most mobile 6-7 quarterback, their pass rush cascades upon opposing quarterbacks and wide receiver Kaelin Clay leads the nation in return touchdowns.
vWilson, who needs to be more careful leaving his feet at his size, used his mobility to set the Utes up on their own goal line and then finished it up by rolling to his left and tossing a spiral into the chest of Clay.
However, even after wins over UCLA and USC this month, the slate gets downright brutal as they face No. 15 Arizona State, No. 5 Oregon, Stanford and No. 14 Arizona in consecutive November weeks.