Adrian Petersons Wednesday night tweet that the Giants (have) been making some interesting moves in response to them cutting starting running back Rashard Jennings.
According to the Daily News, Peterson certainly left no gray area regarding where hed like to play if Minnesota parts ways with him prior to the upcoming $18 million final option year of his current contract. The Vikings will most likely want Peterson to restructure the contract, so that they can allocate some of those funds to improving other aspects of the team.
The Daily News is also reporting that Peterson is openly lobbying to go to the Giants and trying to coerce GM Jerry Reese into swinging a deal for the 32-year-old legend who still has a few solid years left in the tank and would be an all-world upgrade from the talent the Giants currently feature at running back.
Peterson says its simply good negotiations. In any event, he seems to be preparing for a departure if the Vikings cant get up the scratch to keep the future Hall of Famer.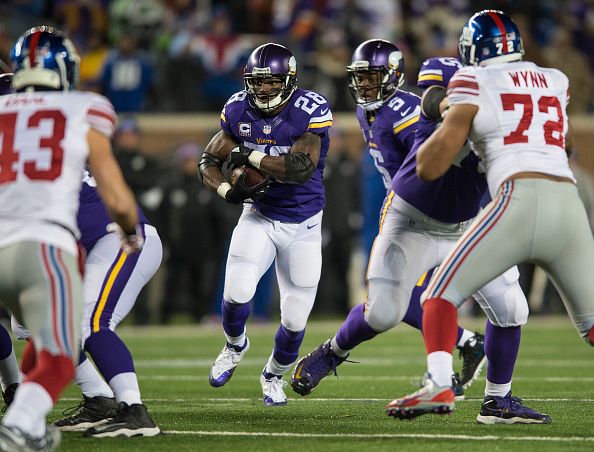 (Photo Credit: Getty Images)
With my (2017 cap) number being so high, its kind of like control…goes both ways honestly in this situation, Peterson told NFL Network. But its more tough because Ive been (in Minnesota) for 10 years plus, you think about all the relationships you built there, with the organization, with teammates as well, just having a camaraderie — thats what you hate to depart from the most.
The likelihood of this happening is extremely small for several reasons. The upcoming draft is supposedly rich with running back talent and there are some official veteran free agents such as LeGarrette Blount, that come much cheaper.
The most glaring off the field inhibitor would be the fact that the Giants have a zero-tolerance domestic violence policy for its employees. They enforced the rule by releasing kicker Josh Brown in October after a history of domestic violence against his wife went public.
Petersons image is still recovering from a 2014 suspension for abusing his son and according to Commissioner Roger Goodell, showing no meaningful remorse for his conduct at the time.
New York is the perfect destination for a legend near the end of his career to hear a few more cheers and maybe win a Super Bowl before he retires. Peterson knows this and wants to strut his stuff in the Big Apple. Purple Jesus would be a sight to see in Jersey. However, the Giants might not be able to make that move happen for personnel and political reasons.