Todays baseball heads probably arent too familiar with former Yankees announcer Bill White, but the legendary, long-time broadcast partner of the late Yanks Hall of Famer Phil Rizzuto turned 83 on Saturday.
Hes forgotten more baseball than most of us will ever see or learn in two lifetimes. For baseball to still have a timeless gem like White here in the physical is truly a blessing.
In a sport where very few African-Americans do play-by-play or color commentary at the pro level (In 2015, just 5 of the 30 teams had African-American lead broadcasters), White is a baseball lifer who was a first baseman for the New York and San Francisco Giants (1956, 1958), St. Louis Cardinals (195965, 1969), Philadelphia Phillies (196668) and then joined the Yankees TV network in 1971 and had 18 glorious years as a full-time sportscaster.
The Scooter and "White" had a natural chemistry that could turn a dreaded rain delay into a hilarious and informative sitcom show.
As a lead commentator for the most high-profile sports franchise in the world, Whites popularity reached a large section of the country and changed negative and outdated perceptions on African-Americans being effective announcers in baseball. Yes, at one time the racist consensus was that brothers couldnt do that either.
White was also a heck of a baller. He was the second black minor leaguer to play for a Carolina League team the Danville Leafs in 1953. In the pros, he made eight MLB All-Star teams and flashed lethal leather, winning seven Gold Gloves.
(Photo Credit: nytimes.com)
After a sterling career in broadcast television, White entered baseballs front office and was elected President of the National League to replace Bart Giamatti, who succeeded Peter Ueberroth as Commissioner in 1989.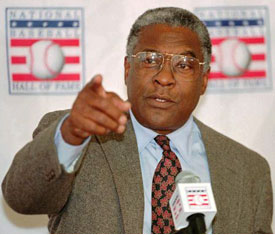 It was a watershed moment in American history as White became the first African-American to hold such a prestigious and powerful executive position in a professional sports entity. He served as NL president until 1994.
Seattle Mariners play-by-play commentator Dave Sims, a fellow African-American broadcasting legend, dedicated a throwback photo, some birthday cheer and high praise to White via his Facebook page.
Happy 83rd birthday to the great Bill White, seen here with his late Yankees b'cast partner, Hall of Famer Phil Rizzuto. (They were fantastic together!) Thank you Bill for blazing the trail for me as an sportscaster who is African-American and especially one in Major League Baseball, where our numbers have been small over the years. You're the first black man who I saw be a TV sports anchor when you retired from baseball.
I enjoyed watching you as a five-time All-Star first baseman, seven-time Gold Glover and 1964 World Series Champion with the Cardinals. You finished with the Phillies, after beginning with the Giants in New York. I salute you for your fine work as the National League president. You're a great American, tremendous role model and inspiration. I can still hear your call on the 1978 Bucky Dent homer to beat Boston to win the A.L. East, "…deep to left….! All the best!
White was a trailblazer and pioneer who formed one of the most popular and lasting broadcast duos in baseball history and paved the way for the current African-American OGs that continue to maintain some sort of diversity in a game that has been so important to African-Americans in this country.
Sims is one of a small group of brothers in sports history who have broadcast pro baseball games on a full-time basis. Props to Sims and White, who continues to be a major part of the games history and one of the living gems from a golden era of baseball for the African-American athlete.