Throughout his sterling career, Memphis Grizzlies Forward, Zach Randolph has been criticized for being a bit ornery at times or being too vocal or demonstrative. Hes also had a couple of publicized off-the-court incidents that added to his reputation. But those were in his youthful days. Z-Bo is a grown man now.
His story is an American success story. He literally came from nothing. Kids called him crusty because he wore the same jeans to school every day. It got so bad that one day Randolph tried to go into a department store and steal some jeans. He was caught and spent 30 days in juvie.
That harsh upbringing chased him like a ghost during the early years of his tumultuous NBA career, but eventually he got a grip on life and shook his demons. It wasnt easy. There were times when he was with the Knicks that he played his heart out each night and local media still labeled him as a malcontent or clubhouse cancer.
Little did the world know that Randolph's heart was filled with care and concern for others. In 2010 and 2013, he was the recipient of the NBA's "Kia Community Assist Award in recognition of his outstanding efforts in the community and his ongoing philanthropic and charitable works.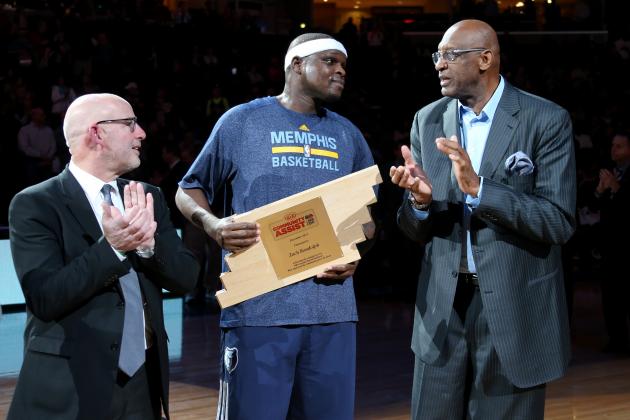 As we have seen in the NFL with the contributions that Marshawn Lynch makes to the Oakland community, the players who dont bask in the adulation and crave for the cameras and are often misjudged by fans and negatively portrayed by media, are the same ones who show that they have hearts of gold and incredible character and a deeper understanding of how their celebrity can help others.
They are the anti-Odell Beckham. Much less pleasing to the eye, but oozing with palpable substance. In other words. They just dont have time for the berlshiz.
Randolph will be making a $20,000 donation to the Metropolitan Inter-Faith Associations Plus-1 Program, a program directed by MIFA to pay utilities services for people in need. His donation will keep utilities connected for over 100 Memphis families.
According to a 2014 Forbes Article, 1 in 3 Americans is late paying bills. That number has surely increased in some urban rural areas since then as salaries and jobs level out and the cost of living continues to increase.
Randolph visited two families on Monday after a brief check presentation at the Memphis MIFA offices. This is the seventh year that Randolph has shared his NBA riches with people who seriously can use the help, through a collaboration with MIFA and Memphis Light, Gas and Water.