Rutgers Men's Basketball is an odd thing to behold. A beautiful campus, situated in a state rife with basketball talent, the program is in a conference that most blue chip prospects would gladly amputate a finger to compete in, yet they're the laughingstock of big time college basketball.
About a month ago, former Final Four player NBA head coach Eddie Jordan was relieved of his duties as head coach after going 29-58 over three seasons. He replaced head coach Mike Rice, Jr, who went 44-51 before being shown the exit after video revealed that he was being abusive to his players in practice.
It wasn't always this wretched at the State University of New Jersey. To properly document these doldrums, we're going to have to take a trip in the proverbial time machine, back to 1976, which was the last time the program made any noise on the national stage.
Led by Phil Sellers, James Bailey, Hollis Copeland, Eddie Jordan and Mike Dabney, the Scarlet Knights were undefeated heading into the NCAA Tournament in 1976 along with eventual champions Indiana Hoosiers.
(Photo Credit: NorthJersey.com)
They were also ranked No. 4 in the country, the highest ranking in the history of the men's program. The Scarlet Knights would finish the season 31-2 after losing to Michigan in the Final Four, and in the Third Place Consolation game against UCLA.
Since that time, they have returned to the NCAA Tournament a mere five times. Other than a Sweet Sixteen foray that ended in a loss to No. 10 seed St. John's in 1979, that history has largely been futile.
Nothing seems to work. From the ECAC Metro, to the Atlantic 10, the Big East, the American Athletic Conference, and now the fabled Big Ten, Rutgers has struggled to maintain even modest stature in each affair.
The biggest postseason success the Scarlet Knights have had "lately" was in the 2004 NIT Championship game versus Michigan, a game they lost 66-55 .
The glory days of coach Tom Young from 1973 to 1985, were followed by the ineptitude of Craig Littlepage. Bob Wenzel's seven years in New Brunswick were bright in the beginning, but a six year stretch of no postseasons spanning the Atlantic 10 and the Big East spelled his doom. No one has enjoyed his average wins per season or the same level of postseason success since.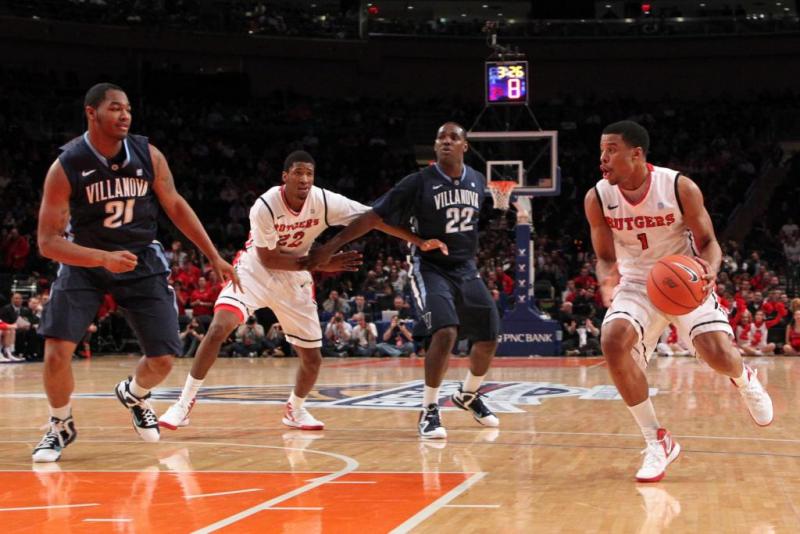 (Photo Credit: NorthJersey.com)
What's the problem?
New Jersey kids are basketball players, but nobody wants to stay home. Just look at the home-bred talent that has participated in the NCAA Tournament over the past two years: Karl-Anthony Towns (Kentucky, Piscataway), Brian Long (Kentucky, Dumont), Jared Nickens (Maryland,Monmouth Junction), Jacob Susskind (Maryland, West Orange), Steve Vasturia (Notre Dame, Medford), Matt Ferrell (Notre Dame, Bridgewater), Chris Cooke (Dayton, Trenton), Tim Delaney (Villanova, Blair Academy), Miles Davis (Xavier, St. Benedicts), Sterling Gibbs (UConn, Seton Hall Prep), Malachi Richardson (Syracuse, Trenton Catholic), Devon Reed (Miami, Princeton Day), Isaiah Briscoe (Kentucky, Newark), and that's not to mention Trey Lowe (Temple, Ewing), who missed the tournament due to a car accident injury, and dozens of other really good ball players from the Garden State whose teams did not make it to the Big Dance.
Barring All-Americans like Towns and others, you mean to tell me Rutgers' clout is so low that it couldn't snag five of these Jersey kids? The Big East dog-days have turned into Big Ten nightmares as Rutgers hasn't been in the running for an All-American recruit in years. The addition of new head coach Steve Pikiell, who is coming after after taking Stony Brook to the Big Dance, isn't likely to change that any time soon.
Hopefully things work out, but he will certainly need more than the three years Eddie Jordan was allotted. Until that time, Rutgers University Men's Basketball fans will have to quietly watch as in-state rivals like Seton Hall, Farleigh Dickinson University, Princeton, Rider and Monmouth enjoy more postseason success than them, and with less talent and in smaller conferences, too boot.