The world is full of misconceptions that turn into flat out ignorance if left unchecked. We often come up with assumptions based upon our view of the world. But, unless you're one of those nonexistent people that is able to ingest and metabolize a multitude of viewpoints in a short period of time, you're likely trapped within the square of your own life's experiences.
When it comes to dealing with individuals who the world deems as "handicapped", able-bodied folks are very likely to "assume" that they are less able to perform certain tasks based upon their maladies. But countering this thought process is actually the spirit behind the Paralympics.
The Paralympic Games has been taking place immediately following the Summer Games since 1988, and this year it all went down in Rio. The multi-sports event features athletes with a range of conditions, including decreased muscular power, impaired passive range movement, leg length, stature, vision impairment and intellectual impairment, among several others.
The Paralympics were founded in 1948 with British World War II veterans as the original participants. Since then, the Paralympic Games has strived for its athletes to be held in the same regard as those participating in the Olympic Games.
Though there have been disabled athletes that were allowed to compete in the Olympics prior to 1948, the separation between able-bodied and "disabled" athletes has grown over the years, and that the very best Paralympians will never get to test their mettle directly against their Olympic counterparts.
(Photo Credit: Financial Express Times)
Why would they want to do that, you ask? What athlete worth his jock strap doesn't dream of competing against the very best his sport to has to offer, no matter the circumstance? Sounds like some "pie in the sky" crap, right?
Well, truth is often more inspiring than fiction. What if I told you that there were four Paralympians that participated in the 1500-meter race in Rio de Janeiro this past weekend that could have won Gold if they were allowed to compete in the "regular" Olympics?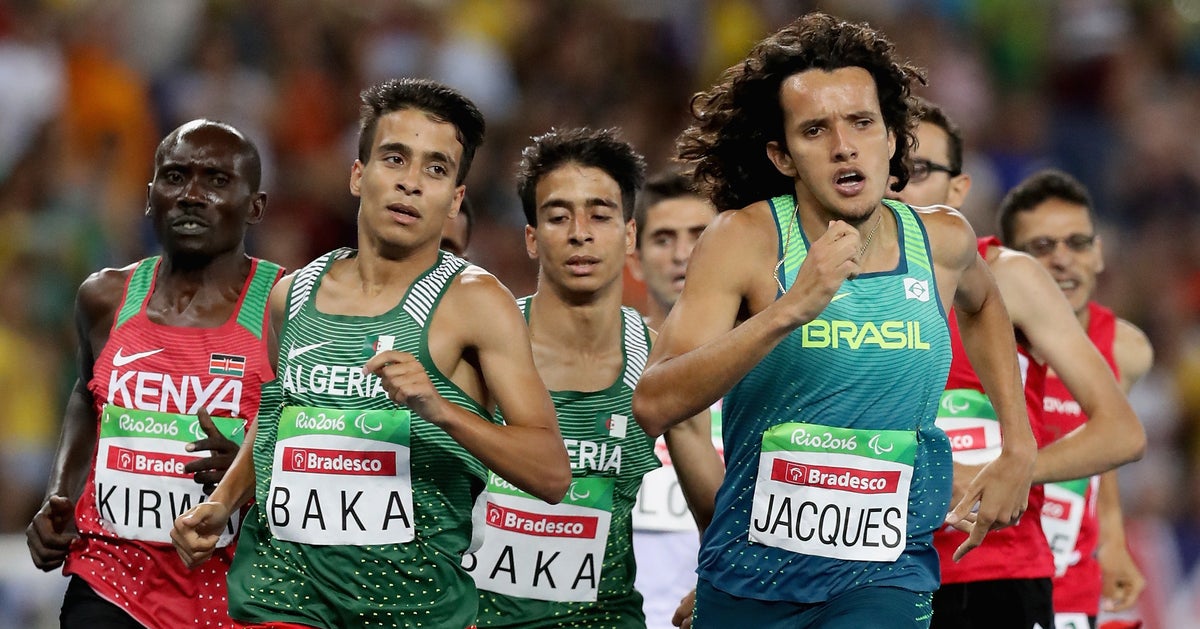 (Photo Credit: Huffington Post)
This is actual fact, son. Fouad Baka of Algeria ran the race in 3 minutes and 49:59 seconds, which was better than his Olympic counterpart's Gold Medal winning mark of 3 minutes and 50 seconds, set by American Matthew Centrowitz Jr.
Also, what if I told you homeboy didn't even win a medal with that time? Don't trip yet, there's more. While Baka's time would have gotten him the Gold among his able-bodied contemporaries, it wasn't even enough to get him him bronze during the Paralympics in Rio on Sunday. Real talk!
Abdellatif Baka, brother of Fouad, won the Gold with a time of 3 minutes, 48.29 seconds while Ethiopia's Tamiru Demisse bagged the silver with a time of 3 minutes, 48.59 seconds, followed by Henry Kirwa of Kenya's 3 minutes, 49.59 seconds – good enough to bring home the bronze.
Could it have been nutrition, a brisk tailwind, or maybe weather more conducive to breathing for long distance running?
Who knows. But what is certain is that this simple yet grossly overlooked race will galvanize and inspire disabled young girls and boys to strive and train for athletic excellence with the goal for competing against the very best the world has to offer, be they disabled or otherwise.