Cleveland is on the brink of winning the citys first World Series Championship since 1948 after winning Game 4 of the 2016 World Series, 7-2 on Saturday night.
(Photo Credit: si.com)
The '40s was a minute ago.
To put things in perspective, thats the year South Africa elected a nationalist government under D. F. Malan with an apartheid policy.
The Chicago Cubs are even more out of touch with championship living in the millennium, having not tasted the champagne of October jubilance since Henry Ford produced his first Model T automobile in 1908.
One more loss tonight and it will be 109 years since the Chicago Cubs have won a World Series. Its not looking good for the loaded squad that led baseball in wins and was everybodys preseason darling to win it all.
If anything, the Cubs are still confident.
Despite facing elimination tonight against the Cleveland Indians, Cubs reliever Pedro Strop says that nothing has changed in the Windy City and the mighty Cubs are going to play it one game at a time.
We just have to keep our mind positive, Strop told The Shadow League on Saturday. And play one game at a time. We have won three straight so many times in the season, so why not now?
It makes sense, but Cleveland has all of the momentum. They have the best pitcher in the series in ace Corey Kluber, who is 4-1 with an 0.89 ERA in these playoffs. He has channeled his inner Madison Bumgarner and become the shutdown, golden arm that all World Series champs rely on.
Neither team has ripped the cover off the ball, but Cleveland has been more consistent and timely. After finishing the regular season third in all of baseball in team batting at .256, the Cubs are swatting just .217 in the playoffs. That lack of punch has caught up to them in this series.
Any of our guys can be the guy to break out and give us the offensive boost we need, Strop told TSL. "We have so many good bats in our lineup and any of them could step up and make a difference. Addison Russell, Kris Bryant, Javier Baez — if any of those guys step up then we will do something for history, come back and win those three games one at a time.
The time is now for somebody to step up for Chicago, who has got to be feeling the pressure of losing to an underdog deep in the playoffs for the second year in a row.
(Photo Credit: chicagotribune.com)
Theres no pressure, insists Strop. Everybody knows that when we play, I don't think any of our players are thinking about winning a World Series or feeling pressure. Like when I go to the mound, I'm not going to be thinking about the drought. I'm just going to make my pitches. Pressure is not an issue for us. Their pitchers are holding our offense right now.
This World Series is a huge test for manager Joe Maddon, who lost in his only other World Series appearance with the Tampa Bay Rays in 2007. Strop says Maddon is keeping with the One game at a time philosophy and not panicking or changing his message.
He's always positive…Telling us just to play one game at a time," said Strop. "That's what everyone is saying right now.
Losing tonights Game 5 would be a devastating blow to the Windy City and the baseball fever that has infected the town since Theo Epsteins shrewdly-constructed power squad rose to the top of the MLB totem pole.
Now would be the perfect time to complete the mission. But if by chance, Chicago did lose this series, the groundwork is still laid to come back next year as the favorites.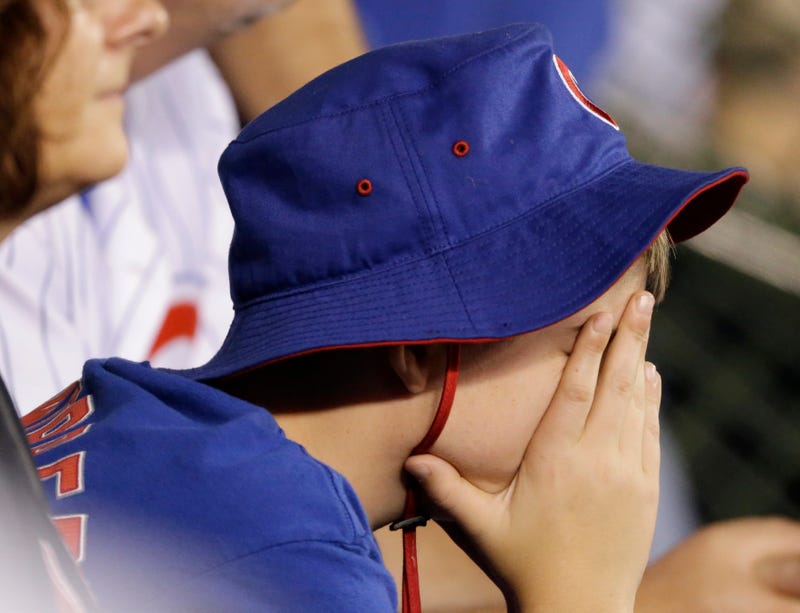 (Photo Credit: deadspin.com)
Strop, a Dominican-born righty, has seen the growth into a championship-caliber squad since arriving from Baltimore in 2013. Hes been a major contributor to a Cubs pitching staff that was statistically the best in baseball in 2016.
The way we finally learned how to play the game is the best thing… said Strop, whos never had an ERA higher than 2.91 since joining the Cubs staff as a middle reliever. We used to just try to hit homers, but now we have guys playing defense, pitchers are just trying to make pitches like a veteran. We had so many young guys in the past who were just playing the game like crazy …with a lot of energy. And now they are learning how to play the game and that has made our team better."