As the brother of a former NFL quarterback who was himself a high draft pick, Derek Carr has always been aware of the legacy that he has been tasked with upholding. Though wins had been slow in coming in his first two seasons , Carr has always been steady despite being brought into a rebuilding situation with the Oakland Raiders, who have not been to the playoffs in 14 years.
His numbers were decent in his first two years. Now, as we fast approach the halfway point of the 2016 season, Carr and head coach Jack Del Rio are steering the vaunted Silver and Black in the right direction.
The Oakland Raiders are currently atop the AFC West, tied with the defending Super Bowl champion Denver Broncos at 6-2. How could a team that had so many weaknesses just a year ago now be looking like Cinderella with a sledge hammer? Indeed, there are no glass slippers in Oakland as the Raiders aren't taking any shorts. This is due in large part to Carr's prolific passing.
I dont want to look like a young quarterback, he said to ESPN.com. I want to make sure I get better each game."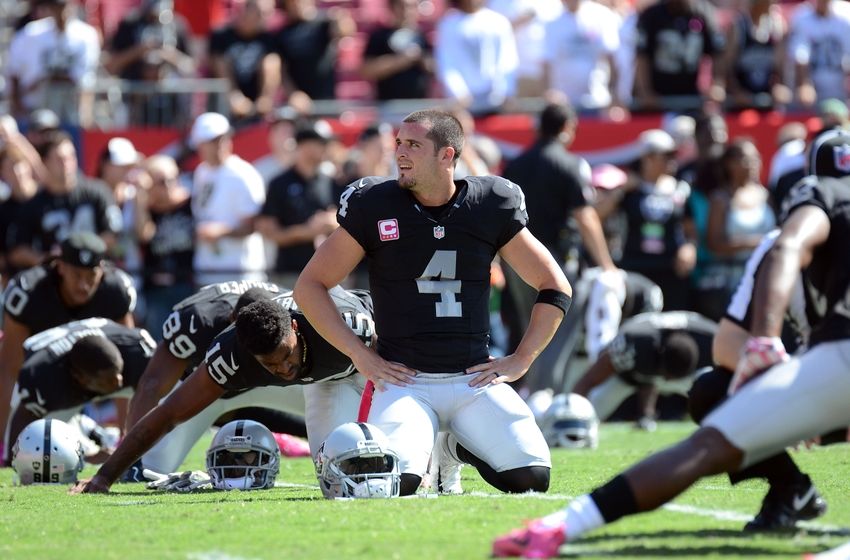 (Photo Credit: Fansided)
That was after he scorched the Tampa Bay Buccaneers for a franchise record 513 yards, which featured a 41-yard Seth Roberts touchdown for the win in overtime. Keeping it a billion, Matt Ryan is having a better season statistically, but if Derek Carr isn't in the driver's seat in the NFL MVP discussion, he should at least be in the back seat.
Peep it, the Oakland Raiders are 6-2 and, with his offensive explosion on Sunday, Carr became the third quarterback in NFL history to pass for over 500 yards without an interception, joining Y.A. Tittle in 1962 and Ben Roethlisberger in 2014.
(Photo Credit: NFL.com)
Already, Carr has over 2,000 yards and is on track to shatter the 4,000-yard mark for the season. Also, the Raiders are currently undefeated on the road.
While WR duo Michael Crabtree and Amari Cooper are both on track for 1,000 yards receiving with 569 and 787 yards, respectively, the Raiders running game has stuttered and sputtered at times with a three-headed attack featuring Latavius Murray, DeAndre Washington and Jalen Richard splitting carries. Neither has distinguished himself from the others on the field.
Despite that, Oakland is currently eighth in the league in terms of rushing yards per game, averaging over 116.
Why?
Well, it may have something to do with the fact that teams have to play Carr honestly because he has shown a penchant for picking apart coverage and standing tall amid pressure. Last season he was blitzed on nearly a third of his drop-backs. This season, opponents are utilizing the blitz often, too. However, they have been far less effective in rattling him.
Thus far this season, the Raiders are finally living up to the expectations that come with drafting first round talent, due to poor records, in seven of the last nine seasons. Carr is the reason why, and that's why he should be in the driver's seat of the NFL MVP discussion at this point. A great performance against the Denver Broncos next week can't hurt, but a poor one may make me reconsider.