This is part of The Shadow League's Black History Month In Focus series celebrating Black excellence in sports and culture.
The art of stealing bases is a skill that's synonymous with the Black Athlete. The Top 15 greatest bag swipers in MLB history (After Jackie Robinson integrated the game) are all African-American, with the exceptions of Cuban speedster Bert Campaneris and Brett Butler, who is an aberration — like the Larry Bird of base stealing. Once they started letting brothers in the game, it became a skill that is dominated yearly by the African-American of Afro-Latino athlete.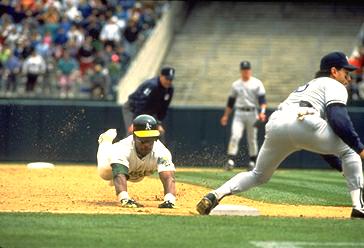 (Photo Credit: mlb.com)
1. Rickey Henderson – Simply the greatest base-stealing technician that ever lived with 1,406 steals on his resume. Henderson is the only player to ever eclipse 1,000 swipes for a career. Marinate on that for a sec
Pretty Rickey swiped 66 bases at the age of 40 and stole 31 at the age of 44, never deviating from his classic head-first slide.
(Photo Credit: nytimes.com)
He led the American League in stolen bases from 1980-1991. His combination of speed, power and bat savvy makes him hands down the greatest leadoff hitter to ever put on spikes, but also one of the deadliest multi-faceted weapons MLB has ever seen with golden legs and unapologetic swag and soul.
(Photo Credit: Sports Illustrated)
2. Lou Brock – Brock is the Rickey Henderson of his era — the '60s and '70s. The eight-time NL stolen base king played with the St. Louis Cardinals and had pitchers seeing streaks of red flying by them 938 times in his career. Brock was the standard-bearer for stolen base supremacy before Henderson obliterated his record, but due to the way the game has changed, Brocks second place position on the all-time list is pretty safe. Theres not too many cats who are going to steal 50 bases for 12 straight seasons as Brock did from 1965-76. A Tribe Called Quest gives the stolen base legend a great shout out in their classic hip-hop joint Check the Rhyme.
3. Tim Raines – Nobody in the '80s rocked a Jheri Curl better than Rock Raines, who will finally be inducted into Cooperstown in a few months. Raines knew how to handle a bat as evidenced by his 2,605 hits and .294 career batting average. As a leadoff missile his stolen base prowess made him a lethal weapon. Raines swiped over 70 bases each season from 1981-86 and he led the NL in steals from 81-84 until Vince Coleman hit the scene.
(Photo Credit: True Blue LA)
4. Maury Wills – Wills is known as the principal offensive weapon of the Dodgers three championship squads between 1959 and 1965. Wills gained fame and respect as a base stealing King by stealing 104 bases in 1962, eclipsing a 47-year-old record.
In 1960, Wills won the first of six straight National League stolen base crowns. His 50 steals that season marked the first time an NL player had eclipsed the half century mark in swipes since Max Carey in 1923.
Wills, who played 14 seasons for the Dodgers, Pirates and Expos was finally inducted into the Hall of Fame in 2015 by the Golden Era committee, which can induct managers, umpires, executives and long-retired players.
5. Vince Coleman – Coleman stormed the MLB scene winning NL Rookie of the Year in 1985, swiping 110 bases. He swiped over 100 again for the next two seasons before tailing off with seasons of 81, 65 and 77 steals for the St. Louis Cardinals. Coleman never stole more than 50 again after leaving St. Louis and he once said he didnt know who Jackie Robinson was, but his base stealing excellence was too omnipotent for me to exclude him for his ignorance.
Honorable Mention: Jackie Robinson (King of Stealing Home), Joe Morgan (HOF, 608 career steals), Luis Aparicio (HOF, nine-straight AL stolen base titles)