Today, most people associate the name Ed O'Bannon with the groundbreaking anti-trust lawsuit that he filed against the NCAA. But at this time of year, fans of college basketball recognize the name for some other paradigm-shifting work he performed close to 20 years ago.
In 1995, the UCLA Bruins brought the magic back to Westwood, winning the school's first national championship since John Wooden hung up his whistle in 1975. And the most significant factor in that development was a set of silky-smooth, left-handed, high-soaring, more-bounce-to- the-ounce brothers from Los Angeles named Ed and Charles O'Bannon.
Their father, Ed Sr., a U.P.S. driver who'd once earned a college football scholarship to UCLA in 1971, placed small basketballs in each of their cribs when they were infants.
"I'm not saying it was their first words," Ed Sr. told Sports Illustrated's Richard Hoffer in 1994. "But I do remember them saying 'Shoot the hoops' as babies."
Ed, Sr. erected a rim in the family driveway and the O'Bannon yard soon became the hottest playground in the neighborhood. Large crowds hung out to watch and play in the area's best pickup games. There was one house rule, though. The brothers always had to play against and guard one another.
At Artesia High School, where he won a state championship, Ed O'Bannon was named the National Player of the Year and widely recognized as the country's top college recruit in a class that included Grant Hill and Rodney Rogers.
College basketball's biggest show at that time was in Las Vegas, where the Runnin' Rebels of UNLV had just destroyed Duke, 103-73, in the 1990 national championship game. Ed signed with UNLV and was poised to join one of the greatest college teams ever with Greg Anthony, Stacey Augmon, Larry Johnson and Anderson Hunt.
But that summer, rumors were circulating that the Rebels might not be allowed to defend their title due to a supposed rule infraction that took place in 1977. Looming just as large was an NCAA investigation into head coach Jerry Tarkanian's recruitment of NYC playground legend Lloyd 'Swee' Pea' Daniels.
While in Uruguay competing for the U.S. Junior National Team, UCLA player Darrick Martin put the squeeze on. He urged O'Bannon to come to Westwood, in lieu of the uncertainty in Vegas.
"I was a 17-year-old kid," Ed told the Sacramento Bee's Paul Gutierrez. "I wanted to be [at UNLV], but with all the rumors with the NCAA and how they were going to put the program on probation, there was a lot going on. I had a lot of different advice from all kinds of people."
He ultimately chose the Bruins. A few days prior to the official start of practice, Ed stole the ball from Mitchell Butler at the top of the key during a pick-up game and, after throwing down a nasty two-handed dunk, landed awkwardly.
"My whole knee just shattered," he told Gutierrez.
His anterior cruciate ligament was shredded. The Achilles tendon of a cadaver was grafted in during the ensuing five-hour surgical procedure. The injury was so severe that he was told that he might never walk the same again. He attacked his rehab and eventually returned to the basketball court, but there were many who felt that he was never quite as good as he'd been before the injury.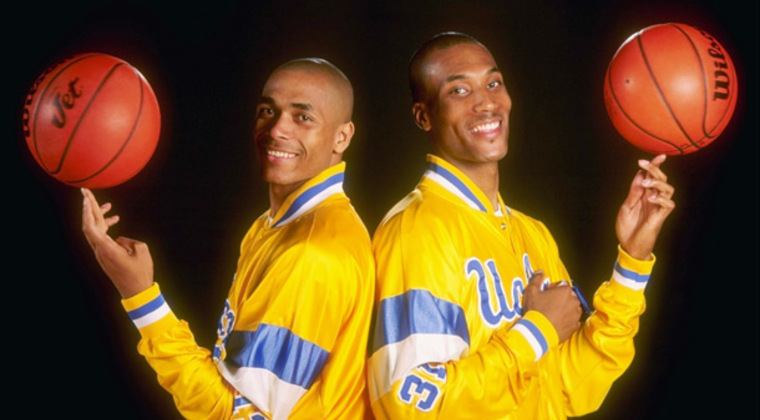 By the time he'd returned to the court, his baby brother Charles was in the UCLA fold. During the 1993-1994 season, the Bruins reached the #1 spot in the polls for the first time in 11 years.
Charles, who some considered athletically superior to Ed, played much like his brother in the above-the-rim domain.
Charles O'Bannon was recruited even more heavily than his older brother. Kentucky, Michigan and all of the heavy hitters came to Artesia seeking his services.
"My recruitment was like the Los Angeles riots," Ed told SI. "His was like Vietnam."
With the O'Bannon brothers on the court together, a selfless competitiveness and hunger permeated the Bruins' team chemistry. Both adept passers and rebounders, the brothers did not like to lose. Ed would not even allow Charles to dunk on him in practice.
"I don't know what it is," Charles told SI, "but he'll do whatever it takes, just won't let me dunk on him. Not ever. But that's my whole family. My dad won't let me dunk either. If I go up on him, he catches me in the air and just sets me down."
The 1993-1994 season ended unceremoniously as the Bruins got spanked by Tulsa in a first-round NCAA tournament game. Ironically, UCLA and Tulsa will play each other this year in an opening round match-up.
In the post-game locker room, Ed furiously challenged his teammates.
"He lit up the team like a Christmas tree," current St. John's coach Steve Lavin, then a UCLA assistant coach, told SI. "Smoke was coming out of his ears. He carried the team from that moment on. He always had a regal quality and presence about him. He was calm, cool and had a kind disposition, but when he had to go there, he could bring the hammer. He was like the big papa bear getting all the cubs in line."
During the 1994-1995 season, the O'Bannon brothers, along with Tyus Edney and Toby Bailey, cruised through their 32-1 season with a 16-point average margin of victory and closed the season with a 19-game winning streak.
En route to collecting numerous Player of the Year honors, the lanky, versatile Ed led the team with an average of 21 points and eight rebounds per game.
Edney's full court scamper and game winner in the final seconds of the second-round game against Missouri will forever be remembered, but I'll never forget what Ed did in the title game against the defending national champions, Coach Nolan Richardson's Arkansas Razorbacks.
Arkansas, a deep and talented team led by Scottie Thurman and Corliss Williamson, smothered opponents with their '40 Minutes of Hell' philosophy of menacing full-court pressure and a seemingly unending wave of fresh substitutes.
But on the game's biggest stage against one of college basketball's greatest defenses, it was Ed O'Bannon who was gave the Razorbacks hell. He played the game of his life, finishing with 30 points and 17 rebounds.
His brother Charles played lockdown defense and ran the floor in transition like a man possessed. He finished with 11 points, nine rebounds and six assists while Toby Bailey connected on 11 out of his 12 shot attempts and collected 26 points and nine rebounds.
The UCLA mystique, after a 20-year hiatus, had returned to college hoops. Ed O'Bannon, with his legendary performance, made that happen.