RELATED: Tommy Amaker Is Building Something Special At Harvard, Part I
This is the second installment of our series entitled "Ivy League Hoops: Ahead Of The Curve In Coaching Diversity."
Today, we bring you Part II of the Tommy Amaker story.
Next week's feature is Yale's James Jones.
continued from Part I…
STRUGGLING AT MICHIGAN
Amaker set out to do some good things at the University of Michigan too, but was smacked by the profundity of problems that awaited him in Ann Arbor. He walked on campus in the wake of the Ed Martin scandal, a situation that not only drew the attention of the NCAA and Big Ten Conference, but the IRS, FBI and United States Department of Justice as well.
Players during and after the Fab Five era were plied with approximately $616,000 in laundered cash, obtained through an illegal gambling operation that Martin ran out of Detroit area Ford Motor plants. Less than a year after Amaker came to Ann Arbor, the Michigan program was docked with the collateral damage of the Ed Martin era: severe sanctions, recruiting limitations, a one-year post-season ban and scholarship losses, along with having their 1992 and 1993 Final Four banners removed from the rafters of Crisler Arena.
"I've been attracted to opportunities to see if you could go in and bring something to life," said Amaker. "That's something that I feel like I'm good at. It's not easy but it's very rewarding. Duke was that for me. Seton Hall was that for me. Having the opportunity to do that at the University of Michigan, which is maybe one of the world's greatest institutions, was a challenge. And I was flattered that they thought that I was the person they needed at that time. So that was what did it for me, the chance to think that we could help bring this great institution back to prominence."
When Amaker requested a new carpet for his office, he learned that he'd have to pay for the expense out of his own pocket. The practice facilities were in disrepair. He realized that he had severely underestimated how far the once-prestigious program had actually fallen. The Wolverines were enveloped with a stench and negative stigma that he would have to get on his hands and knees to scrub clean.
He won 11 games his first year, 17 the next, and 23 and an NIT title in his third year. Overall, he won 109 games with the Wolverines. But it wasn't enough. Unable to lure the elite-level recruits that could initiate a paradigm shift in Michigan's fortunes and get them back to competing for national championships, he was fired after six seasons.
At his farewell news conference in Ann Arbor, he said, "Nobody wants to be told that your time is up, or that you're no longer wanted. I was hopeful we would get a chance to continue, but that's not the case, and I understand and respect the decisions that are made at Michigan."
It was the first time he'd ever been fired. But that didn't prevent his phone from ringing. Athletic Directors at numerous schools called, asking if he'd be interested in their head coaching vacancies.
"Harvard was the only job that excited me when I was let go at the University of Michigan," said Amaker. "I had others that were interested, but this was the only one that really moved me. The name Harvard is such a powerful brand. To think that Harvard had never won an Ivy League title was mind-boggling to me."
The more he contemplated it, the more excited he became at doing something at Harvard that had never been done before. He began to ask himself questions like, 'Can you imagine what's going to happen when Harvard wins an Ivy League title and plays in the NCAA tournament? Do you know how thrilling that will be for this community?'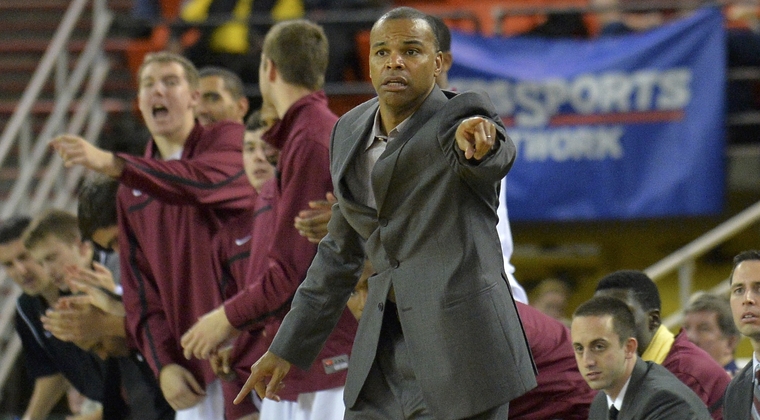 (Photo Credit: Harvard Athletics)
The more he ran through the hypothetical questioning, the more his creative juices burned.
"I thought, if somehow you could be a small part of that, or be around when that wheel does go around, how cool and neat would that be," said Amaker.
A FRESH START
He enthusiastically accepted the job and hit the ground running. But there were many who weren't as optimistic, who didn't share his romantic thoughts of resurrecting the Crimson program.
While Amaker dreamed of making history, others in his circle pointed out that Harvard offered no athletic scholarships, had strict admissions policies, antiquated facilities, and that there would be a significant reduction in his income.
Even his mentor, Coach K, was against him taking the job so soon after leaving Michigan.
"I wanted Duke to hire him in our athletic department," Krzyzewski told the Boston Globe's Jackie MacMullan in 2007. "Tommy is a winner. He's very, very smart. I was concerned about him jumping at just anything to stay in coaching."
But aside from basketball, the move made sense from a family perspective. His ability to see things through the eyes of others has never been limited to the basketball court. He often speaks about the collective, from the perspective of 'We' rather than 'I'.
When the opportunity to coach at Harvard presented itself, he and his wife, Stephanie Pinder-Amaker looked at it from the perspective of a power-couple, not as the husband calling the shots and his spouse acquiescing to his whims. A clinical psychologist who had been on the faculty at Seton Hall and Michigan, working on the Harvard faculty was advantageous to her as well.
"We talked about it a long time," Krzyzewski told MacMullan. "Basically, Tommy really enjoys being part of something. He told me, 'The level of basketball really doesn't matter to me.' I reminded him he would be doing a lot of the work by himself. He wouldn't have the staff, the budget, the facilities, or the support he's had in other places. I painted a pretty tough picture for him. But he understood all that. He told me, 'Coach, it feels good there.'"
It felt even better when the Crimson upset Michigan by a score of 62-51 in Amaker's eighth game as Harvard's head coach. By his third year at the helm, he'd halted the school's streak of consecutive non-winning seasons at seven.
Little did he know that the key to Harvard's resurgence would be an unpretentious player that was already on the team roster, a kid from Palo Alto, California named Jeremy Shu-How Lin.
(Photo Credit: Harvard Athletics)
Hoops aficionados outside of the Ivy League began to take notice of what Amaker was constructing in Cambridge when the Crimson, fueled by Lin's 27 points, eight assists, six steals, three rebounds and two blocked shots, defeated No. 17-ranked Boston College, 82-70, in early January of 2009. It was Harvard's first-ever victory over a nationally ranked opponent.
When Lin scorched the No. 13-ranked UCONN Huskies with a majestic 30-point performance, including two scintillating dunks, and nine rebounds in the Crimson's 79-73 loss the next season, the word was beginning to spread: Harvard was the real deal.
The good times are definitely rolling now. From the 2009-10 and 2012-13 seasons, Harvard has compiled an overall record of 90-30, including an impressive 45 wins against only 11 losses in-league.
The Crimson won its first three Ivy League championships in the last three years. Two years ago, they were ranked as high as No. 21 in the ESPN/USA Today coaches poll. The year before last, Harvard appeared in the NCAA Tournament for the first time in 67 years, losing to Vanderbilt 79-70, in the first round.
But last year, they stepped out of the fringe and into the national spotlight when, as a No. 14 seed, they upset the No. 3 seed New Mexico Lobos, a team that many penciled in as a dark horse Final Four candidate, 68-62, in the opening round of The Big Dance. Utilizing a four-guard, deep shooting attack, Harvard's marksmanship and gritty defense throttled the Lobos bigger and supposedly more athletic lineup.
The school that is known for training and producing Supreme Court Justices, foreign Heads of State, Nobel Prize Winners, corporate titans, governors, senators and U.S. Presidents, is now being known for something else: having some stone-cold ballers.
What made the tournament victory over New Mexico even more surprising was that two of their best players, Kyle Casey and Brandon Curry, withdrew from the school for a year and did not play last season following an academic scandal that ensnared over 100 students on campus.
"For me to see the composure that we had is meaningful to me as a coach," Amaker said after Harvard's NCAA Tournament victory. "We had the lead. We lost the lead. We had to make plays and to have an answer each time when things got really tight there. We had to make pressure free throws…but we didn't wilt or cave in."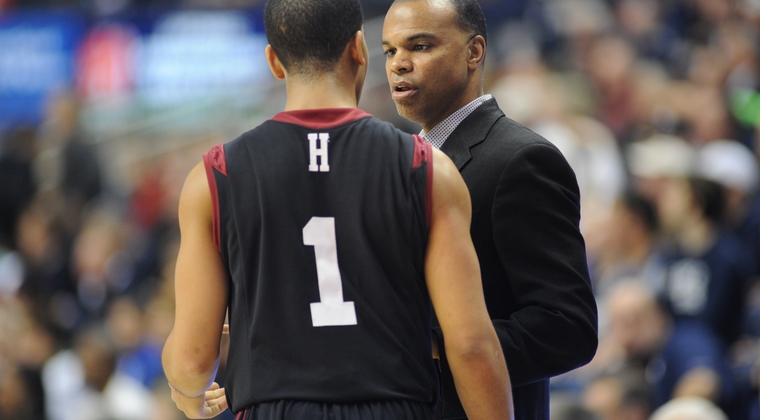 (Photo Credit: Harvard Athletics)
This season, with the talented duo of Casey and Curry back in the fold, along with heady and crafty sophomore floor general Siyani Chambers, the rugged all-around play of 6-foot-7 Cameroon native Steve Moundou-Missi, the defensive savant and scoring machine Wesley Saunders, highly touted freshman Zena Edosomwan, and the sharp-shooting sensation by way of Quebec, Laurent Rivard , Harvard is off to an 18-4 start, 5-1 in the Ivy League, with their only blemish coming against their arch-rival Yale last weekend.
Before Amaker arrived, Lavietes Pavilion, their home arena, which is among the country's most historic venues, was hardly ever filled for home games. Lavietes, which opened in 1926 and only seats a little more than 2,000 spectators, is now home to not only one of the hottest entertainment tickets on campus, but in the entire city of Boston as well.
GAME TIME
The excitement was palpable on The T, Boston's subway system, as fans rode the Red Line into Harvard Square to attend last Friday evening's home game against Brown. Ascending up the escalator and out of the train station, you're greeted by the inviting, fragrant aromas of what smells like a mix of warm almonds, peanuts and pecans wafting through the air.
A few steps from the station's entrance, a young Asian man grips his microphone and executes a complex, multi-layered human beat box routine that would make Doug E. Fresh pause in admiration, while a perplexing amount of men with waxed, handlebar mustaches wearing various hues of slick wool coats stroll in various directions.
Once out on the bustling brick sidewalks of Harvard Square, the blast of the recent polar vortex hastens your step as you head in the direction of the school's athletic facilities. On both sides of John F. Kennedy Street, approaching Memorial Drive, as you pass the Kennedy School of Government and a snow-blanketed JFK park to the right, along with two of Harvard's historic residence halls on the left, Eliot House and Kirkland House, packs of bundled up students and older adults amble with purpose through slushy, semi-cleared sidewalk paths that are buffeted by mini-mountain walls of grey and black snow.
Their hastened strides are accompanied to the soundtrack of excited, intelligent chatter, tires wading through slush and the honking horns of traffic. Two students wearing university athletic gear, an African male and a blonde-haired white female, hug briefly before proceeding in different directions.
(Photo Credit: Harvard Athletics)
"Oh my god, I see you everywhere! Are you going to the game?" she asks.
The frigid temperature is worsened by swirling winds as folks scurry across the concrete-enforced, red brick-accented Anderson Memorial Bridge, which spans the Charles River. The river is frozen solid: with jutting, ice-covered waves and veiny cracks giving it the appearance of an enormously coarse chapped lip.
The atmosphere inside the gym is festive, but incongruous. Older men with thinning grey hairlines that receded long ago, proudly wearing their Crimson-laced ties and sweaters, greet each other with wide smiles and robust salutations. They nod their heads, along with the cheerleaders, students and little kids, to Meek Mill and Rick Ross' bass-heavy hip-hop street anthem, 'I'ma Boss', which thumps from the gym's overhead speakers.
The Harvard team jogs through their layup lines with a bounce in their step, with many of them head-bobbing and lip-synching the song's catchphrase, 'I'ma Bouse! I'ma Bouse! I'ma Bouse!'
Scanning the court and the bench during warm-ups, Amaker is nowhere to be found. Moments before the singing of the national anthem, he suddenly strides onto the court, looking cleaner than the Board of Health.
He's attired sharply, yet conservatively, in grey slacks and a dark navy blue cashmere blazer that both look soft and comfortable enough for a newborn baby to sleep on.
As the ball tips, he sits calmly on the bench surveying his team's half-court defense, which forces Brown to continuously scramble for a good shot. The Bears struggle, harassed out of any discernable rhythm, unable to execute a single crisp offensive set in the game's early stages.
Amaker appears calm, but as he hunches slightly forward with his fingers inter-locked, you can sense his intensity percolating. Suddenly upset, he uncoils out of his seat with the same burst and fluid grace that characterized his playing days.
He stomps his foot and yells, "MOVE!!!" which surprisingly elevates above the cacophonous roar of the crowd. He stands still with his arms crossed for a while, and then clasps his hands together behind his back.
When Brown jumps out to a 17-13 lead with 5:52 remaining in the first half, Amaker sends in Edosomwan, his latest recruiting coup, a 6-foot-9, 245-pound man-child of a freshman whose muscular physique looks like it was carved out of granite. Edosomwan, a Los Angeles native and Top 100 recruit coming out of high school, chose Harvard over UCLA, USC, Washington and Texas because of his desire to one day become a physician.
He immediately changes the tone of the game with his physical presence and work on the glass, converting offensive rebounds into buckets. His 12 points and five rebounds, in 11 minutes off the bench, are crucial to the Crimson's 52-45 victory, along with Wesley Saunders' masterful defense against the Bears' Sean McGonagill, who came into the game as the Ivy League's leading scorer.
At the post game press conference in the beautiful second-floor Lavietes Lounge that overlooks the basketball court with its floor-to-ceiling glass windows, Amaker walks in and takes a seat on a comfy leather couch.
He fields and answers questions from the assembled media with a relaxed and tranquil tone. Sitting across from Jeremy Lin's framed Houston Rockets Jersey, his light purple, gingham dress shirt has nary a wrinkle.
He makes sincere eye contact with each reporter, sometimes halting in pensive pauses as he stares down to decipher the game's narrative that emanates from the stat sheet in front of him.
"It wasn't easy to win this game," Amaker said softly, before wishing everyone a good night and serenely sauntering out the door and down the steps, his eyes burning with purpose. "Normally, we've been a team that can score the ball and one of the highest-scoring teams in our league. I complemented them on keeping up the defensive intensity to stay with it. We have shown, from tonight, when it gets tight and we're not scoring the ball very well, that we can still figure out how to come out with a victory."
The next night, a talented Yale squad with only one conference loss was coming to town, trying to break Harvard's 19-game home-winning streak.
It was after 10:00 pm, inching closer toward 11 o'clock. Tommy Amaker had a lot to do the next day. He was on his way home to get some rest.
Series Intro: Ivy League Hoops, Ahead of the Curve in Coaching Diversity