The UCONN women's basketball team won its 106th straight game and advanced to the Finals of the American Athletic Conference tournament for the fourth year in a row on Sunday. The score is irrelevant. It was a lot to a little as usual. The Huskies have never even lost to a conference opponent in the four-year history of the league.
Having already shattered the consecutive wins record and defied the odds ten times over, any betting person would probably throw down some bread on the fact that UCONN will lose a game in the near future just because. Never has a team in the history of Division-I basketball been so perfect.
How long can a perfection that requires 10 players and an entire coaching staff to be in total cohesiveness every night last? And the games are never close, so we can't ever even revel in the possibility of a UCONN loss or determine what it will take for a team to stop this juggernaut.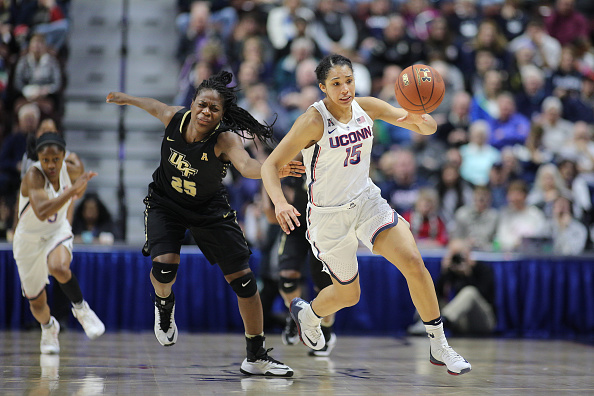 The Huskies usually run out to a quick lead and then blow the barn doors off the opposition by grinding them down with superior talent, athleticism and execution. On Sunday night, the University of Central Florida had a scrappy, physical crew who hung in into the second quarter. When I flipped on my TV, they were only trailing 20-17.
I thought to myself, This might be the night that the mighty UCONN falls. It's bound to happen.
With UCONN deep into conference championship play and preparing for the NCAA Tournament, now is probably the best time as any to lose a game. I dont pity any team that rolls into the NCAA tournament undefeated, especially one with a bulls-eye on its back as big as the Huskies, who have won the last four NCAA Championships and 10 of the last 17.
Everyone is rooting for them to lose and every team believes it has a shot to make its mark on the history books by stopping this machine that is making a mockery of womens college basketball with its magnificence and consistent domination.
Its hard to stay at that level though. Ask that Kentucky team that went 38-0 in 2015 before losing to Wisconsin in the NCAA tourney how hard it is to roll into March Madness without a loss.
How will UCONN react if they are in a game that comes down to the wire? Close games come around about as often as Haleys Comet for this bunch.
The law of averages and probability say Connecticut is going to take an L in the next five games. If that is so, they would either lose in the AAC Finals or in the NCAA Tournament. Losing in the AAC Finals could be the best thing to happen to Geno Auriemmas invincible squadron. Sure, it would be one of the biggest upsets in history, but it would be a huge relief to Auriemma. Trust. It would also allow his team to feel losing and the experience of rebounding from a tough loss, which is also something theyve never had to do.
He has said many times that what his program has accomplished with two record-breaking winning streaks in the last 10 years is almost fantasy and a once in a lifetime occurrence in sports. The first streak broke John Woodens UCLA mark of 88 and lasted for 90 games (2008-09 to 2010-11). Then they lost to Stanford in the Fall of 2014 and havent lost since.
John Calipari said that he wanted his loaded Kentucky team to lose a game before the NCAA Tournament in 2015. It didnt happen and when they did lose, it erased the historical brilliance of their winning streak.
If UCONN doesnt lose tonight against South Florida — which is highly unlikely as they pounded them, 96-68, in the last meeting — then their next loss will be the worst possible loss a team that has won 106 straight games could have.
Sacrificing this conference title game, which wont affect UConns No. 1 overall seeding either way, might be Auriemmas best bet. And as a coach you know hes thinking about the benefits of that loss. At the same time, his team has the confidence and obvious focus to keep winning, which would be the best scenario. But how many times can one group of humans continue to defy the odds?