Cam Newton is having a rough start to his 2016 season. After Sundays unthinkable 22-10 loss to the surprising Minnesota Vikings, who are 3-0 without the services of rising star QB Teddy Bridgewater, the Panthers are 1-2.
And right about now, Newton is definitely looking like — in his words — something we've never seen before. At least from him.
His inability to get the ball into the end zone against the Vikings after scoring the first 10 points of the game was reminiscent of his struggles against Denver in a Week 1 loss to the defending champs.
Killa Cam's offensive line seems to be failing him and hes struggled offensively against stealth defensive pressure. Denver almost knocked him out the game with an array of hits to the head, aggressive pursuit and helmet-to-helmet contact. The 2015 NFL MVP threw 1 TD and 1 pick against Denver, the ninth-ranked defense in the NFL. On Sunday he threw no TDs, but coughed up three crucial picks against the Minnesota Vikings seventh-ranked defense.
(Photo Credit: 1500espn.com)
After three games, Cam has the lowest passer rating of his career (78.0) and he has an even number of total TDs and picks (5). Shaky stats for a dude who threw 35 TDs and just 10 picks last season.
If it wasnt for the 46-point explosion against the lowly San Francisco 49ers, with the NFLs 22nd-ranked defense, Cams stats would be hitting panic territory. In Week 2, he and wide receiver Kelvin Benjamin shredded the 49ers. Cam was more like his old self, exploiting San Fran for four passing scores.
Something doesnt seem right with Cam and the gang right now. Maybe the distractions of the voracious media coverage concerning the NFL and race, and the pressure that all sides have put on him to be more vocal in condemning of police or players who won't stand for the national anthem, has caught up to him.
The recent shootings in Charlotte and the civil protests that are growing in response to another unarmed civilian being gun downed by police has stripped the luster from the Panthers 2016 Super Bowl hopes. By winning on Sunday, the team was hoping to provide the city with some cause for celebration during one of the most problematic and contentious times in the city's proud history.
Civil unrest has enveloped the city for days and was part of the backdrop for Sunday's game. But head coach Ron Rivera said it would be unfair to in any way to blame the Panthers poor performance on the events of the last week.
"I'm not looking for excuses," Rivera said, responding to a reporter mentioning that the Panthers had come in averaging 42 points per game in their last three home games and maybe the emotion of the past week affected their performance. "What happened here was very tragic, and what we were hoping to be able to do was come out and put that aside for a while, but we just didn't play very well."
In his post game interview, a dejected but cooperative Cam didnt have many answers for the Panthers first home loss in 12 games.
I can't really pinpoint it right now, Newton told reporters. …We have to hone in and be more thorough and betterThey were dictating to us after they got their momentum rather than the opposite..They are built solid defensively from the back end as well as the front seven…We've got to be better.
We have to do better, seemed to be the theme throughout the state of Carolina this weekend from a social, political and athletic perspective.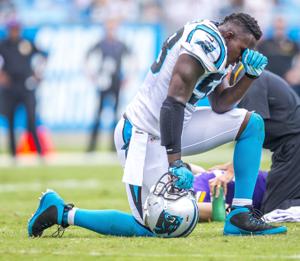 (Photo Credit: H. Scott Hoffmann/News & Record)
Cam is as strong as he is delicate as far as his approach to the game. Football is a dangerous sport that requires meticulous study and preparation, especially by QBs. Most high-level, focused signal callers are very much in a box during the season and pathologically focused on football endeavors, as it requires 100 percent of your mind, body and soul to get NFL rings and make it through the grueling season.
These external pressures cant possibly be good for Cam, and his growing popularity just makes him a bigger target for opposing players and referees. More unhealthy drama for his team to overcome in an NFC South Division that is not appearing to be the easy lick that Carolina fans projected.
"We know a lot of people are coming after us and a lot of people want that spot," defensive tackle Kawann Short told panther.com. "We hold ourselves to a high standard in this locker room. You see that guys want to win and want to do better, but it all comes from within this organization. It's a sad feeling a terrible feeling to get this loss in front of the home crowd. We didn't finish the job."
Cam has obviously attempted to keep the conversation on the field, but social media and other opportunistic media entities wont let the boy breathe and focus on his task. The protests and the non-football related issues that all teams have to address now might be wearing on the Panthers, who have a Super Bowl or bust mission ahead.
If the first three games are any indication of how the season will progress, Cam and his Panthers and the entire State of North Carolina could be in for some trying times, both on and off the field.