# 5 NOTRE DAME at # 2 FLORIDA STATE SEMINOLES
When: Saturday, 8 pm on ABC
The first time College Gameday ventured outside of its secluded studio on a gameday, it chose to air live on-site for Heisman frontrunner Charlie Ward and No. 1 FSU's visit to second-ranked Notre Dame.
Jameis Winston is lucky this one isn't being played in front of Touchdown Jesus because he's on a real heathen streak in the last two years. In the 90s, the series between Notre Dame and Miami was colloquially known as the Catholics vs. Convicts game. That series has been discontinued, but FSU's Habitual Linesteppers is here to pick up the torch.
Jameis Winston's not a criminal. But… pic.twitter.com/a1zE9wB1QR

— DJ Meta Dunson (@CerebralSportex) October 16, 2014
Notre Dame's hands aren't as clean these days, but at least they dealt with their rabblerousers swiftly.
Winston was still slumming it in-studio from his mother's womb and Everett Golson was barely able to hold onto a football in his 10-month old hands. Okay, he may still have a few issues with keeping possession of the football ater committing nine turnovers in the last three weeks. Yet, he has shown a knack for answering prayers with his late-game heroics.
Golson was forced to take his own sabbatical from college football after leading the Irish to the 2013 BCS National Championship Game, but it was a bit longer than Winston's one-game corner timeout. Golson matured on and off the field during his absence and is one of the few active college quarterbacks that can nearly match Winston's immaculate starting record.
Jameis Winston & Everett Golson have won a lot during their college careers, but one is going down Saturday. #NDvsFSU pic.twitter.com/LgAiVLLsqP

— ESPN CollegeFootball (@ESPNCFB) October 15, 2014
However, Famous Jameis' clicks on his Sunshine of the Spotless Mind between the lines and shows an innate ability to compartmentalize. Winston's eligibility has survived—for now, but Notre Dame's top cornerback KeiVarae Russell hasn't been so lucky. The injury of safety Austin Collinsworth also compounds the secondary woes for Notre Dame. If Marquise Williams could carve up the increasingly depleted Notre Dame defense like a pumpkin, Winston should have a similarly big day connecting with career receptions leader Rashad Greene.
FSU wins 35 – 30.
#4 BAYLOR BEARS at WEST VIRGINIA
When: Saturday, 12 pm on FOX Sports 1
Halloween arrives two weeks early for defensive backs. If you want to see something spooky, observe how white they turn when the first-rate receivers in this matchup matchup consistently run through the DBs as if they were ghosts.
Baylor and the Mountaineers have engaged in rapid fire before.Their 2012 shootout was the height of the Dana Holgerson era so far before the Mountaineers tumbled back to earth. Geno Smith probably wishes he could have Peter Panned it and remained at West Virginia forever and ever and ever.
Jet QB Geno Smith should join Bosworth, Leinart & Shuler in DISH Network's Back To College TV spot. 2012: 8TDs vs Baylor. 2014: 7TDs all yr

— DJ Meta Dunson (@CerebralSportex) October 15, 2014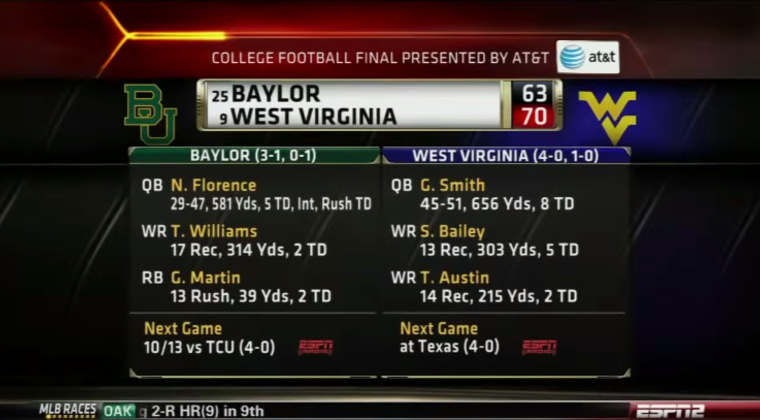 This time, Baylor's Bryce Petty is being mentioned in the Heisman whispers, but the adulation should be shared. Baylor is suddenly becoming Wide Receiver U. The students participating in the Dr. Pepper Tuition Giveaway could have hit KD Cannon, Antwan Goodley and Co. striding on their long walks to the beach which ended in the end zone.
Conversely, West Virginia boasts the nation's most reliable hands at the end of wide receiver Kevin White's wrists.
#21 TEXAS A&M at #7 ALABAMA
When: Saturday, 3 pm on CBS
The past two weeks have been a reality check. In two October games, Kenny Hill has been removed from Heisman boards and been demoted to Geno Smith territory which alludes to the utopian September Smith threw for in 2012, which was followed by a dystopian October.Hill needs some sunlight. Two defensive touchdowns against Ole Miss turned his already wilting Heisman candidacy into a vegetable.
Since the Florida game, Nick Saban has gone from tempering expectations about the Crimson Tide's own sudden offensive leap forward to shouting down detractors who are worried about the lethargic offense. Saban hasn't been this mad since Clint Trickett was spilling the beans about his first kiss with his daughter. His face is as red these days as the Crimson Tide's antediluvian helmets.
The Crimson Tide will channel that emotion into a win over the Aggies.
#15 OKLAHOMA STATE at #12 TCU
When: Saturday, 4 pm on FOX Sports 1
Oklahoma State hasn't lost a game since their season-opening loss to Florida State, but they have lost a quarterback. J.W. Wash's replacement Daxx Garman's first name rolls off the tongue as smoothly as the current Heisman frontrunner, but he doesn't roll outside the pocket with the same kinetic energy in his feet.
Against this multi-faceted TCU attack, Garman will have to throw his way to victory.
After a few down years offensively after joining the Big 12, TCU has found their stride offensively for the first time since the Andy Dalton era. More importantly, junior Trevone Boykin is done with the position changes because he's emerged as a potent dual threat quarterback in the dynamite manufacturer that is the Big 12.
TCU's defense was among the nation's top 10 until Baylor shattered the speed of light running no-huddle plays like The Flash every 16 seconds. TCU is the toughest opponent Oklahoma State has faced since they were speared by the Seminoles.
TCU wins.
#23 STANFORD at #17 ARIZONA STATE
When: Saturday, 10:30 pm on ESPN
The Pac-12 has been a torture chamber for Arizona's D.J. Foster following his initial hot start to the 2014 campaign. In his last two games Foster has carried the ball 19 times for 43 yards.
Stanford's run defense is a bear trap. Conversely, Arizona State's spongy defense should get knocked around a little bit by Stanford's physical offense.
Stanford wins.
#14 KANSAS STATE at #11 Oklahoma
When: Saturday, 12 pm on ESPN
Has Bob Stoops read the The Oklahoman lately? One can only hope not. He'd have a heart attack if he read what columnist Barry Tramelis proposing; three SEC teams in the college football playoff. Everything Stoops has railed against is rooted in the SEC.
If Bob Stoops wants to halt the SEC's momentum, he needs to do what Auburn couldn't by running up through Kansas State like a dust storm.
Kansas State is impervious within the confines of Manhattan, but Oklahoma should outclass a jigsaw roster composed of JUCO and FCS transfers in Norman.
Oklahoma wins.
#10 UGA at ARKANSAS
When: Saturday, 4 pm on SEC Network
Hustson Mason finally meets an interior SEC quarterback. At his current rate, Arkansas' Brandon Allen may not match Ryan Mallett's Petrino era numbers unless he plays through medical school.
However, he's the regional game manager for the top running attack in the SEC. UGA is a few inches, feet yards behind. At least they were until Todd Gurley was pre-emptively suspended at the worst possible time.
UGA's weakness is the secondary, but like a creeky house that echoes haunting noises when the wind seeps through the windows, both Arkansas and UGA's passing attacks are essenntially non-existent. Alex Collins and Jonathan williams are both on pace for 1,000 yard seasons, but Georgia will have a (finally) healthy Keith Marshall tag teaming with Nick Chubb in the Bulldogs' thunder and lightning backfield.
The Bulldogs linebacking corps is one of the best in the nation. They may not shutdown Arkansas' best duo since Darren McFadden and Felix Jones led the Rrazorbacks to the SEC Championship Game, but they should be enough to contain them.
UGA wins
KENTUCKY at LSU
When: Saturday, 7:30 pm on SEC Network
Last May, before his first season as Kentucky's head coach, Mark Stoops' aforementioned brother Bob inveighed against the shallowness of the SEC.
"So you're listening to a lot of propaganda that gets fed out to you. You're more than smart enough to figure it out. Again, you can look at the top two, three, four, five, six teams, and you can look at the bottom six, seven, eight, whatever they are. How well are they all doing?" "What'd we [the Big 12] have, eight of 10 teams in bowl games this year? Again, you figure it all out."
Mark is part of the SEC's new rising class that stands to undermine the main idea of Bob's philippic. Outside of the post-James Franklin Vanderbilt every team is competitive including Kentucky. Picked to finish last in the SEC 9on an annual basis0, Stoops has the Wildcats churning out the most wins since Andre Woodson was traipsing on the bluegrass.
Les Miles is clueless in his handling of the quarterback quagmire, but after crawling and then walking, Leonard Fournette is beginning to look like the best running back in the SEC. The Wildcats have already dealt Spurrier's Gamecocks a blow and nearly upset the Gators on the road. However, October is where talent begins to trump grit and no matter how much Stoops schemes, LSU is too good.
LSU wins.
UCLA at CALIFORNIA
When: Saturday, 3:30 pm on ABC/ESPN 2
Does anyone else find it strange that this doesn't feel like more of a rivalry game? The bands appear to despise each other more than the two teams. California has always been more of their speed than USC. Both pine for the upper echelon, but they rarely reach the top-shelf no matter how high they climb or leap.
Before getting crushed by Washington, the Golden Bears lost 49-45 to Arizona on a Hail Mary, beat Colorado 59-56 and squeaked past Washington State 60-59. Jared Goff is the conference's second-leading passer, but the Bruins need a win to remain alive in the Pac-12 North race.
Bruins win.