No. 2 AUBURN at No. 3 MISSISSIPPI STATE
3:30 pm on CBS, Saturday
Let freedom ring throughout Davis Wade Stadium. The ambient sound of cowbells wasn't always a welcome noise in the SEC. Thirty-three years ago Mississippi State faculty member/SEC revolutionary Bob Whiting filed a suit in court that would eventually clear the path for the cowbell's deafening return. One man's white noise is another man's symphony.
Like famed producer Bruce Dickinson, the Auburn Tigers have a problem. And the only prescription is more cowbell. That's why in anticipation of 62,000 clanging metal cicadas echoing between plays, the Tigers have been prepping for their matchup against Mississippi State backup band by playing a special track in practice consisting of clanging cowbells like the ones they'll hear on Saturday.
This is the matchup Cam Newton's dad has been waiting for. The school his son wanted to attend (where he'd play for his former Florida offensive coordinator) after a stint at Blinn College in 2009 vs. the school that offered the best "benefits."
Nick Marshall and Dak Prescott are earning plenty of acclaim, but the Heisman adoration has eluded Marshall. Prescott's been previously hidden by the anonymity of Mississippi State and his sudden rise from platooning with Tyler Russell to gliding into the Top 10 has turned him into the talk of college football.
For Marshall, the issue has been his adequate, but not spectacular passing attributes. The difference between the two is in the details.
They are statistically similar. However, Prescott is 25 pounds heavier, a more physial runner and carries a heavier load of the Bulldogs offense.
Prescott has accounted for 20 touchdowns thus far, which is more than Cam Newton, Tebow and Manziel scored five games into their Heisman seasons. Auburn appeared dominant against LSU, but this isn't Jordan Hare and Prescott is the conference's next great Heisman quarterback. He came up just short last season against Auburn when Marshall connected with C.J. Uzomah on the game-winning touchdown. This may be Prescott's best a Heisman moment. Including, his tipped Hail Mary in the Old South's Oldest Rivalry game, the Iron Bowl and Mississippi State, Marshall's had a few of those throws in his career.
Against a porous defense that ranks 13th in the SEC and last against the pass, he'll make a few more.
Auburn wins.
No 9 TCU at No. 5 BAYLOR
3:30 pm on ABC or ESPN 2, Saturday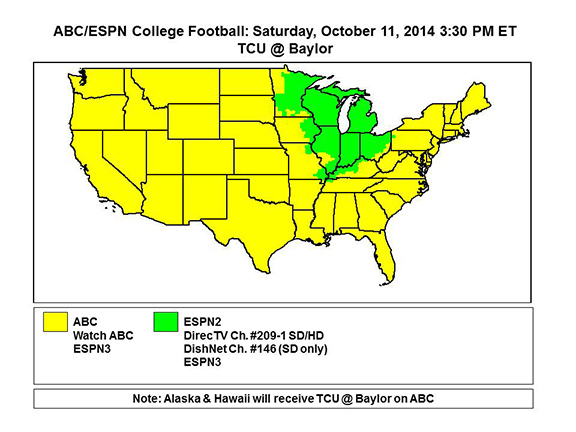 The Horned Frog isn't actually a frog. It's a lizard that shoots blood from its eyes when it gets defensive. The look in Gary Patterson's eyes after TCU lost to Baylor in last season's regular season finale gave you the impression he would spurt blood form his eyelids if he ever ran into Art Briles again. Nobody makes Patterson's players bleed their own blood. Last season Ahmad Dixon made the mistake of targeting TCU wide receiver Trevone Boykin.
Upset with Art Briles' insufficient response, Patterson unleashed a six-minute diatribe during his postgame press conference, in which inveighed against the integrity of Dixon and Baylor's revered head coach.
Don't ask why Patterson regularly had his team's No. 2 quarterback running post routes across the middle. This is the real battle for Texas. Last year's 41-38 Baylor win over 4-8 TCU assured them a share of the Big 12 title. This one puts the winner in the driver's seat for a position in the four-team postseason playoff.
TCU has the most impressive win so far and can match tempo defensively with Baylor's offensive tempo. Immoveable object meets unstoppable force. Baylor is first in scoring offense, but TCU is seventh in scoring defense. Can TCU's offense keep pace? I don't think so
Baylor wins.
No. 3 OLE MISS at No. 14 TEXAS A&M
9 pm on ESPN, Saturday
Kenny Hill is 1-1 vs. adversity. Even Johnny Manziel never went undefeated. When the defense allows opposing offensive players to start pumping the ball downfield at a 100 BPMs, the Aggies entered tachycardia. Ole Miss is a little more conservative and Bo Wallace has a tendency to get generous, but this is a team on a mission and it's built on the backs of a defense that's ranked second in scoring defense ninth in passing yardage allowed, second in yards per attempts and have allowed just one touchdown to 10 interceptions, including the acrobatic game-ending interception of Blake Sims made by Senquez Golson.
After throwing four interceptions against Mississippi State, Hill should be extremely wearing of the klepto secondary defending Ole Miss' airspace.
Ole Miss stays victorious.
No. 12 OREGON at No. 18 UCLA
3:30 pm on FOX, Saturday
It's been a weird week to watch the dichotomy in opinions between how Brett Hundley and Marcus Mariota performed in losses during Week 6's top 10 purge. Both should be spending their weekend at a resort in the Bahamas rehabbing their numerous physical and emotional injuries after the lumping they took last week.
Mariota getting sacked was one thing, but he fumbled twice and nearly gave up a third on the goal line at the tail end of a catch and run touchdown in the first half. At least, Oregon had an extra 48 hours for Mariota to regenerate.
Hundley probably feels like Ivory in How High after Utah planted him into the turf like a cannabis seed.
Yet, Hundley hasn't gotten a modicum of the sympathy for pushing through a 10-sack night and actually leading the Bruins into position for the game-winning field goal. Hundley may not feel like it, but he's still among the living.
UCLA smokes Oregon.
No 13 UGA at No. 23 Missouri
Noon on CBS, Saturday
We'll forgive you if you forgot the SEC East was still here. UGA is the equivalent to Kuato from Total Recall.
While the SEC West is walking around as the embodiment of the SEC's dominance, the East is succinctly operating outside the public purview. This week, they open our minds and reveal themselves to the world in the third matchup between ranked SEC East teams this season. There were three in the SEC West last week.
Missouri is still being treated like the youngest child getting scraps fed to them after his siblings have picked the bones clean. Such is life for the Missouri Tigers. UGA wanted an 11 a.m. kickoff and the league acquiesced.
The difference between Kuato's mutation is that UGA has a pair of legs, but no arms. Gone Girl is the No. 1 movie in America, but Gone Gurley is the most uttered phrase by sportscasters and play-by-play commentators. Todd Gurley is stiff arming all challengers for his top spot in the Heisman rankings, Unfortunately, Hutson Mason's aerial attack is on some Wright Brothers steez in a F-9 fighter jet era.
Missouri is a small pond, Gurley is a big fish.
UGA dethrones the SEC East champs.
LSU at FLORIDA
7:30 pm on SEC Network, Saturday
If ever there was a game for an offense to lineup in a punt formation on first, second or third down, the 61st edition of LSU and Florida's SEC rivalry would be it. Neither team can really spread the ball around the field without coughing it up or throwing more bounce passes than Georgetown's Princeton offense. LSU is famous for setting its punters up to score touchdowns? Why not place LSU's punter in the Wildcat to throw off the Gators? Freshman quarterback Brandon Harris isn't as bad as his gruesomely humbling first start against Auburn would indicate. Jeff Driskel is.
Les Miles and Will Muschamp are quarterback anti-matter, but somebody has to win.
LSU wins this offensive staring contest.
USC at No. 10 ARIZONA
10:30 pm on ESPN 2, Saturday
While we were sleeping, Arizona has compiled a team good enough to compete for the Pac-12 title. While USC lost on a Hail Mary to Arizona State last weekend, Arizona was on the other end of that fortuitous desperation heave against Cal three weeks ago.
Like the desert air when the day shifts to night, Arizona can quickly shift from hot to cold. USC outlasted Zona in Ed Orgeron's debut last season, but it's a whole new day. If the Trojans let raw passing BJ Denker light them up for 363 yards last season and Mike Bercovici hit the 500-yard plateau on his final throw last week, USC has a problem which has not been corrected. Defending the pass isn't USC's only concern. They also allowed Boston College to worm their way to 452 rushing yards in early September. Arizona can do either and I don't anticipate them traveling below 50 MPH against USC's plush defense.
Arizona wins.