Throughout the remainder of this college football season, The Shadow League's series, The Black College Quarterback, will examine some of the most talented and impactful signal callers of the '80s and '90s. Here is Part II of our feature story on the University of Oklahoma's Jamelle Holieway.
If you missed Part I, you can check it out right here.
FUNKY ENOUGH
On that afternoon of October 19th in 1985, when Jamelle Holieway stepped into the crucible of the Miami game, replacing an injured Troy Aikman in the second quarter, his teammates didn't sense any trepidation.
"I remember Jamelle running in saying 'Let's roll!'" running back Spencer Tillman said in the book Wishbone: Oklahoma Football 1959-1985, written by Wann Smith. "And I looked over at our offensive linemen and sort of shook my head and thought to myself, 'Alright. What do we have here?'"
Despite losing 27-14 to Miami, Holieway did an admirable job of running the offense as a true freshman in his first college football game, against one of the game's most talented and intimidating defenses, gaining 57 yards on 17 carries.
"We were a big and fast team," said Holieway. "But Miami's defensive line was big, fast, and man-oh-man, were they strong. But once I got in there and got my feet wet running that option, I felt the same way I did playing ball in the rec leagues in Los Angeles or playing high school ball."
"I didn't feel like there was a defense that could stop us if I made the right decisions and did my job," he continued. "It really wasn't a huge adjustment for me. I was born to run the wishbone option. I knew that if I consistently got us in the right play, the sky was the limit."
Over the previous summer, Oklahoma coach Barry Switzer made three separate trips to Colorado Springs to extract elements from the Air Force Academy's potent Flex-Bone rushing attack. And with Holieway at the helm as Aikman was lost for the year, he had the perfect weapon to unleash that could gouge defenses with a short-space-quickness, explosive bursts of speed and a mastery of the sleight-of-hand and misdirection that the offense required.
Despite being thrust into the national spotlight, knowing that he would be navigating one of the best teams in America for the rest of the season, Holieway was incredibly homesick. After evening team meetings during the summer and fall, he would slide a piece of paper into one of the office doors at the football facility to prevent it from locking.
"My dorm was right across the street, so I'd sneak back over there at night and use the phone in that office to call everybody I knew back in Los Angeles," he said. "Before I became the starter, I was discouraged. During early practices, I was fourth-string. I wasn't sure when, or if, I'd get a chance to play."
"I was far away from home for the very first time," he continued. "I had to talk to my people back in Cali. I ran up a university phone bill of over $1,000. The NCAA came in there and investigated it like it was some major violation. I eventually had to pay the university back for those phone calls, but I was just a young, lonely, homesick kid."
Against Iowa State, the week after the loss to Miami, Jamelle started and played slightly more than a half. When he was removed from the game with 10:05 remaining in the third quarter, with Oklahoma leading 38-7, he'd rushed for 76 yards on 11 carries, in addition to tossing a 77-yard touchdown pass.
Over the next few weeks, the Sooners obliterated Kansas, Missouri, Colorado and Nebraska by a combined score of 157-19. With Holieway's dazzling mastery of the wishbone offense, it became clear that, no matter how talented a passer Troy Aikman was, his only hope in reclaiming his starting role the next season would be an injury to the flashy freshman. At the end of the season, Aikman would eventually transfer to UCLA before embarking on his Hall of Fame career in the NFL.
Holieway's Banning High School team had 14 players in his graduating class that received major, Division I football scholarships. While the majority of them red-shirted as freshman, he played with a towel sticking out of his pants where he'd hand-written every one of their names.
"Those were all my boys from Los Angeles and they were more like brothers to me," said Holieway. "Our bond was tight, so whenever I scored a touchdown, I'd be giving a shout-out to all my homies on national television."
When the team traveled to Stillwater to play one of their fiercest rivals, Oklahoma State, Holieway was in shock at what greeted him.
"Coach Switzer always said, 'There's three teams that we can't lose to: Texas because of recruiting, Nebraska because we're the real Big Red, and Oklahoma State, because I can't go anywhere in the state and have a good meal without some damn cowboys harassing me,'" said Holieway. "So, two days after Thanksgiving, we're playing a Saturday night game on national television, and I'm hyped because my mom, family and all friends are watching on TV. And when we came out of the locker room right before kickoff, there was snow and ice everywhere. I remember Coach Switzer telling me during my recruitment that it didn't snow during football season, and was I like, "Man, I can't believe that Coach lied to me!"
"When we went out to warm up before the game, the temperature was in the mid to low thirties," freshman receiver Anthony Stafford said in Wishbone: Oklahoma Football. "When we went back into the locker room and came out to play the game about 15 minutes later, the field was covered with ice."
On one option run, Holieway scooted around the defensive end and was racing down the sideline, when he got hit so hard that he slid all the way underneath the team's bench.
"Man, I was a kid from California," he said. "I ain't never played in no snow! When that guy hit me, he hit me so hard in my earlobe that it's still ringing now! But the hardest part was coming out after halftime. Once I got inside, next to that heater, I'm listening to Coach's halftime speech and thinking, 'Man, we gotta go back out there? Can't they just call the game?'"
After beating Oklahoma State 13-0, they destroyed SMU 35-13 the following week. Jamelle scored on touchdown runs of 3 and 38 yards and slashed and dashed for 126 yards rushing, while also throwing for another score.
"Jamelle Holieway had an excellent game, he made some unbelievable plays," said Switzer after the game. "He made some unbelievable checks against their defenses."
"I felt coming into the game that they were the best team in the country," SMU Coach Bobby Collins said after the game. "And after seeing them and playing against them today, I'm convinced of it."
Oklahoma finished the regular season with their best record since 1979, 10-1. They were ranked #3 in the nation. Up next was a trip to Florida, where they'd face top-ranked Penn State in the Orange Bowl.
The matchup was one that the national media easily stereotyped. Penn State's Joe Paterno was seen as the patron saint of college coaches while Switzer was painted as the renegade. Columnists harped on Jamelle's diamond earring and the Louis Vuitton man-purse he walked around with in public.
While the Nittany Lions projected humility, Oklahoma's star linebacker Brian Bosworth was holding court poolside with reporters, saying things like, "In all humbleness…we're bad."
With #2 ranked Miami being blown out by #8 Tennessee 35-7 in the Sugar Bowl, the Sooners realized if they beat Penn State, they'd win the National Championship.
"In the fourth quarter, they flashed the score of the Tennessee and Miami game," said Holieway. "Our crowd went wild, and we knew that if we won, we'd be the champs. Coach Switzer called timeout and told us we had a chance to make history. He said, 'When we beat Penn State, it's ours.'"
For most of the game, Penn State's stellar defense suffocated Holieway and the vaunted wishbone offense. But he proved that he was far from a one trick pony on a third-and-24 from his own 29 yard line, when he hit star tight end Keith Jackson on a 71-yard bomb to put Oklahoma up 10-7. It was a lead that they would never relinquish en route to 25-10 victory.
"Penn State had their star linebacker, Shane Conlan, shadowing me the whole game," said Holieway. "To be quite honest, I was baffled because they threw a different defense at us that we'd never seen before. But I knew that when their safety started cheating up, that they were blitzing. We had a running play called for Spencer Tillman, but when I saw the safety inching closer, I audibled at the line of scrimmage and called an All-Streak."
"When I dropped back, I saw that nobody was defending the middle of the field in pass coverage," he continued. "And when I saw that Keith was being covered 1-on-1 by a linebacker, I said, 'Oh, he can't guard my man!' I heaved that thing and Keith grabbed it and ran it in."
"Everybody talks about Holieway being a freshmen, but he's a very mature football player," Conlan said after the game. "We made a bad call in a bad situation, and he picked it up. He made a perfect play."
No true freshman, before or since, has ever quarterbacked their team to the National Championship.
"If Troy hadn't broken his leg, we still would have won the National Championship without a doubt," Switzer said in Wishbone: Oklahoma Football. "But Holieway was perfect for the Wishbone. In 1985, we exploded as an offensive football team, led the nation in rushing, and never looked back."
COMPUTER LOVE
He was the toast of the town in Norman, Oklahoma, a national champion. When he returned home to Los Angeles that summer, Holieway was one of the most popular athletes in the country. His face was plastered on magazine covers. He was being touted as a Heisman Trophy candidate.
He not only soaked it up like the warm rays of L.A. sunshine, he bathed in it.
He zipped around the streets of South Central like a speed-demon in his electric blue El Camino, his bare, muscled chest accentuated by thick, shimmering gold necklaces. Curvaceous, beautiful women with inviting smiles flirted with him as his car lingered at stop signs and red traffic lights. He reconnected, worked out and partied with his former Banning High School teammates, who'd sat out their redshirt season while watching him win a national title.
They lifted weights, sprinted in the shallow water of the Pacific Ocean and threw the football around for hours, dreaming about what the future held for them through this violent and unforgiving game that they all loved.
They were all enraptured and captivated by the song Computer Love, the smooth, hypnotic R&B classic produced by Zapp and Roger that featured the arresting, heartfelt vocals of Charlie Wilson and Shirley Murdock. The song was ubiquitous in Los Angeles at the time as it flooded and dominated the California airwaves.
"Man, that was our jam! We all got matching gold chains with the initials CLH, which stood for Computer Love Homies," said Holieway. "It was like a brotherhood. We went to see Zapp and Roger in concert and jammed to that song all summer."
But underlying neighborhood idiosyncrasies meant that the star quarterback and burgeoning teenage celebrity had to always keep his eyes open and cognizant of his surroundings.
"That blue El Camino that I was driving around in, with those shiny rims, man, you get caught on the wrong street in L.A. and somebody could put a gun to your head and kill you for it," said Holieway. "You always had to be aware of your surroundings. I could go to some dangerous places and get a pass because the gang bangers knew that I played football. I brought the neighborhood some pride with what I was doing on the football field."
"But it was the O.G.'s that thought like that, not the younger guys who were willing to do something foolish to get the respect of the big homies and make a name for themselves," he continued. "I lived in a Crip neighborhood and there were a lot of drive-by shootings. You could get caught up in the wrong place at the wrong time. And living where I lived, I couldn't walk around with my burgundy Oklahoma shirts or outfits. If I had on some Sooner gear, it had to be white, or else I could be a target for some knucklehead who might shoot me because he thought I was a Blood because I was sporting some red colors."
As a sophomore, Holieway again led the Sooners to an 11-1 record and another Orange Bowl victory, this time a 42-8 thrashing of Arkansas. Their only loss was again to Jimmy Johnson's Miami Hurricanes. They finished the year as the #3 team in the Associated Press and Coaches polls.
Prior to his junior year, Sports Illustrated named him as one of the top ten players in the country.
"I'd like to win the Heisman," he told SI in August of 1987. "I'll have to rush for over a thousand yards and pass for over a thousand. Hopefully, we'll pass a little more."
When pressed about any other goals, he said, "Academic All-American. That would be the ultimate for me, and especially for my mother."
He was the Big Eight's Offensive Player of the Year as a sophomore, who'd engineered three memorable fourth quarter scoring drives on the road against Nebraska. He proved that he could deliver in the clutch and bring home championships. But many wondered if his slight frame could continue to take such an extreme pounding without sustaining serious injury.
As a junior, he led them to an 8-0 start to the season before severely tearing knee cartilage and ligaments against Oklahoma State.
"I tore my knee up on that old turf we used to play on, which was as hard as concrete," said Holieway. "My foot got caught in a seam in the carpet and when I tried to cut back, I heard a pop. Once I got up, I couldn't put any pressure on my leg. When I went into surgery, the doctors said when I woke up from the anesthesia, if I had a splint on, that meant that it was a simple scope and I'd be back for the Nebraska game in a couple of weeks. If I woke up with a cast on, that meant it was serious and I was done for the year. When I woke up, I had on this big cast and was like, 'Awww man!' I'd never been injured before."
At that time, prior to the advancements of surgical procedures and medical technology, the injury was considered to be almost insurmountable.
"It's a very serious injury," Clive Brewster, the head of rehabilitation at Kerlan and Jobe Orthopedics at Centinela Hospital Medical Center, told the Los Angeles Times in the summer of 1988. "It's really a career-ending injury. I've seen a lot of guys make it back, but other guys don't."
Despite the injury, Switzer insisted that Jamelle travel with the team for the remainder of the season to offer the squad some moral support.
Most casual Oklahoma fans can't recall, all these years later, many specific highlights from his junior season without exerting an effort. But they all remember when the national television cameras found him on the sidelines of Memorial Stadium in Lincoln, Nebraska on the afternoon of November 21st, 1987.
"I was on the sidelines cheering, on crutches, hobbling around and wearing a fur coat," said Holieway. "Shoot, it was cold in Lincoln, Nebraska. I had on a full-length mink. I knew we'd be on national TV and I started thinking about Joe Namath when he had his fur coat on. I wanted to do the college version of that and create my own iconic moment. I had to bring out that L.A. swag and give the homies back in L.A. something to talk about."
"To this day, you'd be surprised how many people walk up to me and say, "I remember that Nebraska game when you were hurt, limping around in a fur coat," he continued. "It's funny some of the things that people remember."
People recall the flashy full-length mink, the diamond earrings and the bright smile, but they don't remember the hurt that was masked by all of those exterior accessories.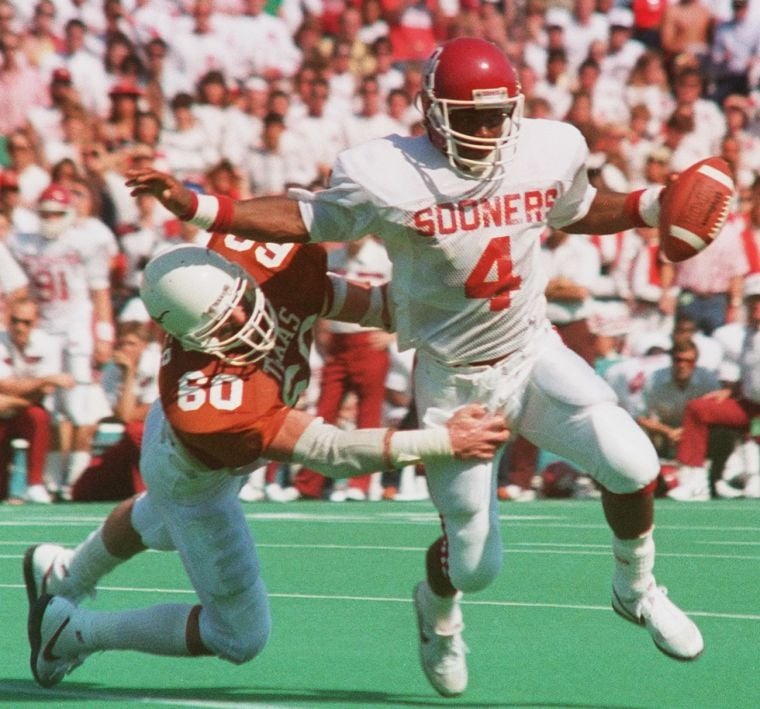 (Photo Credit: tulsaworld.com)
"The part that really hurt me was when the team ran out of the tunnel at the Nebraska game," said Holieway. "Most people don't understand what it feels like to run out in front of 75,000 people, to hear that roar of that crowd while doing something you love. There's no other rush like it in the world. I was crying when we came out of the locker room because I wanted to go to war with my guys. And I couldn't do anything. I was helpless. I hated having to be a cheerleader. I wanted to get in there and do my thing!"
In his absence, another young, undersized option wizard, redshirt freshman Charles Thompson, led #2 Oklahoma to an undefeated regular season record and a berth into the National Championship game, which proved to be a titanic matchup in the Orange Bowl against top-ranked Miami, which the Sooners lost, 20-14.
Holieway put no credence in the surgeons who told him he might not ever be able to play again. He rehabbed like a man on a mission.
"Now people will see what I'm really all about," Holieway told the Los Angeles Times during the summer before his senior season. "The best competitors like to compete, and to me this is just a game, an inner game. It's an inner soul game. Can I get my knee back?"
He made it back by the opening game of his senior year, against North Carolina, but was now alternating possessions at quarterback with Thompson. Jamelle looked gimpy early on during the season, and lacking his normal instincts, speed, fluidity and explosiveness. Some suggested that Thompson be named the permanent starter.
"I could have redshirted that year, but we were scheduled to travel out to Los Angeles to play USC at the Coliseum," said Holieway. "My best friend, Leroy Holt, was their starting fullback, and they had Rodney Peete and Junior Seau. I worked so hard to get back because I wanted to play in that game in front of my momma, my family and all my friends."
In the team's second game against Arizona, he looked somewhat sharper in running for 75 yards on 17 carries, scoring on a 5-yard touchdown scamper and tossing a 43-yard TD. But he was far from the electrifying, mesmerizing Jamelle.
The career of the player that Switzer once called the best option quarterback ever, which was once so luminous, now seemed to be ending with him merely being a good player, rather than the force of nature he once had been.
But Switzer was unmoved. Talking about Holieway, who'd run for 2,532 yards and 27 touchdowns and passed for 1,606 and 16 more scores heading into his senior year, the Oklahoma coach told the Los Angeles Times, "He's the best we've ever had. And Oklahoma has run the wishbone better than anyone in the history of the game."
As the team captain, Holieway led the Sooners to an 8-3 record during his senior year. It was the first time that Oklahoma had lost to anyone other than Miami in three years. Overall, the program was 41-6 during his four years on campus.
Prior to the injury, he was being projected as a legitimate running back prospect in the National Football League.
"He'll be a running back," Switzer once said. "He's too talented of a runner not to be taken by somebody."
Detroit Lions scout Jerry Neri was optimistic about Holieway's NFL prospects. "If you can't see 'em, you can't hit 'em," he said.
"He's a great athlete," then Tampa Bay Bucs scout James Harris said when asked about Holieway.
Despite losing three games during his senior year, the worst was yet to come.
His friend and fellow quarterback Charles Thompson, a few weeks after their Citrus Bowl loss to Clemson, was caught on video selling 17 grams of cocaine to an undercover FBI agent. A media frenzy ensued, with the program and Barry Switzer being vilified.
The scrutiny increased as reports detailed player arrests for violence, weapons and an alleged rape that had taken place under Barry Switzer's watch. Switzer, one of the most successful coaches in college football history, resigned shortly thereafter.
The dark cloud that had descended upon the program, and Coach Switzer, hurt Holieway immensely.
"Barry Switzer is one of the greatest men I've ever met," he said. "He's been a coach, a father and a friend to me since I was 18 years old. He loved his players and would do anything to help anybody. He took the blame for things that he didn't do and his reputation was tarnished. But he was an outstanding man who I love to this very day."
CHECK YO' SELF
Holieway was crushed when he wasn't selected in the NFL Draft. The Los Angeles Raiders invited him to their training camp as a free agent, but cut him during the pre-season.
"They moved me to slot receiver, but man, I can't catch," Holieway said through a subtle laugh. "Getting cut, that was really tough to handle. I'd been one of the best football players in the country all throughout high school and college. And now I was being told that I wasn't good enough. That's a very hurtful thing, walking around feeling like you're not wanted anymore."
"Nobody can prepare you for that," he continued. "Playing at O.U., you're spoiled by traveling around the country, staying at the best hotels, eating the best food, people tripping over themselves to do things for you. It was like, 'What am I gonna do now?'"
He played two seasons of pro ball in the Canadian Football League for the British Columbia Lions, three years in Spain with the Euroleague, and returned to Oklahoma, where he played semi-pro ball until the age of 32.
But the transition into responsible adulthood was filled with bumps and bruises. There were many well-publicized incidents, including a number of arrests over the years that involved drinking, drugs and motor vehicle violations.
"My poor choices tainted my name and hurt the football program," said Holieway. "Coach Switzer has been in my corner since day one, and always supported me through the good and the bad. When I was going through my difficulties, he sat me down and we talked. He said, 'Look, you're Jamelle Holieway, you won a National Championship at Oklahoma and you're an icon, not only at the University but in the entire state.' He told me that it was time to grow up."
"Back in '85, you think the cheering and good times are going to last forever," he continued. "But when the crowds stopped cheering, when they disappeared, when I had to figure out what I was going to do with the rest of my life, that was tough."
The Oklahoma football family never gave up on him. His former teammate who went on to the NFL, defensive back Rickey Dixon, reached out to him a few years back, sensing that he needed some support and encouragement. He was concerned with how listless his former star quarterback seemed.
"I felt someone needed to reach out to him," Dixon told The Oklahoman's sports columnist Berry Tramel in 2012. "I made that a priority."
Another teammate, Don Smitherman, who came in with Holieway's recruiting class, also re-appeared during some of his darkest days.
"Don is an attorney, and I got into trouble and didn't have anyone to represent me," said Holieway. "He found out where I was and when I went to court, he was there waiting for me. He said, 'Listen, I'm going to be your representative.' I was lost, just being a renegade, doing the same things over expecting a different result. But Don, his father, his uncles, some of my other teammates and Coach Switzer, they all coached me through some tough times. I realized that I needed to change the channel if I wanted something better in my life."
Today, Holieway lives in a small town in Oklahoma. He does work with the Muscogee Creek Nation, running football camps and doing some motivational speaking. He's also working in residential construction, along with a few other side jobs that he can pick up from time to time.
(Jamelle Coaching at his football camp, Photo Credit: The Oklahoman)
If you call him during the early evening, after he's gotten home from work, he'll ramble on the telephone for as long as you allow, revisiting his days of stardom and winning the National Championship. He'll also ask you to hold on several times, where he can be heard patiently and playfully interacting with his two youngest children, cooking them dinner, putting on their favorite cartoons, or trying to comfort them through their tears.
'I've had my highs and lows and tribulations," said Holieway. "But my oldest sons are both in college, playing football and basketball. I have a ninth grader playing high school football and he is going to be really good. And I have a four-year-old daughter and a one-year-old son. I've been determined over the last few years to get my good name back. Those little ones run me ragged. When I come home from work, tired, and they run up to me and give me a hug, man, I know that my life is good today."
"They're depending on me, so I know that I have to get up every day and do what I need to do for them," he continued. "I have to do it the right way instead of the fast and the wrong way. Coach Switzer and I still have a strong relationship. That man has proven that he'll always be there for me. And one of the best things that he taught me, that football taught me, was that no matter how hard things get, no matter how hard you fall, you gotta get back up. And the very next chance you get, you have to give your best effort to go forward."