Each year, The Shadow League honors men and women of color who are trailblazers in the world of sports. This year we presented awards to four incredible men and women who are leading the charge across the sports world at the 2016 Shadow League Awards Presented by AT&T DIRECTV.
Among our honorees is Basketball Hall of Fame coach, George Raveling.
Coach Raveling's life story reads like both an Horatio Alger novel and a Hollywood script in his rise out of an impoverished childhood to becoming one of the most accomplished men in the business of sports. He became the first African American head coach in the conference that is now known as the Pac-12, and was the league's Coach of the Year in three separate decades – 1976 and 1983 at Washington State and in 1992 at the University of Southern California.
Raveling was an assistant coach to Bobby Knight on the Gold Medal-winning 1984 U.S. Olympic Basketball Team, one of the greatest young squads ever assembled. He was also the only coach to lead a team that defeated the 1992 Dream Team, when he instructed a Team USA Developmental Squad, with Roy Williams as his assistant, of college all-stars.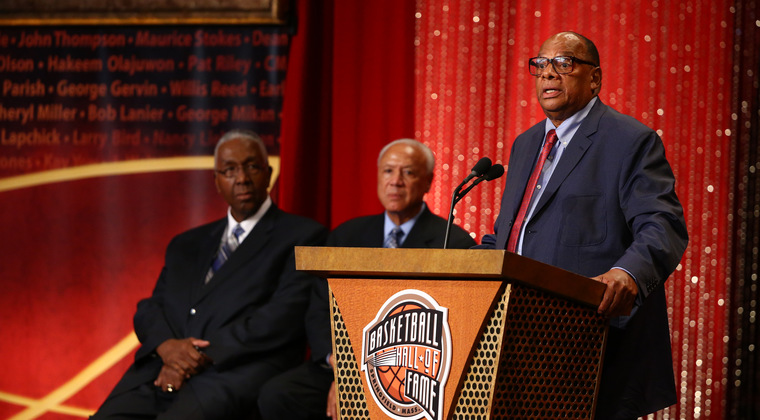 (Photo Credit: Getty Images)
After retiring from coaching, he worked as a television color analyst for Fox and CBS Sports before going to work as Nike's Director of Grassroots Basketball. He was named the sneaker company's Director of Global Basketball in 2000.
In 2012, he was awarded the prestigious John W. Bunn Lifetime Achievement Award by the Naismith Memorial Basketball Hall of Fame. On Valentine's Day of 2015, it was announced that he would be inducted into the Hall as a coach.
To find out more about Coach Raveling's miraculous life journey, check out the interview we did with him in the video below, where we chopped it up in Houston for the 2016 NCAA Final Four as part of our Championship Drive series.