When Mary J. Blige dropped the explosive summer album "What's the 411?" in 1992, her impact was so swift and thorough that she instantly became known simply by her first name. When people were talking about music and referenced "Mary", like Stevie or Prince, you knew who they were talking about.
If ever there was a summer anthem, the album's title track, "What's the 411?" with Grand Puba, positioned the forever bad, around-the-way girl attitude of Mary J. Blige into the consciousness of every thug and bamboo-gold-earring-wearing princess in every inner city around the nation.
Mary rapped B-girl style, going blow for blow with Puba. She answered his boasts with, "You gotta do a lot more and that's just how it be/I'm Mary Blige and you just ain't running up in me."
The two of them ended the song with samples and verses from Debra Laws classic slow jam, Very Special, foreshadowing memorable hip-hop duets like Mary and Method Man's You're All I Need.
Mary's debut album dropped on July 28, 1992, two months after the rebellion in Los Angeles was sparked by the acquittal of four white police officers in the videotaped beating of Rodney King.
Soon after, President Bill Clinton was criticizing rapper Sister Souljah, outrageously and ignorantly comparing her to David Duke, the grand wizard of the KKK, and lamenting the dangers of rap music.
This was pre-famous Puffy, before Puff Daddy or Puff or Diddy or P-Diddy was a household name.
It was also pre-Biggie Smalls and Bad Boy Records. It was the beginning of Busta Rhymes breaking out into a solo career from Leaders of the New School with his rap on What's the 411′s interlude.
On the intro track, Leave a Message, Puffy rants along with hip-hop heavyweights like Erick Sermon, DJ Red Alert, Clarke Kent, Heavy D and CL Smooth, some pleading to work with her, garnering her instant credibility in a new category she helped to create and would become the "Queen of Hip Hop Soul."
Puffy hassles her on Leave a Message about not being to get ahold of her, referring to her affectionately as "man" and "n****"- saying, Yo, n****, pick up! – letting the Hip Hop world know that she's a member of this new boys club.
"Puff saw her and envisioned her as a female guy, a little more urban than most R&B. She embodied that urban lifestyle," said producer Chucky Thompson.
But it would be women that took to her the hardest and with unquestionable loyalty.
Hailing from Yonkers' Schlobohm housing projects, Mary represented girls from the hood with her aesthetic — her tomboy bop, stretch pants, big hoop earrings, ponytails, jerseys, Timbs and baseball caps and tough-girl attitude.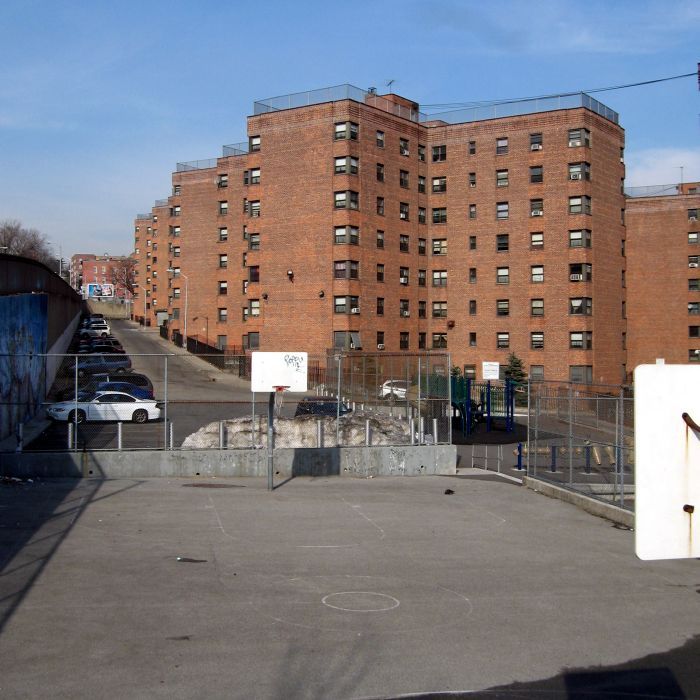 (Photo Credit of the Schlobohm Houses in Yonkers: soyosunset.yuku.com)
She represented a soft side, like every b-girl, underneath a tough and unapologetic exterior was a vulnerable woman with a desire for the right kind of love. She sang songs about betrayal, abandonment, affairs, casual sex, and longing. Still, women loved her as much for her vulnerability as for her fighting spirit.
She famously kicked journalist Tour out of her limo, telling him he was "stupid." During an interview with model Veronica Webb, exasperated at her line of questioning, Mary told her, "We need to fight."
But for all her lyrical desire for romantic love, her real-life struggle to love herself was played out publicly, with drug abuse, moodiness, and late appearances and no-shows at performances.
It wouldn't be until many years later that fans found out she suffered sexual abuse at the hands of a relative when she was young, that her relationship with K-Ci Hailey from Jodeci was abusive, and that she wanted more creative control in her career.
By her second album, she was a co-writer and the lyrical content delved more deeply into the complexities of love, loss and identity.
When Mary dropped out of high school in the eleventh grade, she didn't have a plan for what to do next.
On a whim, she recorded Anita Bakers Caught Up in the Rapture at the Galleria Mall in White Plains, New York. She gave the tape to her stepfather, who got it into the hands of singer Jeff Redd, who was an A&R runner for the Uptown label at the time.
He gave it to CEO Andre Harrell, who promptly signed her as the label's first female artist.  A few years later, What's the 411 was born from Puffy's imagination with the help of Clark Kent's engineering, Christopher Williams, and CL Smooth on background vocals and K-Ci Hailey's vocals.
Almost all of the singles are infectiously danceable tracks. The single Real Love would become an evergreen classic and the hip-hop soul anthem, with a sample from Audio Twos Top Billin, along with Reminisce that sampled Stop, Look, Listen by MC Lyte.
Love No Limit solidified her as every guy's ride-or-die girl fantasy. Ballads like My Love, the ultimate Im-the-one-that-got-away anthem, the duet with K-Ci on I Dont Want to Do Anything, and the cover of Chaka Khans Sweet Thing established her as a serious R&B artist.
The videos epitomized ghetto fabulousness with her style and choreography, and what would become her signature wild dancing style.
All of New York City was on fire for her and she put Yonkers on the map.
By the end of the summer of 1992, there wasn't a girl that didn't claim some kin to her and a guy that wasn't trying to figure out how to get close to her.
She helped to establish Puffy career, set the stage for artists like Faith and Keyshia Cole in the Hip Hop Soul genre she helped to create, and gave around-the-way girls from every city a stage to witness and lay claim to their beautiful fabulousness.