Its looking like the blackballing of former San Francisco 49ers QB Colin Kaepernick could shortly stop in Seattle, where Michael Bennett, who was among several Seahawks players to support Kaepernick during his national anthem protests last season, told 710 ESPN on Tuesday the jobless quarterback would fit in Seattle as Russell Wilson's backup.
"A person that's dedicating their life to creating change, why wouldn't you want that type of leadership in your locker room? Why wouldn't you want to give (a chance to) a person that's dealt with people calling him wanting to kill him because of his choices in life? I don't know why people feel like that is a problem," Bennett said.
"I think Kaepernick getting an opportunity to be on our team would be really cool, really a good base for him because you have a coach like Coach (Pete) Carroll who's up for challenges like that, you have an owner who … gives back to homeless, you've got players on your team that give back in the community, you've got Russell Wilson, who shows our team is built around community. So this is a perfect place for him."
This isn't the first time Bennett has praised Kaepernicks leadership. Back in March, Bennett told NFL Network that he's a fan of Kaep's compatibility with the Seahawks offense and his elusiveness as a QB. At one time, Wilson and Kaepernick were two multi-faceted young guns battling it out for NFC supremacy.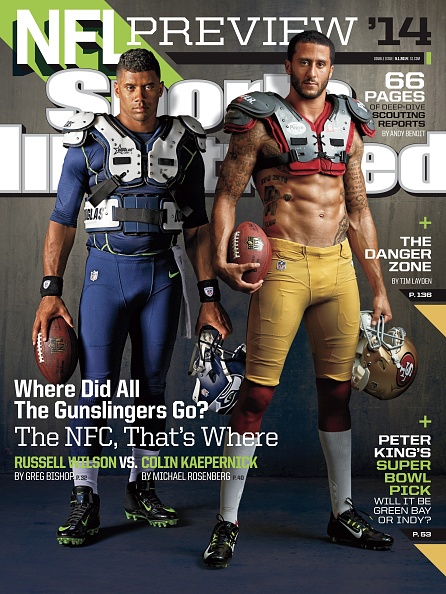 NFL Network guru Ian Rapoport says Russell Wilson is aware of Seattles interest in Kaepernick and would be fine with it.
1 reason #Seahawks are looking at Colin Kaepernick is simple: Hes thought to be the best backup available. They considered Gabbert, Ponder

Ian Rapoport (@RapSheet) May 16, 2017
Adding probability to this move is the fact that the backlash from Kaepernick's controversial and contagious kneeling during the anthem has been minimal in Seattle. Also, Seattles backup quarterback Trevone Boykin was arrested on March 27 in Dallas after a car he was riding in crashed into a bar and injured multiple people. This is his second alcohol-related incident. He was suspended before the 2016 Alamo Bowl after assaulting a police officer during a bar fight.
Wilson has been more injury prone as of late and adding a player with similar offensive capabilities and obvious leadership abilities wouldnt be a bad look for either side.