Saturday evenings Premier Boxing Champions showcase at the Staples Center in Los Angeles promises to deliver one of the best fights of 2016 when the undefeated Puerto Rican sensation from Philadelphia, Danny "Swift" Garcia, takes on former world champion and Mexican warrior Robert "The Ghost' Guerrero in a welterweight world title battle.
The scheduled 12-round showdown headlines a Premier Boxing Champions card that will be televised live on Fox at 8 p.m. ET, 5 p.m. PT.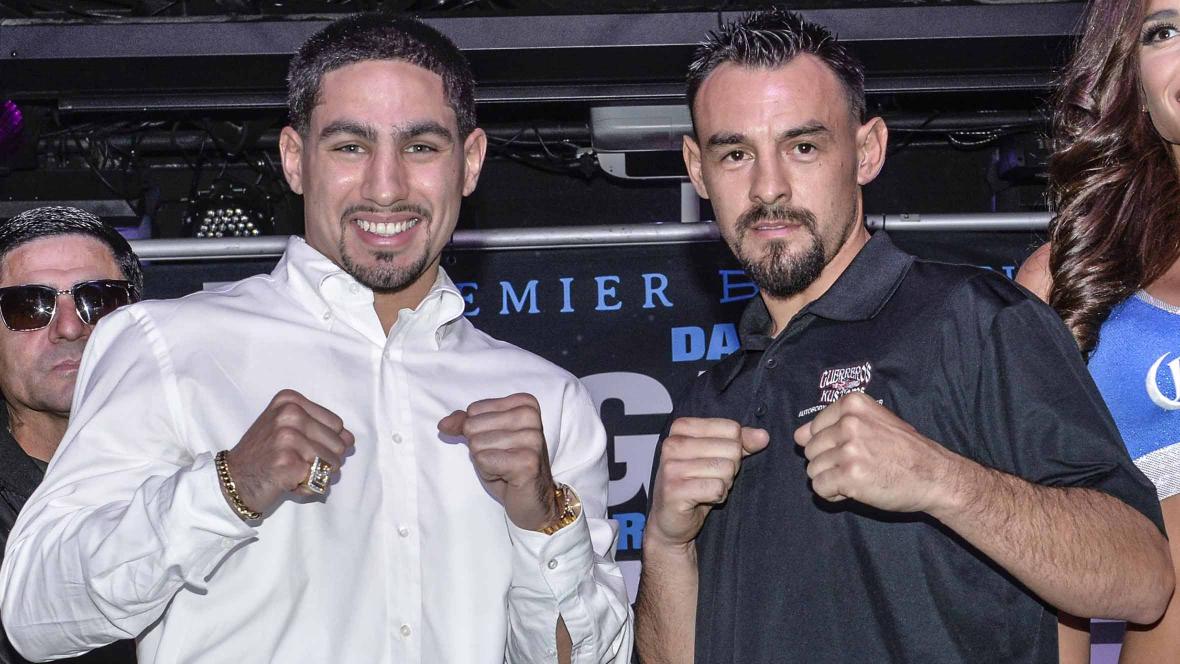 (Photo Credit: premierboxingchampions.com)
Weve previously chronicled the great, proud history of Mexican boxing, of which Guerrero (33-3-1, 18 KOs) continues to contribute to. He is a former world titleholder in four separate weight classes (126, 130, 135 and 147) and prior to his 2013 loss to Floyd Mayweather, Jr., hed won 15 fights in a row.
The 32-year-old Guerrero has been through many wars and is the more experienced fighter, but the 27-year-old Garcia has fought and beaten more than a half dozen world champions.
We sat down with Robert The Ghost Guerrero to get some insight on the southpaws frame of mind, thoughts and strategy heading into what many see as an evenly-matched fight that has the potential to be a memorable war and another great chapter that will be added to the Mexican vs Puerto Rican boxing rivalry.
The Shadow League: Garcia looked sharp in his welterweight debut against Paulie Malignaggi, but he's new to fighting at this weight. You've been in some wars at 147, do you feel like your experience at this weight gives you an advantage?
Robert Guerrero: I would have to say so. The fact that I've been at this weight class longer gives me confidence going in. My experience will play a factor in the sense that I know what to expect fighting bigger guys.
TSL: What kind of a fight do you think this will be? There are many that think it could be slugfest, how do you see it playing out?
RG: I think it's going to be a chess match. Both Danny and I know how to box so we'll see who comes out on top. I feel I can defeat him and give him his first loss.
TSL: With this being aired on Fox and with the excitement around it, there are going to be alot of casual fight fans tuning in who may not be as familiar with you as some of the hardcore boxing folks who've followed you over your career. Explain to them what they are going to see from you, what kind of fighter you are and what your strengths are inside the ring?
RG: I'm a warrior and that's what the fans are going to see. No one can say I'm a boring fighter, I bring it every time. The fans are going to see a great fight and everyone should be tuning in.
TSL: Some people say that you took a lot of punishment in the Keith Thurman fight and have been in some of the roughest, toughest fights in the last few years, which has put a lot of wear and tear on you. You are undoubtedly one of the sport's great warriors, but how would you respond to people that think that your better days are behind you?
RG: The critics are going to say what they want, but the fact is I have a lot of fight left in me. You will see it on January 23rd.
TSL: Garcia likes to dictate pace by getting his punches off first, and he's a very good counter-puncher. How do you counter his stiff jab and sensational left hook, along with his ability to mix up his punches while going for your head and body?
RG: I don't want to give up my game plan but me and my dad got a strategy that we feel will give Garcia problems.
TSL: What are his weaknesses that you think you can take advantage of?
RG: He doesn't have many weaknesses. Danny Garcia is one of the best pound for pound fighters in boxing. I don't think he likes fighting southpaws and I think that is his weakness, if there are any.
TSL: Do you want to make this brawl, or do you feel like you can mix it up with those vicious uppercuts inside as well as using your lateral movement and quick, effective jabs to set something up on the outside?
RG: Again, I'm not giving up my game plan. Everyone will see what I've been working on when we step in the ring.
TSL: He's the younger fighter, but you have more experience. How does that experience work to your benefit in this fight?
RG: I feel I've been in the ring with some very skilled fighters and I know what to expect from a fighter like Garcia. I will have to use every trick in the book to come out victoriously.
(Photo Credit: USA Today)
TSL: What are some specific things you've been working on in the gym specifically for this fight against Garcia?
RG: A lot of jabs and footwork drills.
TSL: Both of you guys are very exciting offensive fighters who let your hands fly. If you're at your absolute best, how do you see the fight playing out?
RG: I say this humbly, but me becoming the new WBC champion.
TSL: Does the Mexxican vs. Puerto Rican rivalry give you any added incentive walking into that ring on Saturday?
RG: There is no doubt about it, I'm coming to represent my people.
TSL: Is there anything else that you want your fans to know about your training camp, your state of mind, or your thoughts in general as you head into this big welterweight championship fight?
RG: Yeah just tune in this Saturday to see a great fight between two hungry warriors. I have nothing but respect for the Garcia's, they are a father son combo just like me and my dad, so may the best man win.