The Dominican Republics battle with Team USA last week was the commercial favorite for the best WBC matchup to date. However, the baseball underground was buzzing about Tuesdays matchup between two undefeated squads in Puerto Rico and DR, representing two Latin American islands close in proximity and even closer in passion for baseball.
While Team DR is loaded with an All-star lineup of MLB players, Team Puerto Rico has its share of elite ballers, OG veterans and future Hall of Famers as well.
When the smoke cleared, the Dominican Republic, the defending WBC champs, lost a game for the first time in eight years by a score of 3-1. The DR team had won 11 consecutive games in this tournament, and hadnt lost to Puerto Rico since 2006. But this time, PRs pitching was too much for DR, which entered the game hitting .342 as a squad but mustered just six hits.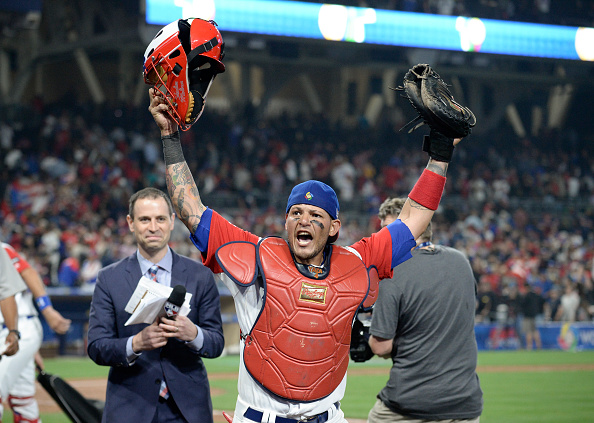 It seemed as if DR was going to blow out Puerto Rico early on as Nelson Cruz hit a leadoff homer in the second inning and DR was getting men on base. However, Puerto Rico, who entered the game with a 1.80 team ERA, threw a trailer load of no-name arms at DR which kept the star-studded, swagalicious lineup off balance for the entire game.
Puerto Rico needed their big boppers to come through in the clutch against DR and the 34-year-old, seven-time All-Star Yadier Molina answered the bell. The spiritual leader of the Puerto Rico team hit a home run and a run-scoring single, and on defense he tagged one runner out at the plate and threw another out at second base.
As Molina goes, Team PR goes and that has been the squad's philosophy since the WBCs inception in 2006.
He has played in all four Classics dating back to 2006. Back then his infield consisted of third baseman Andy Gonzalez, shortstop Mike Aviles and second baseman Irving Falu. Now hes balling with a new generation of Puerto Rican stars infielders Carlos Correa, 22, and Francisco Lindor, 23. These dudes grew up watching Molina on television.
Im old, Molina said. Im blessed.
And right now, he has Puerto Rico in the drivers seat as the island seeks its first WBC championship.